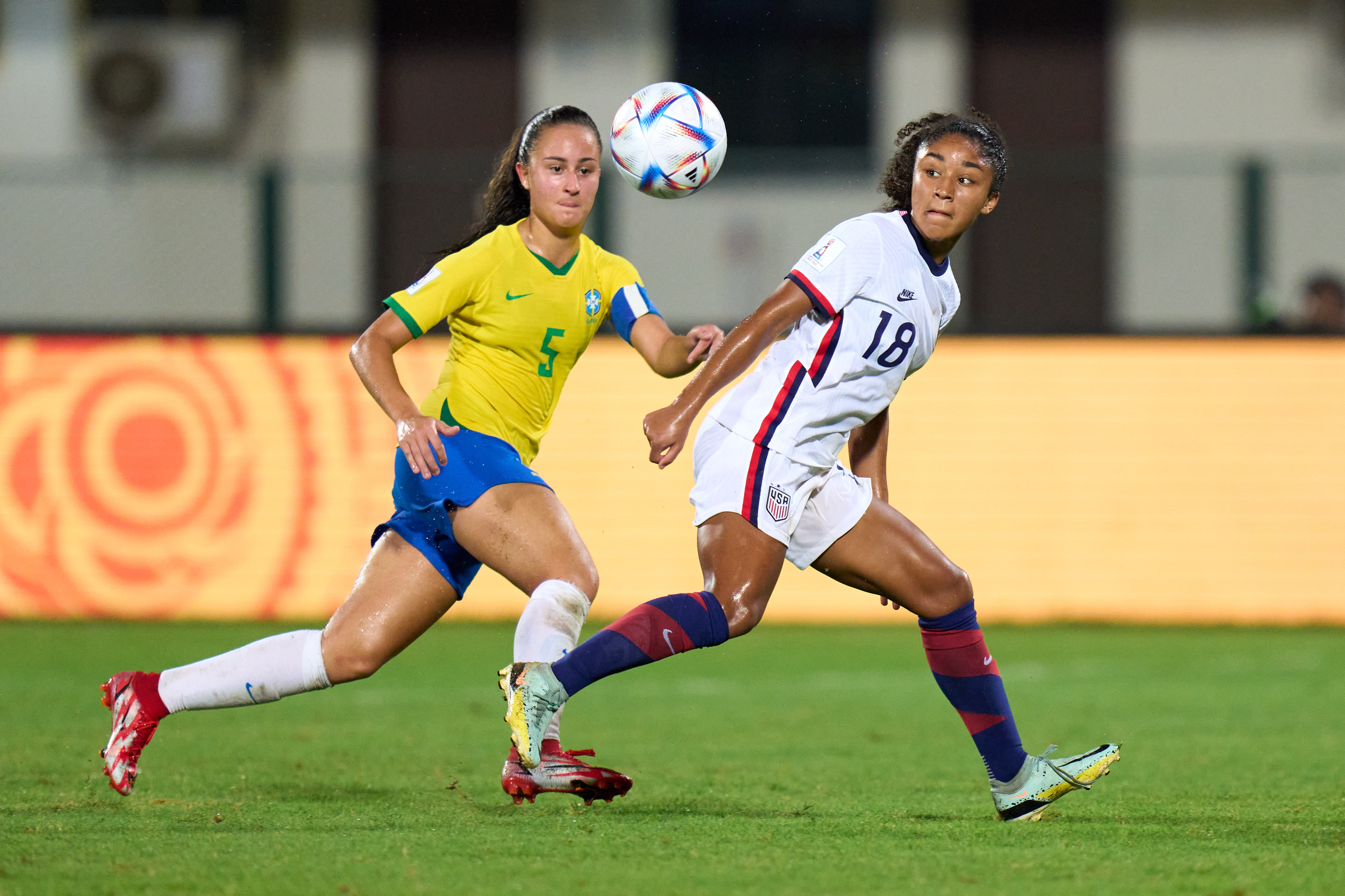 Kiorpes goal helps secure draw for U.S. against Brazil
Published on
/ Updated on at
MIAMI, Florida – Nicollete Kiorpes scored in the first half to help secure a 1-1 draw for the United States against Brazil in Group A action of the 2022 FIFA Under-17 Women's World Cup in India on Friday at the Kalinga Stadium in Bhubaneswar.
After an opening 8-0 win against India, the U.S. found themselves in a much tighter contest on Friday, although it was the 2022 Concacaf Women's Under-17 Championship winners who were creating the bulk of the chances.
The U.S. goal came in the 33rd minute on an excellent finish from Kiorpes off a cross from Onyeka Gamero from just six yards out.
Brazil responded just four minutes later with the 1-1 equalizer, and despite a number of scoring chances for the U.S. in the second half, the scoreline held until the final whistle for a share of the spoils.
The U.S. remain in first place in the group with four points and a +8 goal difference and can punch their ticket to the knockout round with either a draw or a victory in their Group A finale on Monday against Morocco.
Saturday will see the other two Concacaf nations in the tournament returning to action for their second matches, beginning with Mexico going up against Spain in Group C.
The affair at the DY Patil Stadium in Navi Mumbai will be a rematch of the 2018 U17 Women's World Cup Final when Spain defeated El Tricolor 2-1.
Mexico are coming off a frustrating 2-1 opening loss to China in which Katherin Guijarro scored the lone goal for Mexico, while Spain edged Colombia 1-0.
Mexico and Spain have certainly gotten to know each other in past U17 Women's World Cups. The two nations squared off in the group stage in the 2016 edition in a thrilling 1-1 draw prior to the 2018 Final.
Canada will also return to the playing field on Saturday in the wake of their opening 1-1 draw against 2012 U17 Women's World Cup champion France.
Another former champion stands in their way in their second match in the form of 2014 winners Japan, who sit atop Group D with three points.
Annabelle Chukwu scored the Canada goal against France and no doubt would like the chance to add to that tally against the Japanese.
Despite the fact that both nations have appeared in all six previous editions of the U17 Women's World Cup, Saturday's encounter at the Pandit Jawaharlal Nehru Stadium in Margao represents the first meeting between the two sides at this age level.