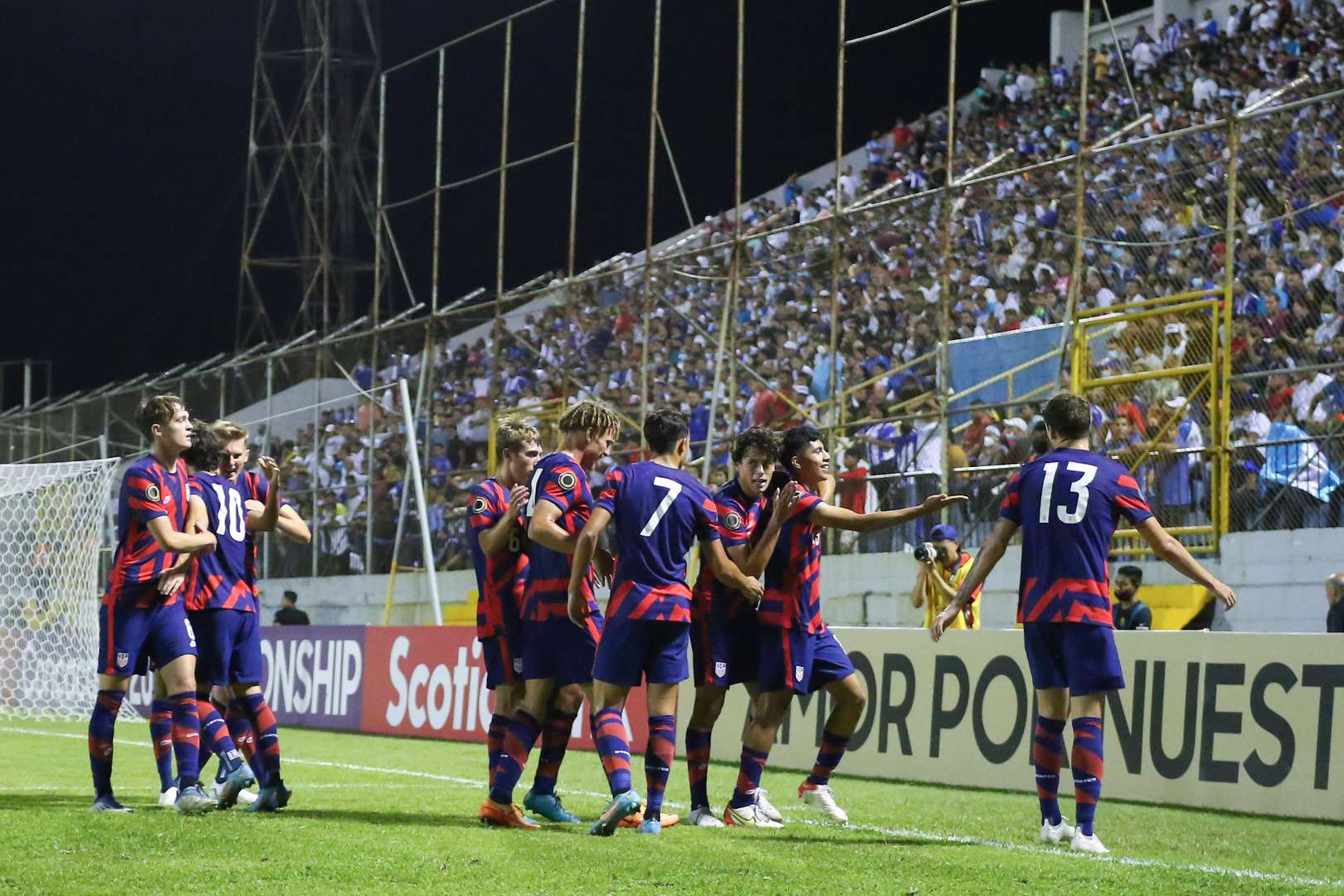 Strong first half seals Olympic spot for U.S.
Published on
/ Updated on at
SAN PEDRO SULA – The United States have qualified for the Olympics for the first time since Beijing 2008 thanks to a 3-0 victory over Honduras in the semifinals of the 2022 Concacaf Men's Under-20 Championship on Friday night at the Estadio Morazan in San Pedro Sula.
The U.S. scored all three of their goals in the first 45 minutes to not only book their place at Paris 2024, but also advance to Sunday's CMU20 Final where they will take on the Dominican Republic.
As they have so often in this tournament, the U.S. enjoyed a very quick start and took a 1-0 lead in the 3' through Paxten Aaronson, who got on the end of a free kick and steered home a right-footed shot from a few meters out.
The U.S. stayed on the front foot and doubled their lead to 2-0 in the 22' when a sharp U.S. build-up ended with a Mauricio Cuevas cross into the area that found the outside of the right foot of Alejandro Alvarado Jr., whose shot trickled in underneath Honduras GK Juergen Garcia.
Honduras looked to respond and had a good crack at goal in the 39' via an Odin Ramos free kick, but the effort sailed just over the crossbar.
The U.S. were keen to tack on another before the break and it came in the 43', with a Caden Clark shot from a narrow angle skirting under a Honduras defender and Quinn Sullivan there to make sure it crossed the line for a 3-0 U.S. lead.
Honduras came out with renewed energy for the second half and put the U.S. defense under pressure, but unwavering in goal was GK Christopher Brady, who made a number of saves to keep the Catrachos at bay.
The best look for the home side came in the 75' through Jefryn Macias, who eluded two defenders but then barely missed wide from an acute angle.
In the end, the U.S. held firm and saw out the final minutes to secure a ticket to the Paris Olympics and a spot in Sunday's Final.