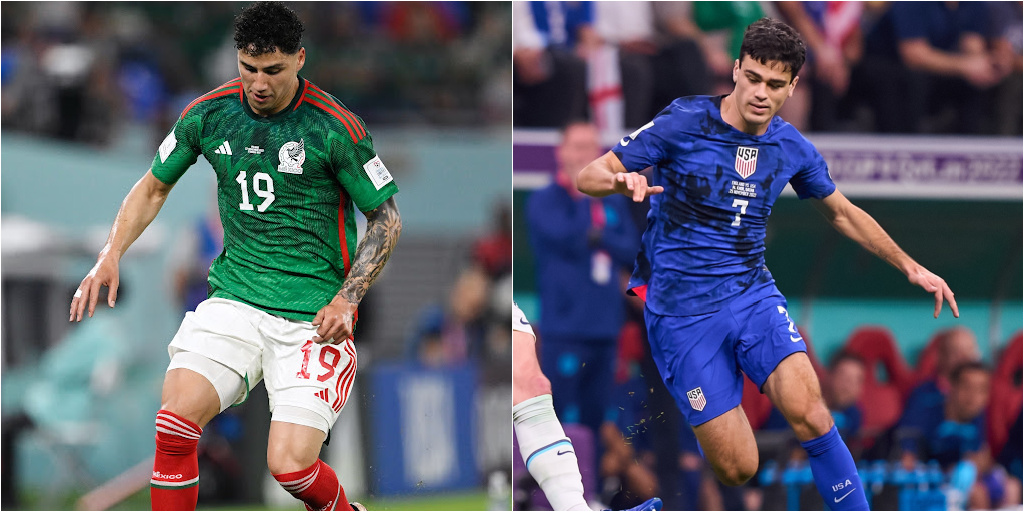 Next generation poised for future Gold Cups, 2026 World Cup
Published on
/ Updated on at
MIAMI, Florida – As the FIFA World Cup Qatar 2022 draws to a close and a new year looms on the horizon, the focus will soon shift to some of the tournaments in the upcoming years and the showcases they will provide for the next generation of Concacaf stars.
In the next four years alone, there will be Concacaf Gold Cups played in 2023 and 2025, followed by the grandest spectacle in sports to be played on North American soil, the 2026 FIFA World Cup in the United States, Canada and Mexico.
With the U.S. having had 12 players aged 24 and younger debut in a FIFA World Cup at Qatar 2022, many of those same stars will have a chance to shine in additional Gold Cup and World Cup competitions.
Among the young players to watch will be a pair of 20-year-old midfielders, Gio Reyna and Yunus Musah. Reyna appeared in two matches at Qatar 2022, while Musah started in all four matches for the U.S. and accumulated 165 passes during the tournament.
Those players and more are likely to be joined by some of the other up-and-coming stars for the U.S., including several of the players who featured for the title-winning team at the 2022 Concacaf Men's Under-20 Championship. Attacking midfielders Paxten Aaronson, who earned both the Golden Ball and the Golden Boot (7 goals) and Quinn Sullivan (6 goals), are ones to watch as these tournaments draw near.
After playing in their first World Cup matches at Qatar 2022, big things are expected in the next four years for the Mexican duo of Jorge Sanchez and Kevin Alvarez. The 24-year-old Sanchez did well in Mexico's defense at Qatar 2022, playing 190 minutes, while fellow DF Alvarez, a 23-year-old, also saw ample action with 82 minutes played.
Those two players will certainly be joined by some other rising stars within the Mexico system, including 22-year-old winger Diego Lainez, who already showed off his prowess in the Final of the 2021 Concacaf Nations League with a goal, while 2022 CMU20 Best XI player Esteban Lozano (5 goals) is an emerging striker.
Canada's new generation is spearheaded by Bayern Munich left back Alphonso Davies, but there is no question that FW Jonathan David and winger Tajon Buchanan are not far behind. Those two made their Senior Men's World Cup debuts along with Davies, with Buchanan starting all three matches for Canada and providing an assist, while David registered eight shots in 210 minutes of action.
It will be interesting to see which players will join that trio in the coming years, but certainly MF Matthew Catavolo and FW Kamron Habibullah will be aiming to be in the mix. Both players are 19 years old, ply their trade in the fast-growing Canadian Premier League and were big parts of Canada's knockout stage finish at the 2022 CMU20.
There is a wealth of talent within the Costa Rican Men's National Team that is set to get a lot of people's attention within the Concacaf region and beyond. Teenage midfielders Brandon Aguilera (19) and Jewison Bennette (18) each made their World Cup debuts at Qatar 2022, playing all three games for the Ticos, and no doubt will be part of the Costa Rica setup for the next decade-plus.
Aaron Suarez, a 20-year-old MF with Costa Rican club Alajuelense, scored in the Final of the 2022 Scotiabank Concacaf League, while 19-year-old club teammate FW Dorian Rodriguez scored four goals at the 2022 CMU20 and also had a hat trick in an SCL match.
Fresh off their participations at the FIFA World Cup Qatar 2022, Concacaf's four representatives at Qatar 2022 all boast young players who collected precious World Cup experience. Those players will also be boosted by other rising stars within their respective national team programs who will play a major role in their title pursuits of the next two Gold Cups in 2023 and 2025, and in the return of the FIFA World Cup to the Concacaf region in 2026.