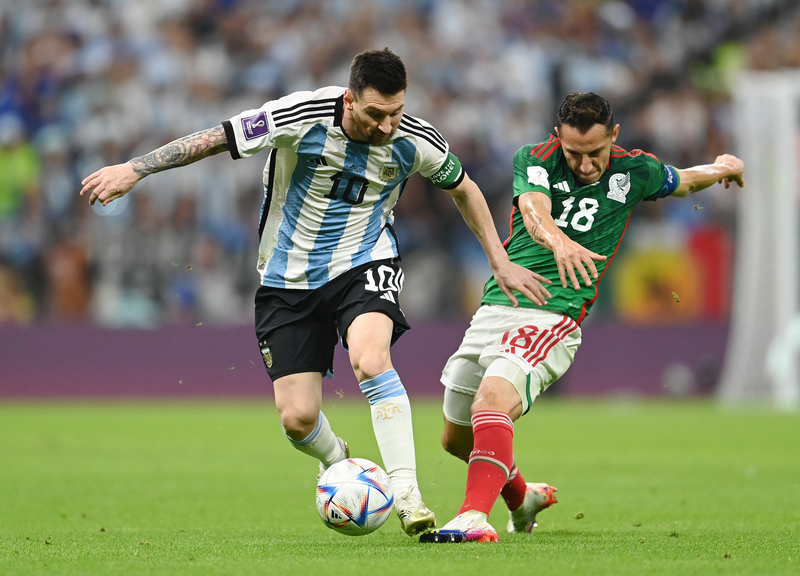 Mexico fall to Argentina in second Group C encounter
Published on
/ Updated on at
MIAMI, Florida – Mexico's second match in Group C of the FIFA World Cup Qatar 2022 ended with a narrow 2-0 defeat to Argentina on Saturday night at Lusail Iconic Stadium in Lusail, Qatar.
Second half goals from Lionel Messi and Enzo Fernandez gave the three points to Argentina, however, Mexico's hopes of advancing to the next round are still very much intact if they can pick up a win versus Saudi Arabia on Wednesday and the result of the Poland-Argentina goes in their favor.
It was a cagey, intense start between the two sides, with the scoring chances few and far between in the first 45 minutes.
Mexico FW Hirving Lozano was one of the more active players on the field, drawing fouls from the Argentina defense, but overall, the balance of play was very even as the half wore on.
The best chance in the first half for either side came for Mexico via a set piece, as Alexis Vega fired a free kick that forced a stretch save from Argentina GK Emiliano Martinez.
El Tricolor did suffer some bad luck shortly before intermission when MF and captain Andres Guardado had to depart with an injury and was replaced by Erick Gutierrez.
Mexico's strong defensive front stayed intact through the first part of the second stanza, but in the 64' a hard hit from Lionel Messi from outside the area beat Mexico GK Guillermo Ochoa to hand Argentina a 1-0 lead.
Down a goal, Mexico looked to respond and looked to the likes of FW Raul Jimenez, MF Uriel Antuna and MF Roberto Alvarado to provide a spark off the bench, but Argentina had other ideas and a right-footed strike from Enzo Fernandez in the 87' earned Argentina a 2-0 lead they held until the final whistle.