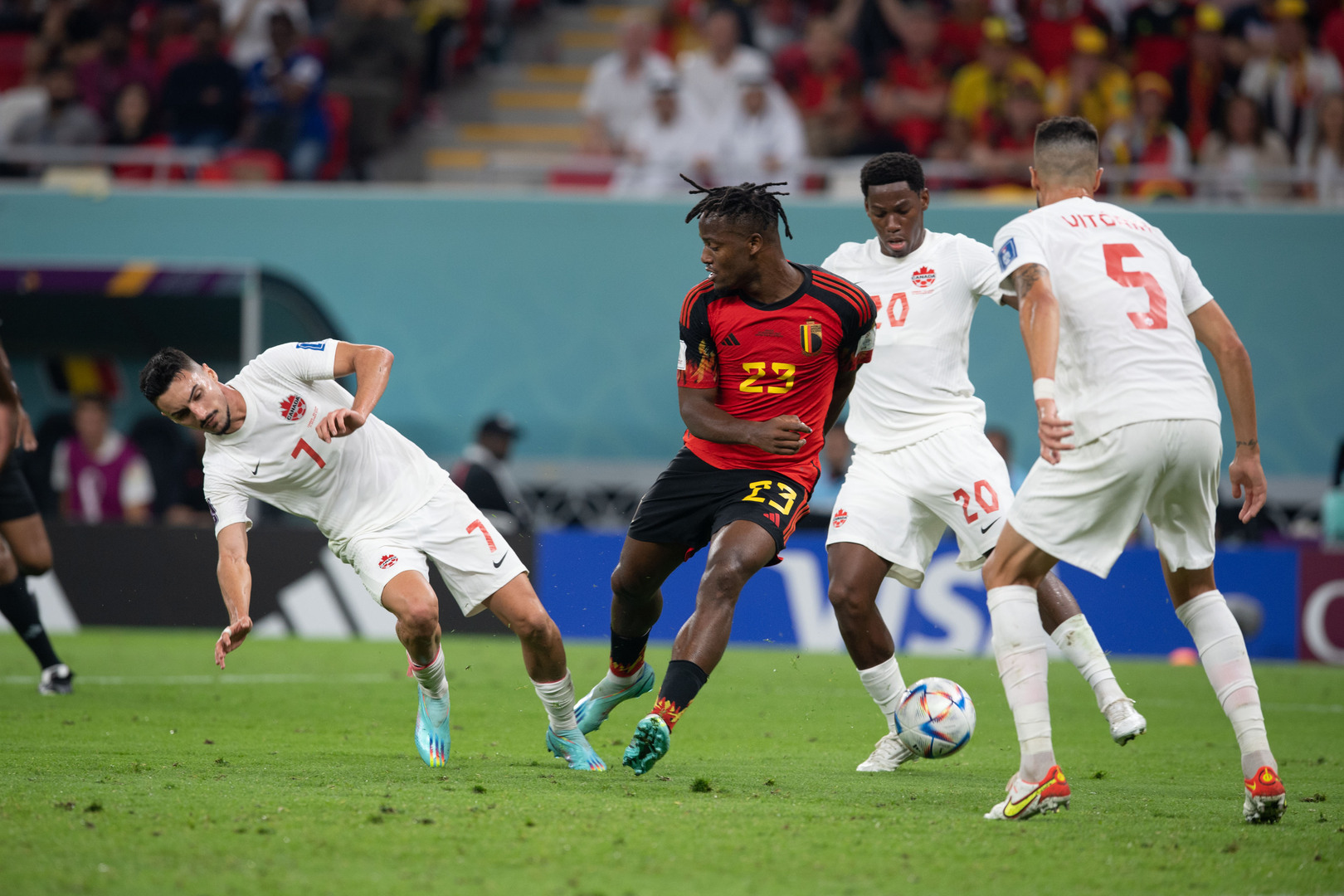 Canada edged by Belgium in thrilling World Cup return
Published on
/ Updated on at
MIAMI, Florida – A valiant Canada came up just shy in their long-awaited Senior Men's World Cup return with a 1-0 defeat to Belgium in their opening match of Group F of the FIFA World Cup Qatar 2022 on Wednesday night at the Ahmad bin Ali Stadium in Al Rayyan, Qatar.
The Canadians delivered an excellent performance against the 2018 semifinalists, out-shooting Belgium by a 21-9 margin, however a late first half strike from the European side proved to be the difference.
Canada enjoyed a very good start to the proceedings and a handball in the Belgium area earned the Canada a spot kick inside the first 10 minutes. Alphonso Davies stepped up to take the penalty, but his effort was saved by Belgium GK Thibaut Courtois to keep things scoreless.
Despite the miss, Canada kept pouring on the pressure and a buzzing shot from Alistair Johnston just shy of the half-hour mark forced a reaction save from Courtois.
Canada remained on the front foot for the rest of the half until the final moments when a long ball hoofed up-field by Belgium fell right to Michy Batshuayi, who finished past Canada GK Milan Borjan for a 1-0 Belgium lead.
Still, Canada kept fighting and Tajon Buchanan nearly pulled his side even on the brink of halftime off a cross from the right, but the shot sailed over the crossbar.
The second half was very much like the first half, with Canada staying on the front foot and putting the Belgian defense on their heels. However, through the first quarter-hour of the half, they had yet to test Courtois.
Things were wide-open going into the final 15 minutes, as Canada stayed on the hunt for a first ever World Cup goal and equalizer, while Belgium looked a threat every time they launched a counterattack.
Canada were inching closer to a goal and Cyle Larin looked set to do it when he snapped a header goalward in the 80', but Courtois had other ideas and made the stretch save.
In the end, the spoils belonged to Belgium, as Canada will look to quickly turn their attention to Sunday's duel with Croatia.
• Canada are participating in their second FIFA World Cup, 36 years after their debut appearance at the finals in 1986.
• Canada coach John Herdman is the first person to coach a team at both the men's and women's FIFA World Cup. He coached both New Zealand and Canada previously at the FIFA Women's World Cup™.
• Canada's Atiba Hutchinson is the oldest outfield player at Qatar 2022. He was 39 years and 285 days old at the start of the tournament.