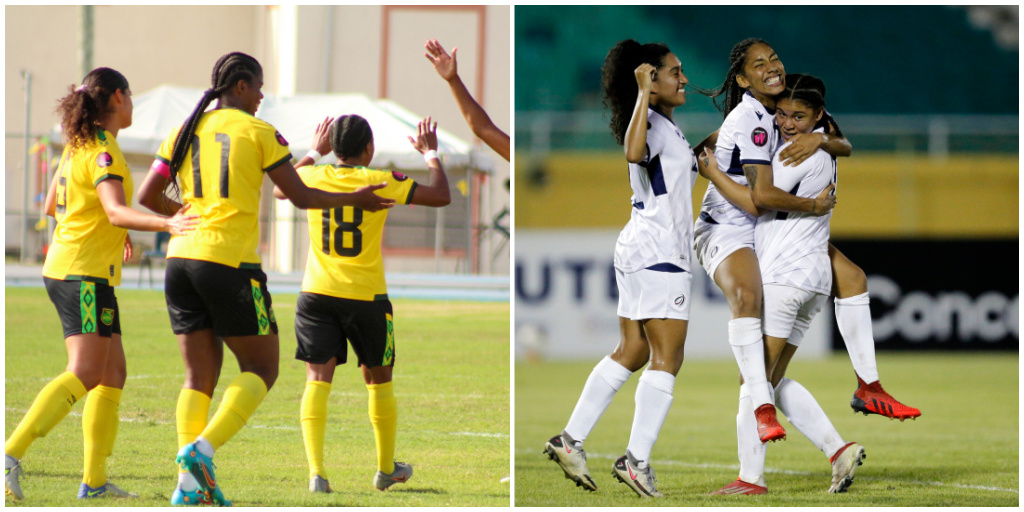 All groups up for grabs as W Qualifying concludes
Published on
/ Updated on at
MIAMI, Florida – The final matchday of 2022 Concacaf W Championship Qualifying has come, with all six groups still up for grabs on Tuesday.
Superiority in Group A will be at stake when Mexico host Puerto Rico at the Estadio Nemesio Diez in Toluca. Both sides have three wins in their first three matches, with El Tricolor outpacing the Boricuas on goal difference by 13.
With that in mind, only a victory will suffice for the island visitors, while at least a draw will seal Mexico's place in the W Championship. It will certainly be an enticing battle of attacking players, with Katty Martinez and Alicia Cervantes for Mexico 9 and 5 goals each) and Karina Socarras for Puerto Rico (5 goals).
In the day's other game in Group A, Suriname will host Antigua and Barbuda at the Frank Essed Stadion in Paramaribo, Suriname. It will provide an opportunity for either side to collect their second win in qualifying.
Group B
Costa Rica will seek to hold up their three-point lead in Group B when they meet Guatemala at the Estadio Nacional in San Jose, Costa Rica. The Ticas also enjoy a three-goal advantage on goal difference (+17 vs. +14), so even a one-goal defeat to the Chapines would be enough to advance.
Saint Kitts and Nevis sit in third place in Group B and still have a chance for the next stage, as they face US Virgin Islands at Warner Park Football Stadium in Basseterre, Saint Kitts and Nevis. The home side, with a -2-goal difference, will need a sizable win and a Costa Rica defeat to entertain a shot of advancing.
Group C
Group C all boils down to the contest between Jamaica and the Dominican Republic at Sabina Park Stadium in Kingston. The Reggae Girlz own a slight four-goal advantage on goal difference and will be boosted by Trudi Carter and Khadija Shaw, who are each coming off of hat tricks.
Grenada will try to secure their first win in qualifying in Group C when they travel to the Dame Flora Duffy National Sports Centre in Hamilton, Bermuda to take on Bermuda. The home side has a win to their name in qualifying and will be seeking a second victory to close qualifying.
Group D
With an eight-goal advantage in goal difference-Panama will welcome in El Salvador to the Estadio Rommel Fernandez in Panama City, Panama in Group D play. Both sides have three wins in three in their impressive qualifying campaigns and a fourth win for either would be enough to secure a place in the W Championship.
In Group D's other game, Barbados will square off with Belize at the Estadio Cuscatlan in San Salvador, El Salvador. Barbados will be out for their second win, while Belize will be aiming for their first.
Group E
Haiti have led the way in Group E, with three wins to start qualifying and a +38 goal difference, but they must still secure a result against Cuba in order to reach the W Championship. The Cubans sit second with seven points and will take aim at their Caribbean rivals at the Estadio Olimpico Felix Sanchez in Santo Domingo, Dominican Republic.
Haiti will look to W Qualifying top scorer Roselord Borgella (9 goals), while Cuba can counter with Yeranis Less (7 goals).
In the other game in Group E, Honduras will host Saint Vincent and the Grenadines at the Estadio General Francisco Morazan in San Pedro Sula, Honduras. The two teams each have a win and will be aiming for their second victory in qualifying.
Trinidad and Tobago can lock down first place in Group F with a win or a draw against Guyana at Dwight Yorke Stadium in Bacolet, Trinidad and Tobago.
The Soca Warriors are coming off a 13-goal performance against Turks and Caicos Islands, while Guyana earned a hard-fought 0-0 draw versus Nicaragua.
Nicaragua will also wrap up their qualifying campaign in Group F at home against a tough Dominica team. The Caribbean side's last outing was a fruitful one, as they topped Turks and Caicos Islands 8-1.