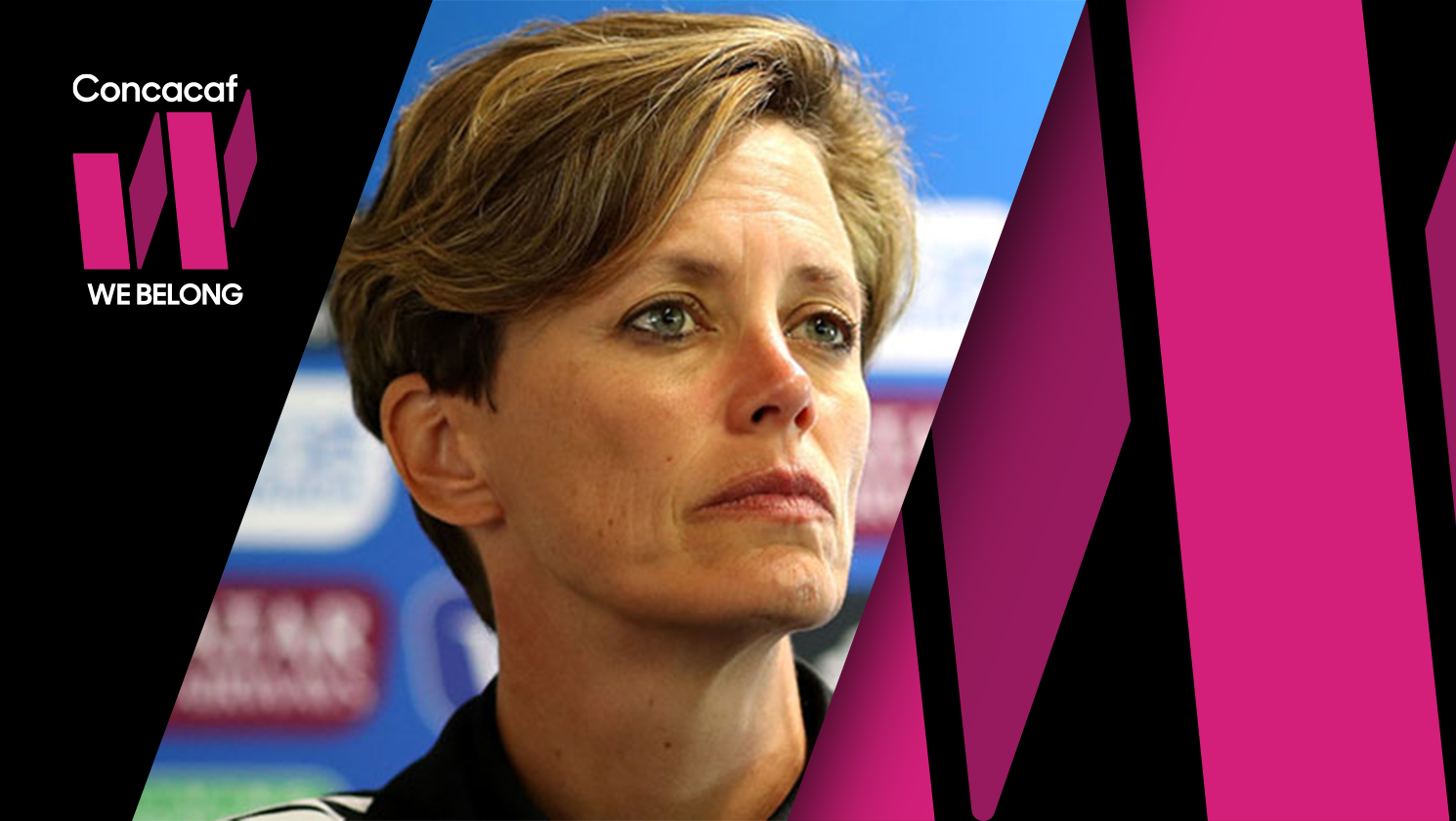 Kari Seitz: "Appreciating people from every walk of life is a gift I got from being involved in soccer"
Published on
/ Updated on at
In commemoration of the upcoming International Women's Day
The passion of women in football transcends to refereeing, a discipline enriched by renowned officials like Kari Seitz, FIFA's Senior Manager of Refereeing. Following a remarkable career of 28 years, including 14 as a FIFA international referee covering three Olympics and four World Cups, the American continues working hard to develop the game, while preparing more females to succeed as match officials. In anticipation to the International Women's Day on March 8, Seitz talked to Concacaf.com about her refereeing journey and how she is inspiring more women to participate in the sport.
How did you become a referee?
I began playing soccer at the age of six years old. When I was 14 my city started the first all-girls team. I wasn't too excited about playing with only girls, but it turned out to be a great idea. The coach who organized this team, also wanted to make sure that we all knew the "rules" of the game; not having any soccer experience himself. We all had to take the referee course. After about six months I was the only one left refereeing. That was the start of a great career as a referee. If I look back to that time, I would never have believed in a million years that refereeing would take me to represent the USA in four FIFA World Cups and three Olympic Games and to work at FIFA developing referees all over the world.

How the game has empowered you?
For a majority of my early referee career (from about 1985 – about 1999) I was often the minority, maybe myself and perhaps 1-3 other women at any training camp, seminar or games. I didn't see that as a barrier but more of an opportunity. I knew that people would remember me and their expectations of me were low. Making a good impression and showing that I deserved more challenges were my goal. I was lucky to have very good mentors over the years who helped me achieve my dreams. I think it is an important message that what can on the outside appear to be a barrier can be taken in a different way, it can also be an opportunity– much depends on your attitude, work ethic as well as having good people around you. I am sure being a little different than my colleagues may have prevented me from participating in many games and having access to opportunities, but it also offered me other and maybe even better ones.

What are your expectations from your role at FIFA?
​​​​​​​The most important part of my job at FIFA is to prepare the referees for the FIFA Women's World Cup and also improve the development of women referees world-wide. There are a lot of obstacles for women referees to overcome, and most are not on the field. Women have the football understanding, physical ability, and mastery of the laws of the game, they can do any match. The biggest difficulty is to convince those who invest in refereeing that this is true and worth the time and effort to focus on their development along with the men. Great strides have been made in recent years with top leagues around the world and confederations giving more qualified women referees the matches they have earned. For example, an all Women Referee Crew for the UEFA Super Cup game in 2019 with Liverpool vs Chelsea, women referees at the FIFA U17 Men's World Cup in 2017 and 2019, and women referees as part of the AFC Cup. In addition to the Bundesliga we now have women refereeing in Ligue 1 France, Top League in Brazil and Top league in Australia. In the USA and England we have women doing great work as Assistant Referees in the top league. There still is great progress to be made and at FIFA we are committed to developing all referees.

How would you encourage more women to become referees?
​​​​​​​It is important to have more women in football to help to grow the game, this not only includes players but also coaches, administrators and referees. The great thing about refereeing is that you continue to stay on the field as athletes beyond your playing years. We really would like to encourage more women to give it a try, especially those who have ended their playing careers but still feel the pull to be on the field. The best referees in the world have a very good understanding of the game, a skill difficult to teach, and x-players are best suited to improve quickly as referees. Important for players to consider, that refereeing can be another way to get to the Women's World Cup or other major competitions beyond playing the game.

What do you enjoy about football?
There are so many wonderful things about football. One which is that is the same sport for men and women. As a child I tried all the sports available to me in my hometown in Michigan. I remember distinctly signing up for baseball only to find out when I got there it was a different game for girls. I just didn't think that was right. Soccer was a place where everyone played the same game and could also (at a young age) play together. As I got older and gained more experience, I understood more the power of soccer as the world's game. Meeting people from all over the world, learning different cultures, appreciating people from every walk of life is a gift I got from being involved in soccer.

Why are you passionate about refereeing?
​​​​​​​Why not? To be involved in the game at the highest level. To be part of the game on the field with the best players in the world; working to try and make the game safe and fair for all. Plus it is a huge challenge on your self-confidence and decision making. I know being a referee helped me be more successful in my professional life as an advertising executive – using many of the skills I learned on the field including leadership, management, responsibility - I was ahead of many of my peers due to my experience as a referee.