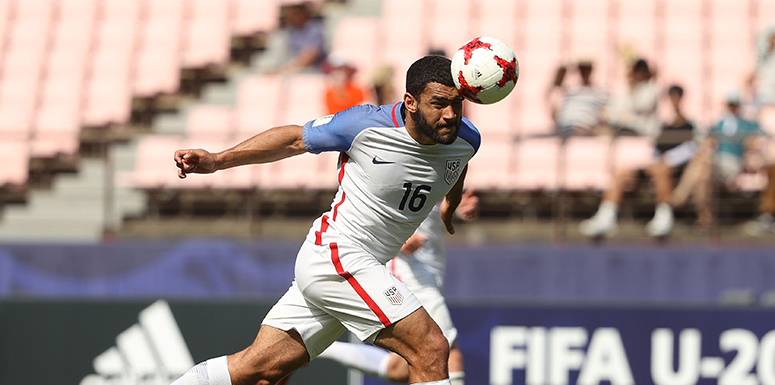 U.S. upbeat for Portugal test
Published on
/ Updated on at
Defender Cameron Carter-Vickers (pictured) is one of nine players under the age of 23 on the USA's roster for an international friendly at Portugal on November 13, 2017. (Photo: FIFA via Getty Images)
LEIRIA, Portugal – Acting head coach Dave Sarachan expects an enthusiastic United States side on Tuesday, when it faces host and European champion Portugal in an international friendly at the Estadio Dr. Magalhães Pessoa.
It will be the Americans' first match since it was eliminated from qualifying for the 2018 FIFA World Cup after suffering a 2-1 loss at Trinidad & Tobago on October 10.
"We have a number of players who are young and who are still getting acclimated and used to this level," Sarachan said.  "What you will see on Tuesday is a group with a lot of energy, team spirit and confidence."
Real Madrid star Cristiano Ronaldo is among several Portuguese regulars not on the roster.
"The ultimate goal for this group is to get the best experience against good players and a good team," commented Sarachan.  "Not having Cristiano here, I'm not going to cry over it, but our players understand there is a great challenge ahead."
The 63-year-old, an assistant under head coach Bruce Arena during CONCACAF qualifying, acknowledged that directing the team has "been good therapy."
"The taste of that last match had taken a while to get out of my mind and out of my mouth, that taste of the fact that we're not going to the World Cup," he remarked.  "What makes this week so special is that we've assembled a group of players that have a bright future, players that have shown up with no bitterness, no chip on the shoulder."
The availability of 17-year-old forward Josh Sargent, who starred at the FIFA Under-17 and U-20 World Cups this year, is being evaluated due to a "lower body injury."