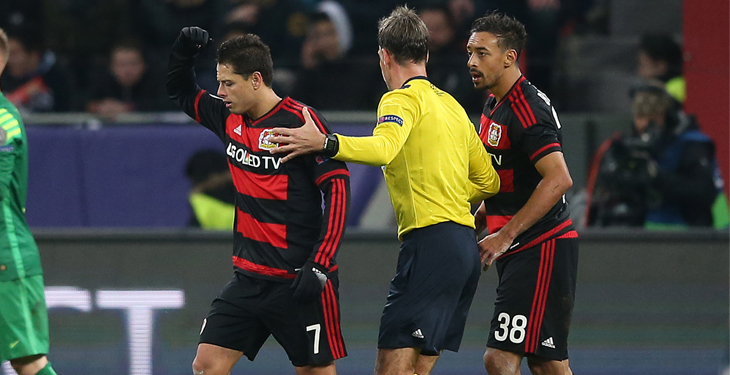 Hernandez scores, but Leverkusen to Europa League
Published on
/ Updated on at
Javier Hernandez (left) is spoken to by the referee during Bayer Leverkusen's UEFA Champions League match against visiting Barcelona on December 9, 2015, in Leverkusen, Germany. (Photo: Mexsport)
LEVERKUSEN, Germany – Even though Bayer Leverkusen was eliminated from the 2015/16 UEFA Champions League after a 1-1 draw with visiting Barcelona on Wednesday, Javier Hernandez gave his fans something to cheer about. 
After Lionel Messi (20') scored to put the Spanish power ahead, Hernandez netted a 23rd-minute equalizer. 
The 27-year-old Mexico international hammered Admir Mehmedi's deflected left-sided cross into the net with his left foot from 12-yards out. 
It was Hernandez's fifth goal of the current UCL and the 11th in his last 12 games in all competitions. 
Bayer Leverkusen (1W-3D-2L, 6 points) missed out an advancing from Group E despite having a better goal difference than runner-up Roma (1W-3D-2L, 6 points) due to the head-to-head comparison (4-1 in points). Barcelona had previously the top spot in the group. 
The German side will now compete in the UEFA Europa League for which a Thursday announcement revealed it will be seeded entering Monday's draw.
Hernandez is tied for fourth on this year's UCL scoring table and has 13 career goals in the competition, including seven with Manchester United and one with Real Madrid.