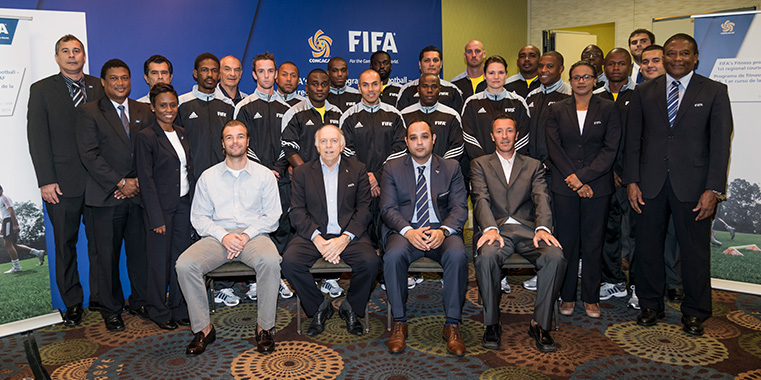 CONCACAF/FIFA launch development course
Published on
/ Updated on at
(ABOVE) Participants in the CONCACAF/FIFA development course that opened October 16, 2014, in Surnrise, Florida.
SUNRISE, Florida – Fitness was the focus of attention, when the first-ever CONCACAF/FIFA development course opened Thursday at the Holiday Inn.
The innovative program is based on a new FIFA publication that explores the integration of physical preparation into small-sided games.
During the four-day course, participants are scheduled to take part in theoretical classroom sessions in the mornings and practical field application in the afternoons.
All of the activity is seen as the first step in CONCACAF developing a physical preparation course for its 41 Member Associations.
Course attendees include:
Jean-Marie Conz, FIFA Technical Development manager
Marcos Tinoco, FIFA Technical Development officer
Rodrigo Kenton, FIFA Technical Development officer
Anton Corneal, FIFA Technical Development officer
Angenie Kanhai, FIFA Development officer
Jinelle James, FIFA Development officer
Pierre Barrieu, instructor
Tobias Wawroschek, instructor