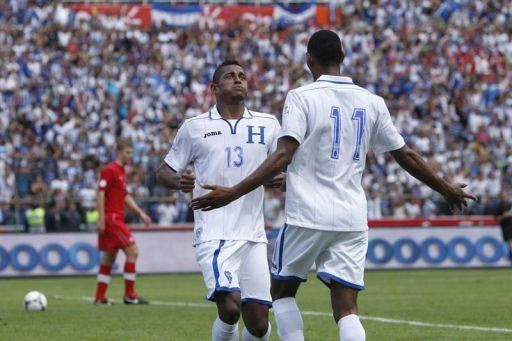 Costly reflects on 2012 Honduras win vs. Canada
Published on
/ Updated on at
MIAMI, Florida – This week, Concacaf World Cup Qualifying for Qatar 2022 resumes with another appetizing four-match slate, including a tantalizing battle between Honduras and leaders Canada in San Pedro Sula.
The mere mention of Honduras vs. Canada in San Pedro Sula is enough to evoke memories of one of the finest performances in Honduran National Team history.
The date was October 16, 2012 and Los Catrachos were in need of three points to advance to the Final Round of Concacaf WCQ for Brazil 2014. One of the key figures of that Honduras team was Carlo Costly, who delivered a hat trick in an 8-1 win that still brings a smile to the legendary striker.
"It was a crucial match, a difficult match. We had to win that game no matter what to reach the final round. We had experienced some problems in that we hadn't scored many goals, we hadn't played well, so I think that game helped us raise our level to then be able to go to the next phase," said Costly in an exclusive interview with Concacaf.com.
"It was one of our best performing matches, in terms of finishing, attacking, defense. I think it was one of the best in that qualifying cycle and I think it showed on the field. There were so many goals because with every attack we had a mission of scoring a goal and that's how it went," added Costly.
Honduras jumped on Canada early with a pair of goals from Jerry Bengtson in the 7' and 17'. Costly would then get into the act, scoring the first of his three goals in the 29', and also his first of that WCQ cycle. The relief of finally scoring in the WCQ cycle was palpable.
"The first one was a header in front of goal on a cross from Bengtson and I did a dive to head it in. I had been in a dry spell of not scoring for Honduras and tears came out of me because it had been so long. It was a nice goal. I was happy for that goal. The second was also a header inside the area in the second half. Actually, all three were headers. The second was off a pass from Mario Martinez and the third came off a corner kick, it was played in from Bengtson and I headed in," said Costly.
Jerry Bengtson, right, celebrates followed by Honduran teammate Mario Martinez after scoring against Canada in San Pedro Sula on October 16, 2012 in San Pedro Sula, Honduras. 
It was the culmination of a great day in Honduran football and further added to the mystique of Honduras' near-invincibility when playing at home in San Pedro Sula during the day.
"I remember in that World Cup qualifying cycle they asked us what time we'd like to play. The conditions for different national teams, for example Canada, it was not favorable for them. They were coming from the cold and we were used to the heat here, so for us it was big to play at two in the afternoon because we are used to the heat, the humidity and everything that comes with that. It took a toll on Canada and it benefitted us," said Costly.
Nine-and-a-half years later, the two sides will meet in another WCQ, but this time at night in Honduras, with Canada atop the Final Round table and Honduras still seeking their first win. Costly knows this year's affair will be a much tougher contest for the home side.
"It can be the moment to turn things around for Honduras, but Canada come in on a high, while Honduras have not found their footing yet. For Canada, winning here would be like striking gold since they are first and could put some distance between themselves and the other teams. I think from Canada we can expect a well-drilled team and well-structured in all senses," said Costly.
Honduras will try to get that crucial first win under the guidance of Head Coach Hernan Dario Gomez, who took over the squad before last November's WCQ window. Costly stresses that calling on some of Honduras' youth would help Gomez not only for the current cycle, but for qualifying for USA/Canada/Mexico 2026.
"Mathematically, Honduras can still qualify, although via a playoff, but it depends on the other teams. I think it's very difficult that Honduras will qualify for this World Cup, but you always have to maintain hope in life. Hopefully they can rise up and have a chance to qualify at least for a playoff.
"It's difficult to see the work Gomez has been doing because he's had such little time. There have just been two games, so I think his work will show up more in the next qualifying cycle in which we'll need to qualify no matter what. I think he should start to modify pieces, look to bring in new talent and start to do things well to then be able to qualify for another World Cup," said Costly.
The 39-year-old forward believes that with the proper guidance, the future crop of Honduran players can elevate Honduran football to another level.
"There are some very good young players, they are very technical, they have good control of the ball. There are players that need to be helped every day and pushed to become better so that they can aspire to go play overseas and train there because you learn so much playing abroad. There are good players here and hopefully this new generation can lift up the national team," said Costly.