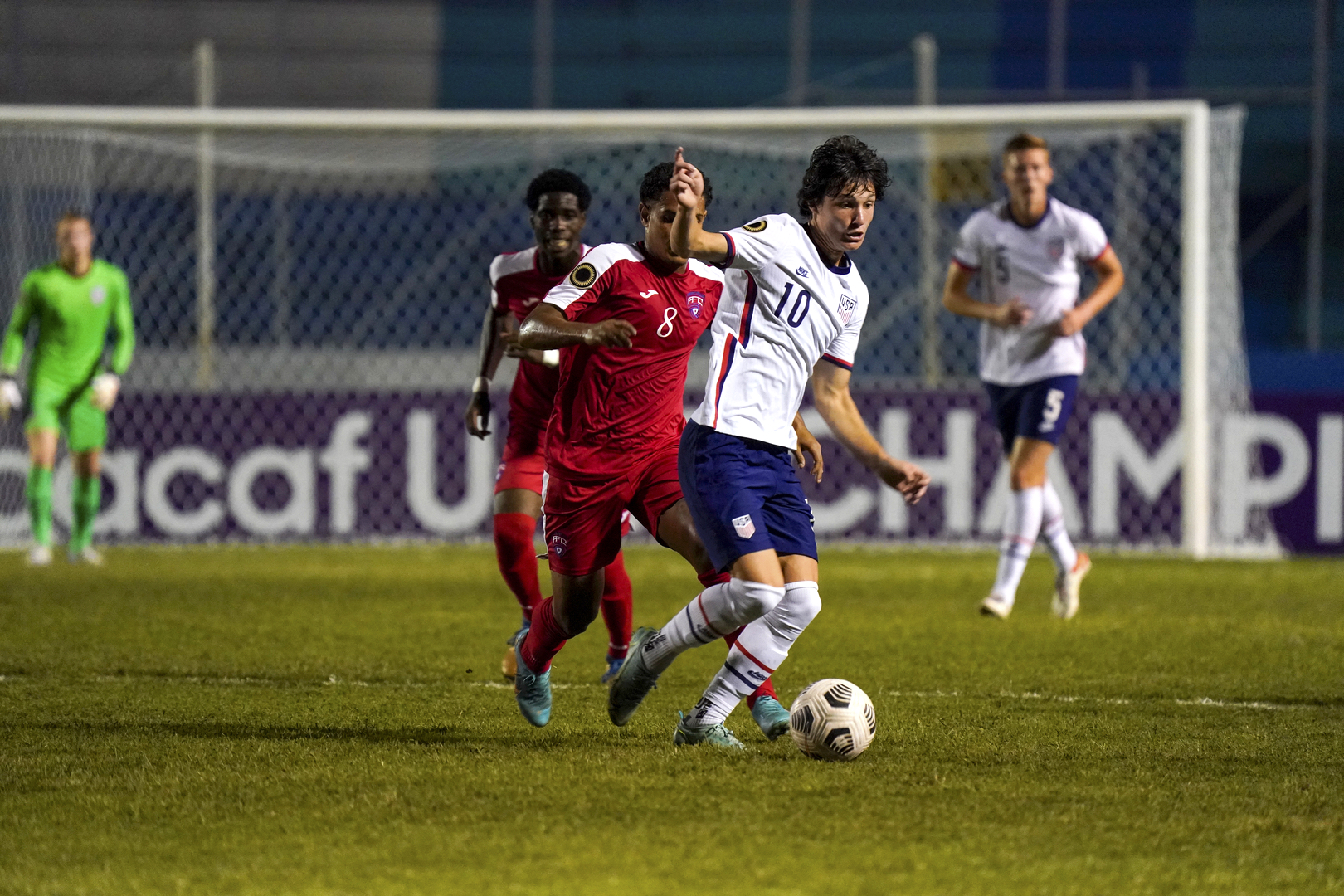 US U20 MF Paxten Aaronson: "World Cup would mean everything"
Published on
/ Updated on at
TEGUCIGALPA, Honduras – There is a long history of brothers excelling at the highest level in international football and the United States appears to have the latest example in Brenden and Paxten Aaronson.
Earlier this year, Brenden helped the U.S. qualify for the 2022 FIFA Men's World Cup in Qatar and was also a presence in the team's two Concacaf Nations League games earlier this month.
Now it is Paxten's turn to shine under the bright lights of Concacaf, forming part of the U.S. squad that has reached the quarterfinals of the 2022 Concacaf Men's Under-20 Championship in Honduras.
With a pair of goals and an assist in four matches, Aaronson has been one of the key playmakers in the attacking midfield for the U.S.
"It has been a great experience for me," said Aaronson in an exclusive interview with Concacaf.com. "It is my first true international tournament on a national team where you can win something at the end, and of course qualifying for the Olympics and the World Cup, so there are big things on the line and I embrace the competition. I'm looking forward to the rest of the tournament," added Aaronson.
The CMU20 always presents a unique challenge in that during the group stage there is just one rest day before returning to action, yet the U.S. emerged from their group with two wins and a draw, before earning a 6-0 victory against Nicaragua in last Saturday's Round of 16. No doubt the depth of the squad and the help from the trainers has been a big asset.
Earlier this year, Brenden helped the U.S. qualify for the 2022 FIFA Men's World Cup in Qatar and was also a presence in the team's two Concacaf Nations League games earlier this month.
"It has been a good balance with rotation. In our squad, we have guys who can do their job when they are called upon. I think having that rotation and that flexibility is really key in a tournament like this. The staff has been good with recovery, getting massages, foam rolling, all of that recovery stuff has been really beneficial for me and all the guys," said Aaronson.
It also helps that the U.S. players have formed an immediate bond.
"I love all these guys. We clicked right away, and I give huge credit to [Head Coach] Mikey [Varas] and the entire coaching staff for being able to gather a group of guys in such a short time, knowing that these are the guys who can make a connection and go far in the tournament," said Aaronson.
While this is Aaronson's first foray in a Concacaf tournament with the U.S., he did see action with his club side, the Philadelphia Union, in the 2021 Scotiabank Concacaf Champions League, playing 14 minutes in the Union's 2-0 semifinal second leg loss versus Mexican giants Club America. Despite being just 18, Aaronson understands the value of competing in such big continental competitions at an early age.
"It's an honor. To be able to represent my club and now my country in such big Concacaf tournaments is great. Representing Philly in such a big tournament, I was very grateful for that and now representing my country, wearing the badge, is meaningful for me and my family. It's a great privilege," said Aaronson.
It also helps to have a big brother who is acutely aware of the challenges of playing in Concacaf.
"[Brenden] basically told me that I have to play every game like it's my last, that it's Concacaf and you never know what to expect. Every team comes out and every team gives it their all, so you have to make sure that you are ready and mentally prepared because every game is like a final," said Aaronson.
A win in Tuesday's quarterfinal with Costa Rica would qualify Aaronson and the U.S. for the 2023 Men's Under-20 World Cup in Indonesia, and a semifinal victory would also send the U.S. to the 2024 Paris Olympics, giving the U.S. their first Olympics berth since Beijing 2008.
The prospect of playing on the global stage has been a great source of motivation for Aaronson.
"The World Cup would mean everything. Ever since I was little, being able to qualify for such a big event like the World Cup would be a dream for me and for the entire team.
"The Olympics are huge for me and the rest of the team, too. A U.S. team hasn't qualified since 2008, so that's something we keep in the back of our minds and we're striving to be the first team since 2008 to make it to the Olympics for the U.S. It would be incredible," concluded Aaronson.