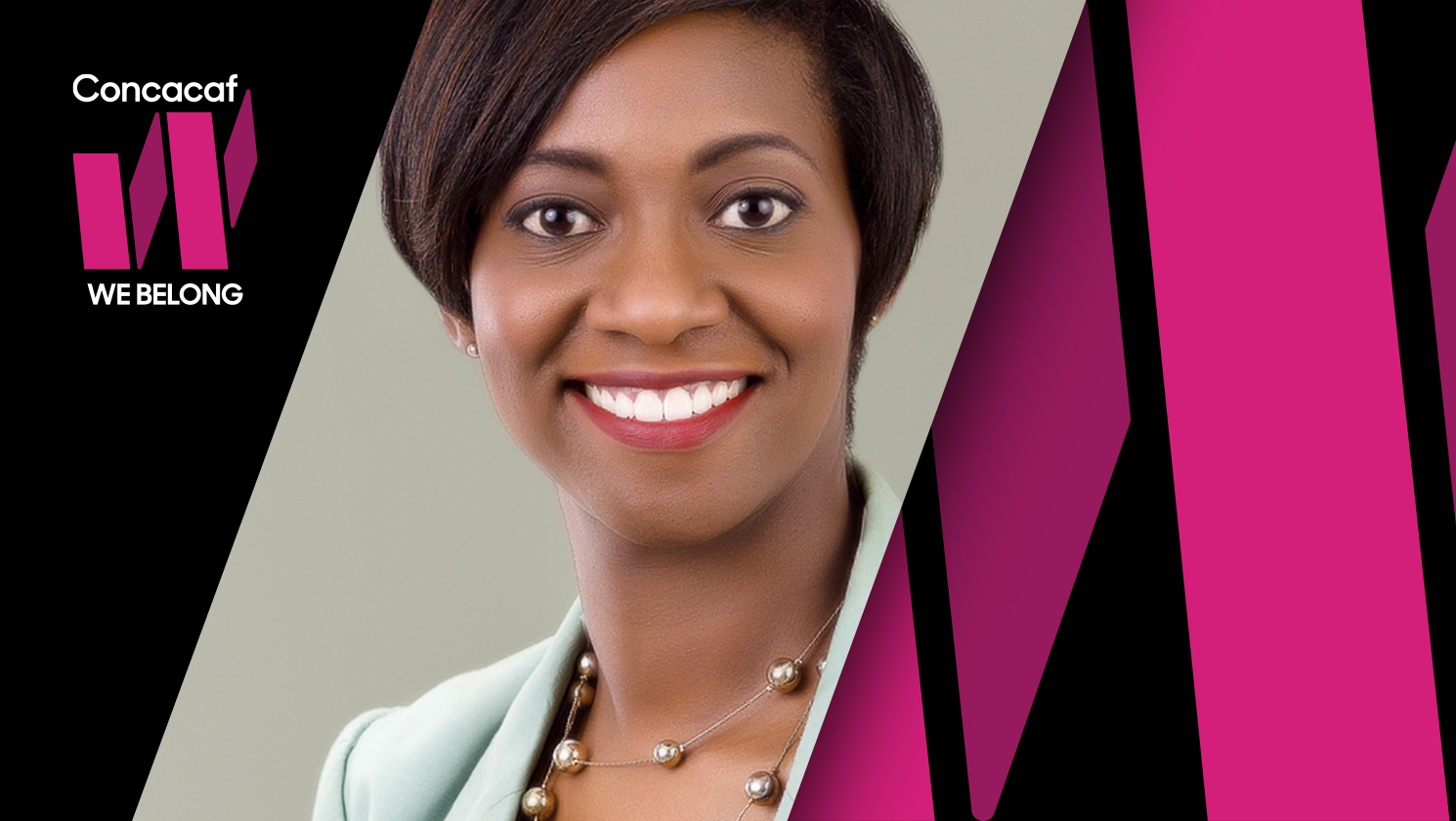 Yanique Forbes-Patrick: Football teaches many positive values; no other sport has this power
Published on
/ Updated on at
Scotiabank has a firm trust and belief in football across Concacaf embodied in an extended partnership that started in 2014. Throughout the years, the continued support to competitions and development programs in our region has contributed to achieve the Confederation's mission of developing the game.

Yanique Forbes-Patrick, Director, Corporate Affairs and Communications for the Scotiabank English Caribbean Region, speaks with passion of the international bank focus on sports to build brand value and stronger communities, while sharing the love for our game with their employees and customers.

As a top executive that actively participates in sports related projects, Yanique also comments on how to be a game changer in a global organization and how proud she feels to work for a company that makes it a priority to support and promote women and that sponsors football initiatives to empower girls.

How did you start your career?
About halfway through university, I realized I wanted to pursue marketing as a career, however my school did not offer a marketing degree at the time. Therefore, I left with a degree in Management Studies determined to find a job in marketing. I was offered a position at an advertising agency and I took it. It wasn't quite marketing, but I was an Account Manager, so I liaised with a lot of marketing managers and translated what they wanted to our creative development teams. It was a good induction into the working world, and I stayed in that position for about a year. After that, I took a job in marketing for a company that owned the Burger King franchise in Jamaica. After a year and a half, I went to school in England to do my master's degree – in marketing of course. After working in the telecommunications field for several years, I joined Scotiabank nearly 5 years ago.

Tell us about the interest of Scotiabank in sponsoring sports events
I have been a Scotiabank customer much longer than I have been an employee and Scotiabank has always been involved in sports with a heavy focus on youth sports. When I joined Scotiabank as Head of Marketing for Central Caribbean in 2015, I began managing many of our sports sponsorships. As a company that highly values both supporting the communities in which we operate and youth development in particular, supporting and investing in sports is a great fit for us. It is a really important component of youth development. Sports teaches critical values and life skills that you don't always learn in a classroom.

Is there a Concacaf event that you remembered the most, if so, please tell us the reasons
A great Concacaf event was when Jamaica hosted its first Gold Cup match in 2019. It was a historic moment to watch the games between the Reggae Boyz vs. Honduras and Curacao vs. El Salvador. The stadium was full and it was one of those nail biting matches [MR1] all the way to the end. It was a proud moment for me as a Jamaican and as a Scotiabanker and even more fun that the home team won.

Why do you believe in football?
I think football is an amazing sport that evokes such passion from people, and it has the power to bring the whole world together. If there is a big FIFA World Cup match taking place, life comes to a standstill here in Jamaica. At the youth level where we place our focus at Scotiabank, football teaches so many positive values – determination, teamwork, conflict resolution, sportsmanship, communication. No other sport has the power of football.

Tell us about your involvement in sports sponsorships?
In the Caribbean, once you work with a major brand, you will likely sponsor activities that your customers care about, and sports is a big part. Sports are a great way to connect people and customer engagement is critical for any business.

What have been your most difficult challenges?
You encounter challenges every day in business. It's very important to have the mindset of winning and believing that every challenge has a solution and your job is to find that solution and execute.

What are the key components to become a game changer?
To be a game changer I think you need to pursue excellence. You can't make a difference if you're satisfied with being mediocre. Also - be you. We are all unique and bring a different perspective and different abilities to the table. When you combine your unique point of view and talents and aim for the highest standards in whatever you are doing, that's how you become a game changer.

What is the perception of your brand in regards to women's football?
Scotiabank is a strong proponent of diversity and inclusion and we try to support sporting properties that promote that. We recently partnered with the Confederation to create the Scotiabank Concacaf NextPlay Cup, a grassroots, youth football program for girls and boys in primary, elementary schools across the Caribbean. It is the only program of its kind that mandates that girls and boys must be included on each team and we are very proud of it. Recently the Jamaican women's football team became the first team from the Caribbean to qualify for the FIFA Women's World Cup France 2019 and I am glad that at Scotiabank we are setting the foundation for our girls to ensure that we can sustain this legacy.

As a successful executive, how would you empower more women to follow their dreams and pursue a career related to football?
I believe we live in a great time for women. Both on and off the field, I encourage young women to pursue their passions. I'm so happy to see women excelling in football and sports. It just proves that once given the opportunity women can excel at anything! I'm proud to work for a company that makes it a priority to support and promote women and that sponsors initiatives to empower girls.

Tell us about a memorable moment or anecdote related to football
One of the key life lessons that I think you can learn from football is not to give up. I have seen the fate of teams turn around in the last minute of a game. I try to adopt that same tenacity to life – keep going, keep trying and give it your best. Things won't go your way every time but if you gave it to you all then you won't have regrets.