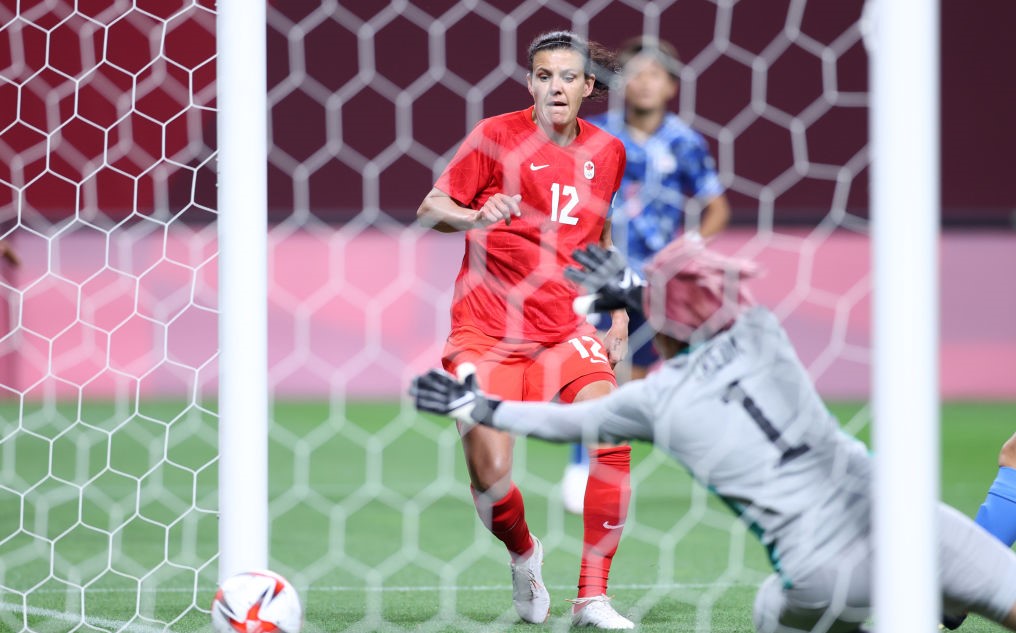 Sinclair scores again as Canada earn point vs. Japan
Published on
/ Updated on at
TOKYO, Japan – Christine Sinclair scored her 187th international goal to help the Canadian Women's National Team earn a 1-1 draw with Japan in their opening match of Group E of the 2020 Tokyo Olympics on Wednesday at the Sapporo Dome in Sapporo, Japan.
Sinclair had already made history when she stepped on the pitch for Wednesday's contest, as it marked her 300th senior team appearance.
The 38-year-old all-time leader in international goals among men and women's footballers quickly went to work and had Canada in front 1-0 in just the 6'.
A cross from the right wing took a deflection off a Japan defender and Sinclair swooped in with a shot that first struck the post, but rebounded back to the veteran striker, who promptly tucked away her second attempt.
The Canada goal woke up the host nation and Japan had two good cracks at goal before the halftime, but were unable to test Canada GK Stephanie Labbe.
Labbe would then come up with a massive play in the early stages of the second half, when she stretched to save Mina Tanaka's penalty in the 54' to maintain the Canada lead.
On the play that resulted in the penalty, Labbe was involved with a collision and was later substituted off in the half and replaced by Kailen Sheridan.
Japan's efforts at getting back on even terms would finally bear fruit in the 84' with Mana Iwabuchi striking from outside the area to beat Sheridan for the 1-1 final.
Canada will return to action on Saturday against Chile.