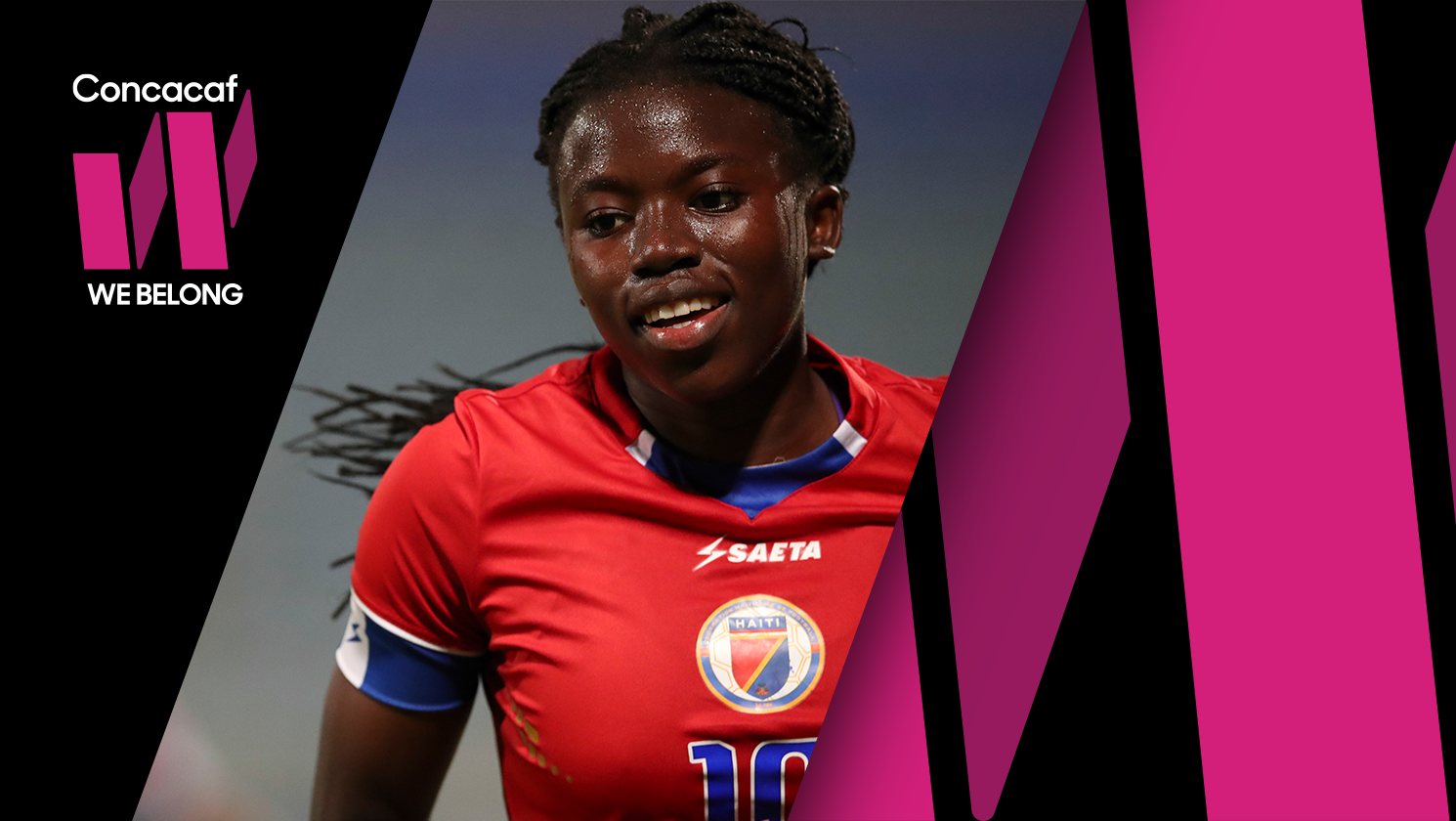 Nerilia Mondesir: "Football remains a refuge and a reason for pride for Haitians"
Published on
/ Updated on at
In commemoration of the upcoming International Women's Day
Nerilia Mondesir is the captain of Haiti's U-20 women's team, she and her teammates made history in the region in 2019 after becoming the first Caribbean nation its first ever FIFA U-20 Women's World Cup. Last year, Mondesir achieved another milestone in her professional career as she became the first female player from her country to sign a professional contract with the French Division 1 Féminine club Montpellier HSC. In anticipation to the International Women's Day on March 8, she talked to Concacaf.com about these memorable moments and the benefits for women to play the game.

What is the secret to signing a professional contract?
No secret other than discipline and constant work. I had some qualities that I developed while playing football with the boys of my neighborhood in Des Prés; the person in charge of sports in the area chose me to represent it in the national scouting reserved for young men. I distinguished myself; there was no women's football. At the training center, I was also retained for judo, which welcomed girls. I quickly made my way by snagging belts and medals, but I remained attached to football, and whenever I had the opportunity went to have fun with the girls of the federation's academy. Everything happened quickly, because two months after I was at the Caribbean championship and started to win awards. In short, having qualities and wanting to succeed and win, that's what it takes.

How has the game empowered you?
My expectations and dreams are very big, I would even say limitless. God has endowed me with interesting qualities. I was lucky to have grown up in a poor but very kind environment among young people who are all struggling to change their lives through football and leaders who have made enormous efforts and sacrifices to help us. The rest is my tenacity and determination to become someone to help my family. I've been lucky and I gave my all to everything that I did. At the Center in Haiti I sometimes stayed hours working alone, working with the right supervision from the start. My federation trusted me and always supported me, as well as my friends and spectators, so I took advantage of it. Judo, where I began to climb the sports ranks, also helped me gain confidence, to strengthen my body, which helps in one on ones.

I'm still young and I want to go very far in club competitions and in the national team, where the fans have a deep affection for me. I don't give myself any limits; I give everything every day because I know the fans – who call me Nérigol, a nickname I dislike – expect a lot from me. My countrymen suffer so much that they cling to football for pride, and we want to make my countrymen proud by continuing to climb the hierarchy. Moreover, with us girls, our federation has set itself the goal of qualifying Haiti to the 2023 FIFA Women's World Cup.

What are your expectations for women's football in the Caribbean?
I'm already happy that my country has almost become the queen of the Caribbean by crushing it in all competitions. We will continue to work through our national women's program, which is creating women's academies in the country to raise the level of women's football throughout the region, hoping that other sister countries will do the same. This in turn will make the Caribbean more competitive but also provide better opportunities to play, create progress and change the lives of all the young girls in the Caribbean who are lagging behind in terms of female emancipation. All countries in the region are making efforts to create specific academies for girls, following our example.

How would you encourage more women to become football players?
First of all, by my enthusiasm; I am happy when I am on a field and I want many girls to enjoy this happiness and this particular joy I feel when I play on the field, but also when I meet friends and teammates. I am overjoyed when the team wins, when I score or I make an assist; this enjoyment has no equal, it fills our lives and we feel like we are in control of our destiny. The other joy is to be able to help my parents who come from poor backgrounds, and to be able to encourage other young people who grew up with me but did not have this chance. During the holidays I return to Haiti and I spend all my time as an educational coach working with the little girls of the academy where I came from. I coach my little team and I try, despite my limited experience, to motivate them and teach them technical and tactical tricks that help them improve. I hope to continue to coach them and pass on to them my joy of playing.

What was the most rewarding experience of your career?
I've lived many great moments. The final against Canada in Concacaf's Girls' U-15 Championship for one. Despite the loss on penalties we were happy to stand up to a great country of women's football; in addition, I won the golden ball and the whole country celebrated for months inviting us everywhere.

There was that eight-day trial in Montpellier. For a while, I had doubted whether I would be able to go to France, but a famous player, the captain of the senior national team, Mr. Vorbe, intervened to help me.

I also remember the equalizing goal against the USA in stoppage time on a knee interception and a pass from my friend Coventina.

And then my three goals at the U-20 Women's World Cup, including two against the German powerhouse. Wonderful memories. The almost crazy amount of support I get every day from Haitians, that make me want to give everything I have, for football and my country, hoping that by my example more young girls will be able to get out of the very difficult and poor environment of Haiti to find their way and have a better future. Women's football is a great reality in Haiti: our academy welcomes girls from 7-8 years old, and I confess that they are strong and they too will soon be like me and make people talk about them, if the problems that are eating away at our country give boys and girls a chance to continue to grow and progress.

What do you like about football?
The beauty of the game; the passion that animates the fans; the madness that our sport exudes in people of all conditions when they attend a match. It is the only place where a small country like Haiti can stand in front of great powers a thousand times richer. For a girl it is still a way to cultivate our personal independence because on the field we decide what to do with the ball by ourselves; we develop our character and develop our sense of responsibility.