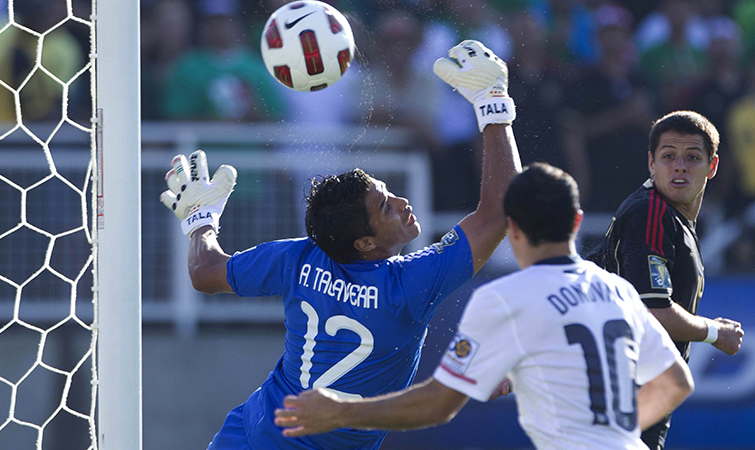 2011 Gold Cup: Mexico comeback caps tournament to remember
Published on
/ Updated on at
MIAMI, Florida – This Friday at 7:00 PM ET, Concacaf will be airing a re-broadcast of two Concacaf Gold Cup classics, the first being the Group C finale between Honduras and El Salvador from the 2019 Gold Cup, followed by the 2011 Gold Cup Final between Mexico and the United States. Both matches will be shown on Concacaf's Facebook and YouTube pages, plus the Concacaf App.
Great goal-scoring performances and fantastic finishes will long be remembered as the hallmarks of the 2011 Gold Cup.
The tournament was a rarity in that there were no debutant teams, meaning all 12 participants knew of the perils and pitfalls involved in playing a Gold Cup.
Group A would turn into a goal-scoring playground of Mexico FW and Golden Boot winner Javier Hernandez, who scored five of his seven goals in Group A. In total, Mexico poured in 14 goals in their opening three matches, all victories, to finish atop the group. Costa Rica also joined El Tricolor in the quarterfinals with a four-point second-place finish, as did El Salvador, who also finished on four points, while Cuba failed to advance.
Group B saw Jamaica, Honduras, Guatemala and Grenada in the fold, and Jamaica were strong at both ends, as they finished with a perfect 3-0 record, scoring seven goals while allowing none.
But the real fireworks came from Honduras in their match against Grenada, as the Catrachos scored seven goals in a 7-1 win. Not to be outdone, Guatemala enjoyed a 4-0 win over Grenada, as the two Central American sides finished with four points each to punch their ticket to the knockout round along with group winner Jamaica.
The United States, Panama, Canada and Guadeloupe were drawn into Group C and Panama made headlines by defeating the U.S. 2-1 to put the U.S. against the wall going into their group finale against Guadeloupe. In the end though, the U.S. got a 1-0 win and combined with Canada's 1-1 draw with Panama, the U.S. collected enough points to join Panama in the next round, while Canada and Guadeloupe were left on the outside looking in.
The quarterfinals were as dramatic as they come, beginning with Honduras outlasting Costa Rica in a penalty shootout 4-2 following a 1-1 draw between the teams. Mexico would then rebound from an early deficit to down a tough Guatemala side, 2-1.
The U.S. reached the final four with a 2-0 win over Jamaica, while a 90' goal gave Panama a 1-1 draw against El Salvador, with the Canaleros eventually advancing via a penalty shootout, 5-3.
The U.S avenged their earlier defeat to Panama with a narrow 1-0 win in the semifinals, while it took extra time for Mexico to finally bring down Honduras, 2-0.
The Final was a Gold Cup classic, as the U.S. raced out to a 2-0 first half lead over Mexico, only to see El Tricolor mount the biggest comeback in Gold Cup Final history by scoring four straight to win 4-2, capped by Giovani dos Santos scoring what is widely considered to be the greatest goal in Gold Cup Final history.