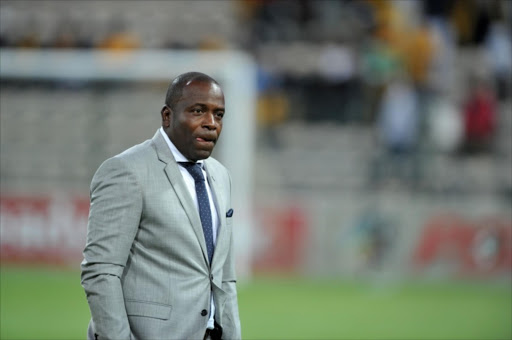 Suriname Coach Menzo: "We want to raise the standard"
Published on
/ Updated on at
MIAMI, Florida – 2022 will mark an important year for the Suriname National Team. Fresh off a historic 2021 in which they won their first ever Concacaf Gold Cup match defeating Guadeloupe 2-1, Suriname will get a crack at the best nations in Concacaf in League A of the 2022-23 Concacaf Nations League.
A new man is at the helm of Suriname, Stanley Menzo, who took over for Dean Gorre earlier this month. Born in the Suriname capital city of Paramaribo, Menzo spent much of his playing career as a goalkeeper in the Netherlands, notably at Dutch powerhouse Ajax. Now as Suriname coach, he will be looking to lead his birth country forward after spending 2021 managing nearby Aruba.
"When it came to this opportunity, I asked myself the question, 'Why not?' I could have been the coach for Suriname twice before and I didn't go for it. In the meantime, a lot of development took place and also, in my career. I think it's the right moment because we have big potential and the coach before me, Dean Gorre, made some good steps with the team. Now we want to raise it in all different parts of football, like organization and scouting," said Menzo in an exclusive interview with Concacaf.com.
"It is a big honor to coach Suriname. It is something to be proud of for anyone who becomes the coach of their national team. It was always a dream. I have tried to do what I could do for Suriname football during my career and so it has all come together now," added Menzo.
A big contributor to the rise of the Suriname National Team in recent years is that players with dual passports are now eligible to compete for Suriname, a change that took place less than two years ago. Leveraging that dual passport possibility, Menzo sees a path on which to improve via player recruiting ahead of their Nations League campaign in which they'll face the region's best in League A.
"One thing for sure is that we will defend our nation with all we have. We are looking to recruit more youngsters, more players who are playing at high levels in Europe and the world. If you want to do something at the League A level, you have to increase your level. That's why it's important that we recruit more players, better players so that we can raise the standard and show ourselves against top countries in the region," said Menzo.
Finding those players who are eligible to represent Suriname can be a challenge, which is why Menzo is stressing the importance of Suriname improving its organization as a whole to help better attract players.
"Part of the recruitment is that these players are coming from professional environments and they want to see that improvement. They want to see that it is more professional. I'm talking about organization of the training camps, the traveling. It's a normal process for players who are maybe at level 10, but different for players who come from a level 100. It is not always easy to recruit new players because they want to see a level 100, but the organization in Suriname is somewhere in between and that brings difficulties.
"We are going to try to make it more professional. It won't happen overnight; it takes time, but at the moment that they see development, we hope the players say, 'OK, I'm convinced there is more development, there is more professionalism. I will take a chance and go for Suriname,'" said Menzo.
Another obstacle that has to be overcome is the lack of activity in Suriname's domestic league due to the pandemic. For that reason, in the near term, Menzo says he will largely be relying on foreign-based players.
"For about 15-20 years you had players from Suriname playing overseas and players in the local league, and it was always a struggle of them against us. At the end, we are still Suriname players. The problem at this moment is that the level of the foreign players is much higher than the level of the local players. Part of my job and part of the development of Suriname football is to help develop the local players. Covid doesn't help, but we will try to do it. At this moment we rely more on the foreign players because Covid prevented the local league from playing for almost two years and the level dropped," said Menzo.
At the end of the day though, Menzo knows that the only path to success is for Suriname's football program to have stability and continuity across the board.
"As a coach and as a player you learn a few things. One of the most important things is organization and structure. I can't do it myself; I need people around me. My staff is so important for me. People around me can help me to help to succeed and help those players perform well. People who have the same heart for Suriname, people who have the same dedication and loyalty. As soon as there is good organization and structure, things will go well. Organization is what I want to give to Suriname," concluded Menzo.