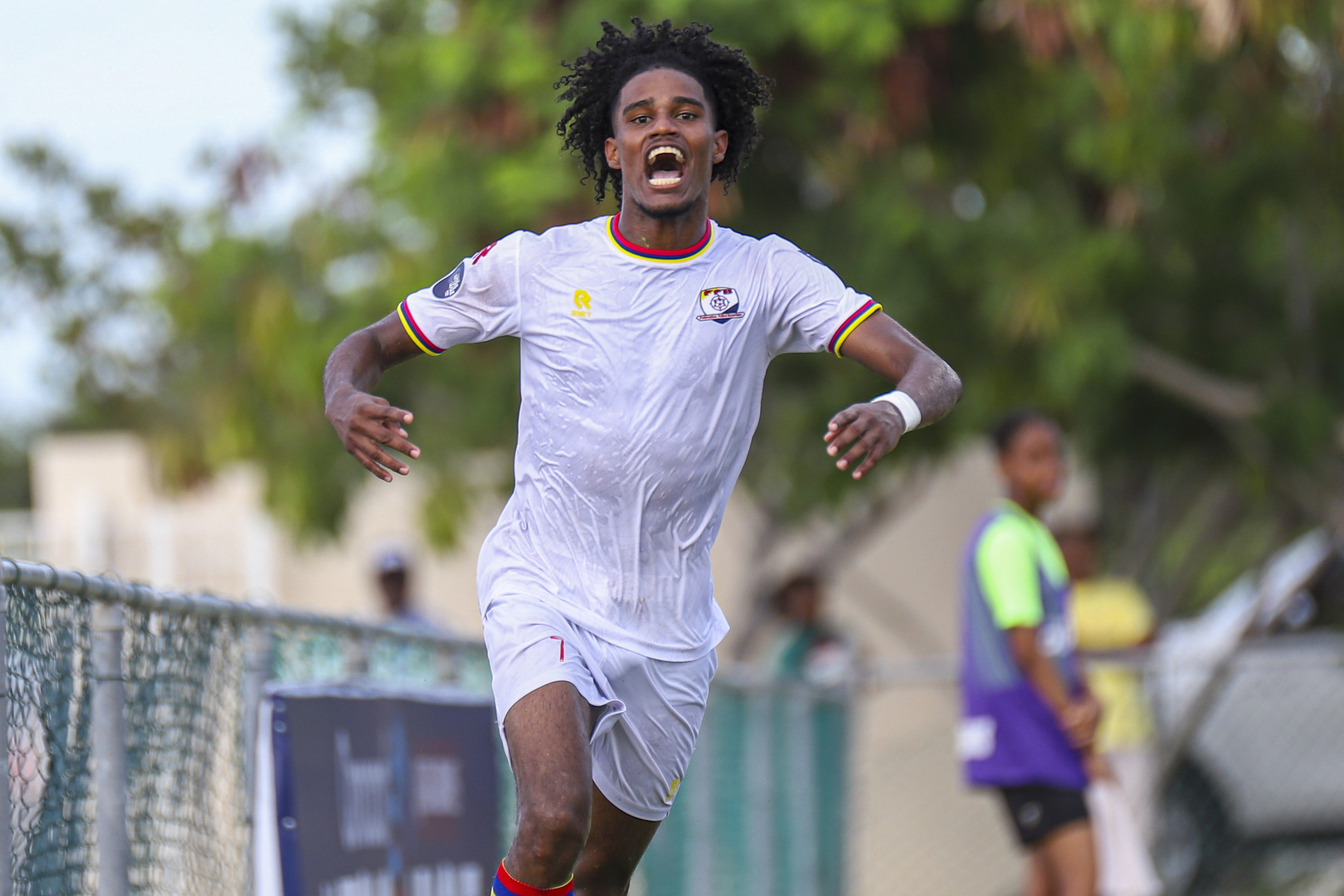 Sky is the limit for Ayrton Cicilia and Bonaire
Published on
/ Updated on at
KRALENDIJK, Bonaire – When the dust settled after the 2022-23 Concacaf Nations League draw, Group A of League C looked to be wide open. You could have made legitimate cases for all four teams as to why they would be the ones to win promotion to League B and advance into the Concacaf Gold Cup qualifiers. But with two-thirds of the competition in the books, Bonaire have stood out as the clear team to beat.
Just five minutes into their opening match against the Turks and Caicos Islands, Bonaire took the lead on the road and never looked back. Leading the charge has been breakout star Ayrton Cicilia, who netted a hat trick in that first match and currently leads the entire CNL with five goals. Cicilia also notched a couple of assists and has proved to be the most dangerous attacking player in all of League C.
But while they are five points clear with just two games left to play, Bonaire are not officially out of the woods yet. If they can't at least partially take care of their business in March, they could still miss out on promotion. How does one stay focused and avoid complacency? For Cicilia, he has a harder time *not* staying focused on the March window.
"I'm hungry to play those games right now if it were possible. We must finish the job," said Cicilia in an exclusive interview with Concacaf.com.
One more wins out of their final two matches would be enough to seal the deal, though even with two defeats they'd still have a chance depending on the other results.
Cicilia performed well during the previous Nations League with one goal to his name, but credits improved team chemistry and fitness this time around as one of the main reasons for his success.
"During the last Nations League, I was playing in Europe so I didn't have the chance to train with the team. This time, I'm here on the island, and we also have a younger team that's more fit," said Cicilia.
The side's youth and athleticism have been on full display thus far; Quincy Hoeve contributed a goal at the ripe young age of 19, and Jonathan Libania, who has been tormenting defenses in his own right, is just 21.
Bonaire are relative newcomers to Concacaf (2014), and promotion to League B would be their greatest international success to date. Cicilia believes that signs of progression in Bonaire could increase the island's profile and lead to more players getting opportunities abroad, further raising the standard of the national team. That formula has certainly worked out for nearby Curacao, who have established themselves as a well-known brand that is respected on the transfer market.
Cicilia's aforementioned hat trick against the Turks and Caicos was the first sign that he and Bonaire might be a force to be reckoned with, and he called it one of the best moments of his career.
"It's good to score when playing for your club, but scoring a hat trick for your country is more beautiful because I know there are more than 20,000 people watching and supporting me," said Cicilia.
After a crafty near-post strike in the fifth minute, Cicilia added his second in the 16th on a free header and completed his trifecta in the 80th minute with a cool finish. In just one match, he proved to be a player who is both always in the right place at the right time and perfectly capable of creating chances out of thin air.
Cicilia's form has carried over to the Bonaire League, where he is creating problems for defenders once again, but the 21-year-old still hopes he can get another crack at playing for a fully professional outfit abroad. With his current form for the national team, he has certainly made a compelling case for himself.