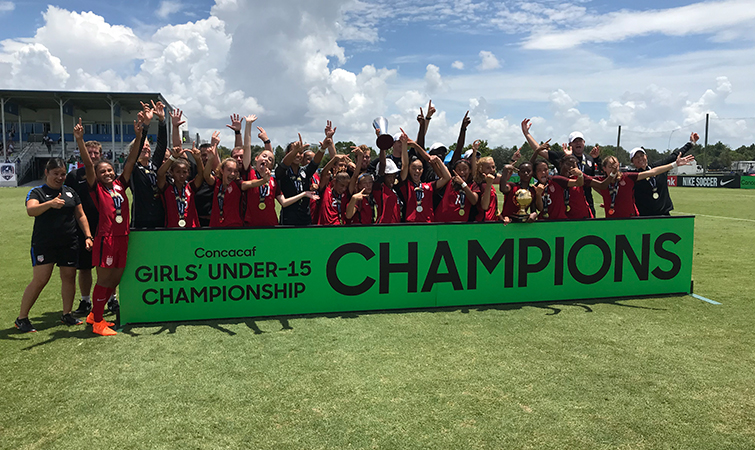 United States claims Division 1 title at Concacaf Girls' Under-15 Championship
Published on
/ Updated on at
BRADENTON, Florida – The United States is the Division 1 champion of the 2018 CONCACAF Girls' Under-15 Championship after claiming a 3-0 extra time victory over Mexico in the final on Monday at the IMG Academy in Bradenton, Florida.
It was a tight, tense 70 minutes of action between the two teams during regular time, with each side having a number of chances. Jaedyn Shaw came the closest to breaking the deadlock with a free kick that stung the crossbar in the 56th minute.
However, matters had to be decided in extra time and in the additional frame the U.S. attack rose to the occasion. A brilliant solo run from Alyssa Thompson ended with the forward slipping a pass into Shaw, who fired in for a 1-0 lead in the 77th minute.
Three minutes later Thompson was fouled in the area, and Shaw stepped up and coolly converted the spot kick in the 81st minute to give the U.S. a commanding 2-0 lead.
The U.S. then capped things off in style in the final minute as Thompson collected a pass and hammered in a right-footed shot to round out the 3-0 scoreline for the U.S.