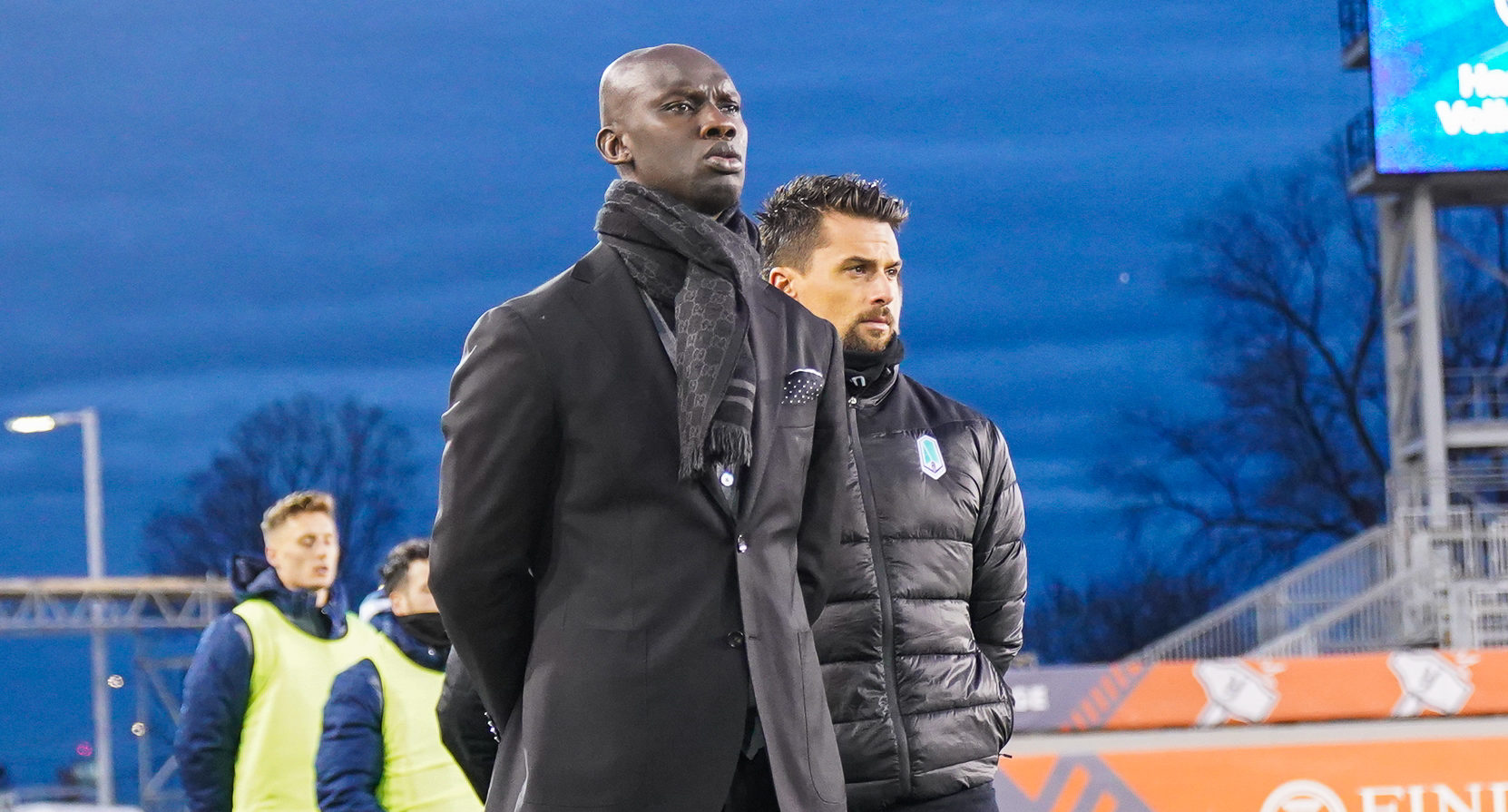 Pacific coach Kah: "Qualifying for the SCL is huge for us"
Published on
/ Updated on at
MIAMI, Florida – For the first time ever, the representative from the Canadian Premier League in the Scotiabank Concacaf League will be someone other than Forge FC, with Pacific FC stepping into the continental limelight after defeating Forge 1-0 in the CPL Final last December in Hamilton, Ontario.
It has happened for Pacific under the guidance of Head Coach Pa-Modou Kah, who took the reins of the British Columbia side in January 2020 and steered them to their first title less than two years later. When he reflects on Pacific's history-making 2021 campaign, Kah points to the culture that has been instilled.
"It's a true family team. We faced some adversity that has nothing to do with football, that was family related, and you see how the boys rallied for each other. We also had fun, because we love what we do," said Kah in an exclusive interview with Concacaf.com. "But for me, it was the process; to see how we developed and how we went through those adversities that we faced."
Kah's inspired leadership not only resulted in a CPL title, but also earned the 41-year-old coach CPL Coach of the Year honors. His influence and tactical acumen were most on display in Pacific's dramatic CPL Final triumph over Forge, which was played at Forge's Tim Hortons Field.
"I think when we had played them in previous times it was more about how we lost. It was not that they were better than us; I'm not a stats guy, but if you looked at the stats, you could see that we dominated, but somehow, they found a way to beat us. In this game I decided to make them beat us. In the first half, we just allowed them to have the ball and see if they could beat us. They couldn't find a way. They had to play a different Pacific that they didn't know. They didn't know that Pacific could play that way. People probably thought they we would come in full guns blazing, but sometimes you have to adapt to survive and win," said Kah.
The victory over Forge paved the way for a place in the 2022 SCL, which is a major milestone for the young, ambitious Vancouver Island club.
"It's huge, it's massive. This club is three years old, and three years old with new players, built from the ground up. It's huge for this island. It's a proud island that has brought up some of the best players that Canada has had.
"Qualifying for Concacaf, people will take notice, players will be noticed, the club will be noticed. It is a massive step for this club and deservedly so because the owners have put in time and effort to try to build a football club and tried to open doors for young Canadian players," said Kah.
Kah, who played in the Scotiabank Concacaf Champions League as a player for both the Vancouver Whitecaps and Portland Timbers, knows full well about the challenges of playing against teams from Central America. Now as a coach, he is keen to see how his players handle the difficult situations of playing away in the region in the 2022 SCL.
"Preparation is key. I've had the pleasure of playing in those hostile environments both with Vancouver and Portland, so I can help them a little bit with my experience, but I tell them the best experience is when you experience something yourself. They have to feel it and be around it because it is totally different. As a coach, I look at it as like they are going to get another learning experience, which will help them grow… Down there, football is viewed differently. Football is life. Football is passion. Football is everything," said Kah.
With a top-six performance in the 2022 SCL, Pacific would follow in Forge's footsteps and become the second CPL side to qualify for the SCCL. There is no question that the objective of not only qualifying for the 2023 SCCL is being set, but that Pacific also want to win the SCL in their debut campaign.
"I believe in challenges and the Champions League is another challenge for this club to take. Hard work and preparation are undefeated. It is a tough tournament, but obstacles and limitations are what you put on yourself. You always got to go out and believe that you can win. That is something that we will try to do. We will try to win [the SCL] because that opens doors. And if you have the chance to get into the Champions League, that's what we'll try to do. If we can get two Canadian teams in, that makes it stronger and better. For us, it's great and I'm looking forward to it. It's an opportunity for this club and this team to hoist another trophy," concluded Kah.