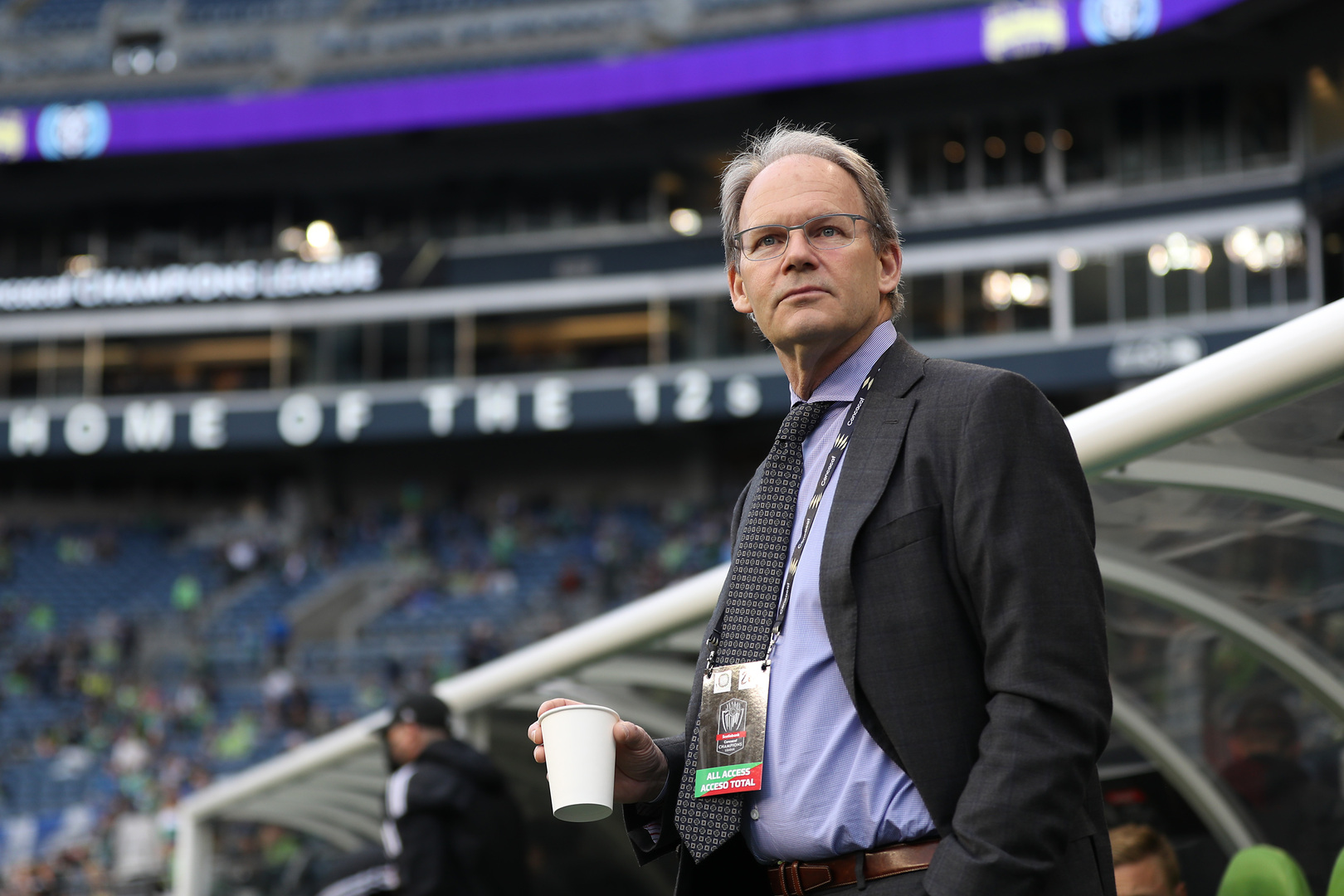 Schmetzer ready for "once in a lifetime opportunity" at FCWC
Published on
/ Updated on at
MIAMI, Florida – When the results of the 2022 FIFA Club World Cup Draw were made known last Friday, the phones of everyone on the Seattle Sounders roster, coaching staff and administration buzzed with excitement.
The 2022 Scotiabank Concacaf Champions League winners found out that they would be facing either Al Ahly of Egypt or New Zealand's Auckland City in the Second Round. A quick scan to the right then revealed who would be awaiting in the semifinals should Seattle win their Second-Round match: 14-time European champions Real Madrid.
The Real Madrid revelation was a piece of news that send the Sounders' group chat into overdrive.
"We have a WhatsApp group chat among all the players and coaches and administrators, guys that normally go on road trips and stuff, trainers, people like that, and so Fredy Montero, as soon as he got up this morning around 7:15, he posted our draw on the group chat and all of the players started to chime in," said Sounders Head Coach Brian Schmetzer in an interview with Concacaf.com.
"The players have been excited all preseason ever since they came in. I think the mood of the group has always been, 'Hey, this is a really big deal, this is a great tournament, this is a chance to showcase myself, my team, my teammates. They all have that same attitude," added Schmetzer.
Schmetzer was quick to point out that there is a lot of work to be done before Seattle can even entertain thoughts of a Real Madrid showdown, but just knowing the number of players on the team who count the Spanish giants as their favorite club would make a semifinal between the two a dream-like scenario.
"Al Ahly is a great team. We have already done preliminary research. Auckland City I don't know much about, but I know that this is sports and that anything can happen. If we happen to get past either one of those two opponents, yes, it would be mind-blowing to step on the field to play against a team like Real Madrid. There is a split within our group when we talk about favorite teams. In Spain you are either a Barcelona fan or a Real Madrid fan, so there is that little conversation that is going on amongst the players as well," said Schmetzer.
Schmetzer and the Sounders have ample experience of competing in the SCCL in which they often go up against opponents with whom they are somewhat unfamiliar. The 60-year-old manager feels like Seattle boast the kind of squad that can handle the experience of facing an unknown quantity at next month's tournament in Morocco.
"I think those Champions League games fit in with one of the principles that I believe in as a coach, which is that I always appreciate and like to have players on my squad that are able to adapt to make decisions on their own over the course of a game, because our sport is too fluid, it's too unpredictable. I love smart soccer players. I love players that are able to make those decisions in the heat of the moment. I try to teach that message to the players, that we have our tactics, we have our formation, we have our set way that we want to play, but the game is always changing," said Schmetzer.
Schmetzer has been at the helm of the Sounders since the middle of the 2016 season and in that time twice won MLS Cup (2016, 2019) before leading Seattle to SCCL glory last spring, making the Sounders the first team from MLS to win the SCCL in the Champions League era, becoming the first club from the United States to play in a FCWC.
The opportunity for Schmetzer to lead the Sounders into such uncharted territory is extremely rewarding.
"I look at it as a once in a lifetime opportunity. It's certainly a thrill for me and my staff. I know the staff is working very hard at it, they have been nonstop thinking about how to prepare the best team on a shorter preseason than what we are used to. I know that we have already started scouting the two teams [Al Ahly and Auckland City]. It is certainly an honor to compete in these types of tournaments and it's certainly something that we are going to try to remember and have a good experience with," said Schmetzer.
Not only are the Sounders representing MLS for a first time at the FCWC, but there is the added responsibility that they will be the lone Concacaf representative in Morocco. Rather than shying away from that burden, Schmetzer prefers to embrace the fact that Seattle will be the one standing up for the region.
"We've talked before about how you are representing yourself, the club, the players, MLS, and then Concacaf and the region. This is now an international competition and that does add one more layer of maybe some added pressure or added excitement or prestige. It is something that we as a staff and all of the players have embraced. I think it's great that we get to compete on an international level," concluded Schmetzer.