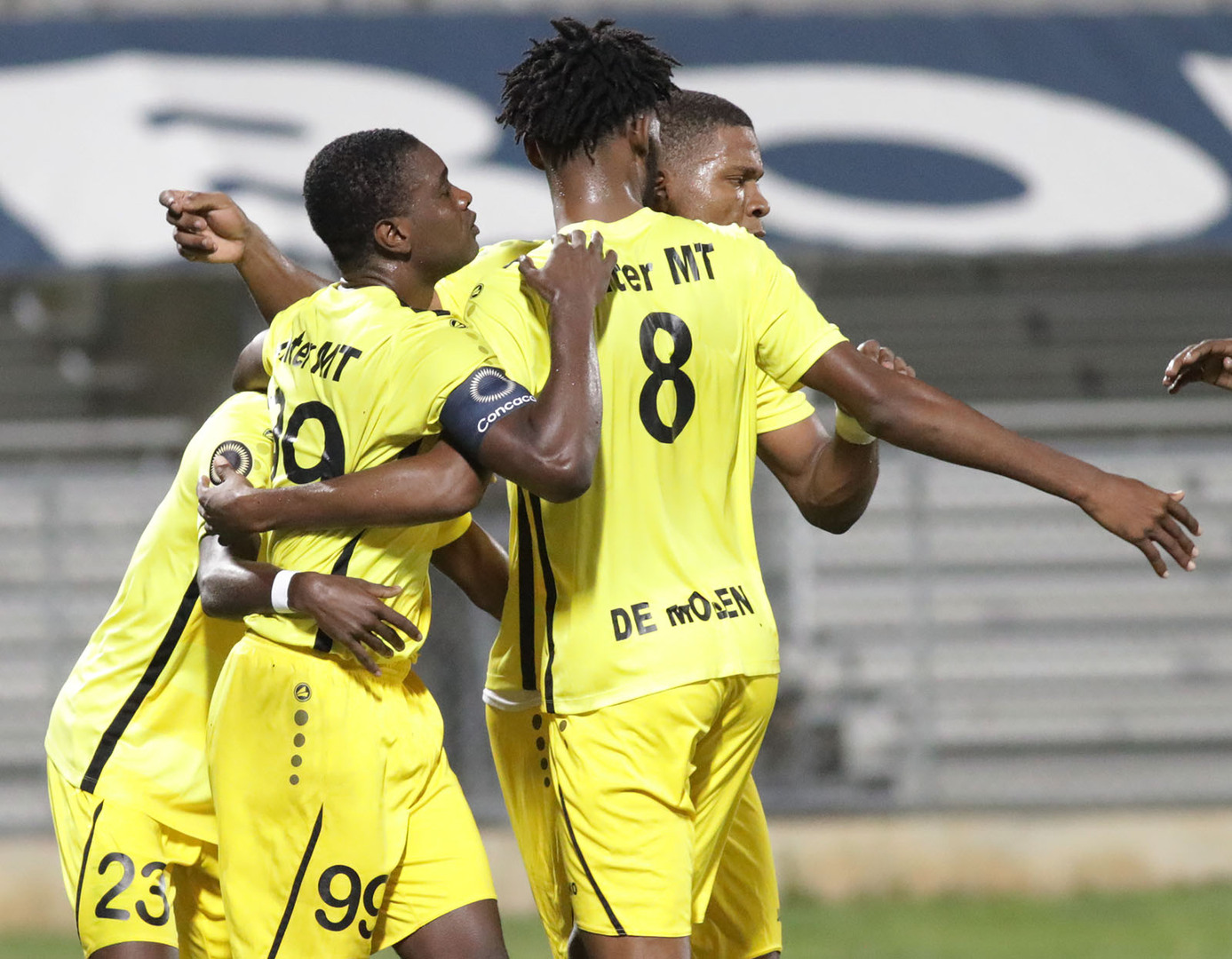 Inter Moengo Tapoe, Jong Holland earn key results to advance
Published on
/ Updated on at
MAYAGUEZ, Puerto Rico – The group stage of the 2022 Concacaf Caribbean Shield (CCCS) in Puerto Rico concluded on Tuesday night with four teams punching their ticket to the knockout round.
Inter Moengo Tapoe of Suriname have taken first-place in Group C thanks to a 4-3 win versus Golden Lion FC of Martinique at the Estadio Centroamericano de Mayaguez in Mayaguez.
Inter Moengo Tapoe could not have asked for a better first half, as they scored three times to take a 3-0 lead into halftime.
Miquel Darson opened the scoring in the 25' with a sweeping right-footed finish for a 1-0 lead. A dashing run for Rievaldo Doorson in the 34' yielded a 2-0 lead for the Suriname club, as Doorson collected a pass in his own half and out-ran everyone before finishing for the goal.
Inter Moengo Tapoe then tacked on the third score in the final seconds before the break with Naldo Kwasie firing into net for a 3-0 lead.
Golden Lion needed a spark and their legendary striker, Kevin Parsemain, was able to provide it by firing in a free kick in the 64' to make it a 3-1 contest. Four minutes later, it was déjà vu all over again as Parsemain stood over another free kick, this one a few yards further back, and again scored to cut it to 3-2.
Yet right when it looked like Golden Lion were completing a comeback, Inter Moengo Tapoe notched a crucial fourth goal, as Joel Baja converted a penalty in the 79' to make it 4-2. But Parsemain was not done, as he rocketed in a third free kick in the 90' to draw Golden Lion to within 4-3.
Inter Moengo Tapoe would hold on in the final frantic minutes, though, to collect the win and a semifinal spot.
Bayamon FC will be the team to advance from Group A following the 1-1 draw between Junior Stars of Saint Martin and South East FC of Dominica at the Estadio Juan Ramon Loubriel in Bayamon.
Yannick Bellachasse gave Junior Stars hope by swinging in a free kick in the 24' for a 1-0 lead, but South East struck right back early in the second half when a deep cross from the right flank was turned into net by Junior Stars DF Noha Mauvais, evening the score at 1-1, which held until the final whistle.
The two teams at the top of Group B, AS Gosier of Guadeloupe and Jong Holland of Curacao, met at the Estadio Centroamericano de Mayaguez in Mayaguez, with both collecting a point in a 0-0 draw.
It turned out to be a tight affair, with neither side able to penetrate deeply into their opponent's half, resulting in the scoreless draw that earned Jong Holland top spot in the group. The result was also enough to stamp Gosier's place in the next round as the top second-place finisher in the group stage.
The other game in Group B saw SWA Sharks FC of Turks and Caicos Islands pick up their first ever CCCS victory in a 3-1 final over Real Rincon of Bonaire.
It was a dream start for SWA Sharks, as they took a 1-0 lead in the 4' when a long-range free kick from Callum Park bounced over the GK and into net. The TCI outfit then doubled their lead to 2-0 when Junior Paul finished off a counterattack in the 50' with a right-footed shot. The advantage was then extended to 3-0 via another counterattack in the 66' that was polished off by Jeff Beljour.
Real Rincon would land a consolation goal in the 78' courtesy of Gurdney Celestijn, whose initial penalty attempt was saved by SWA Sharks GK Pendieno Brooks, but Celestijn would turn in the rebound to complete the 3-1 scoreline.