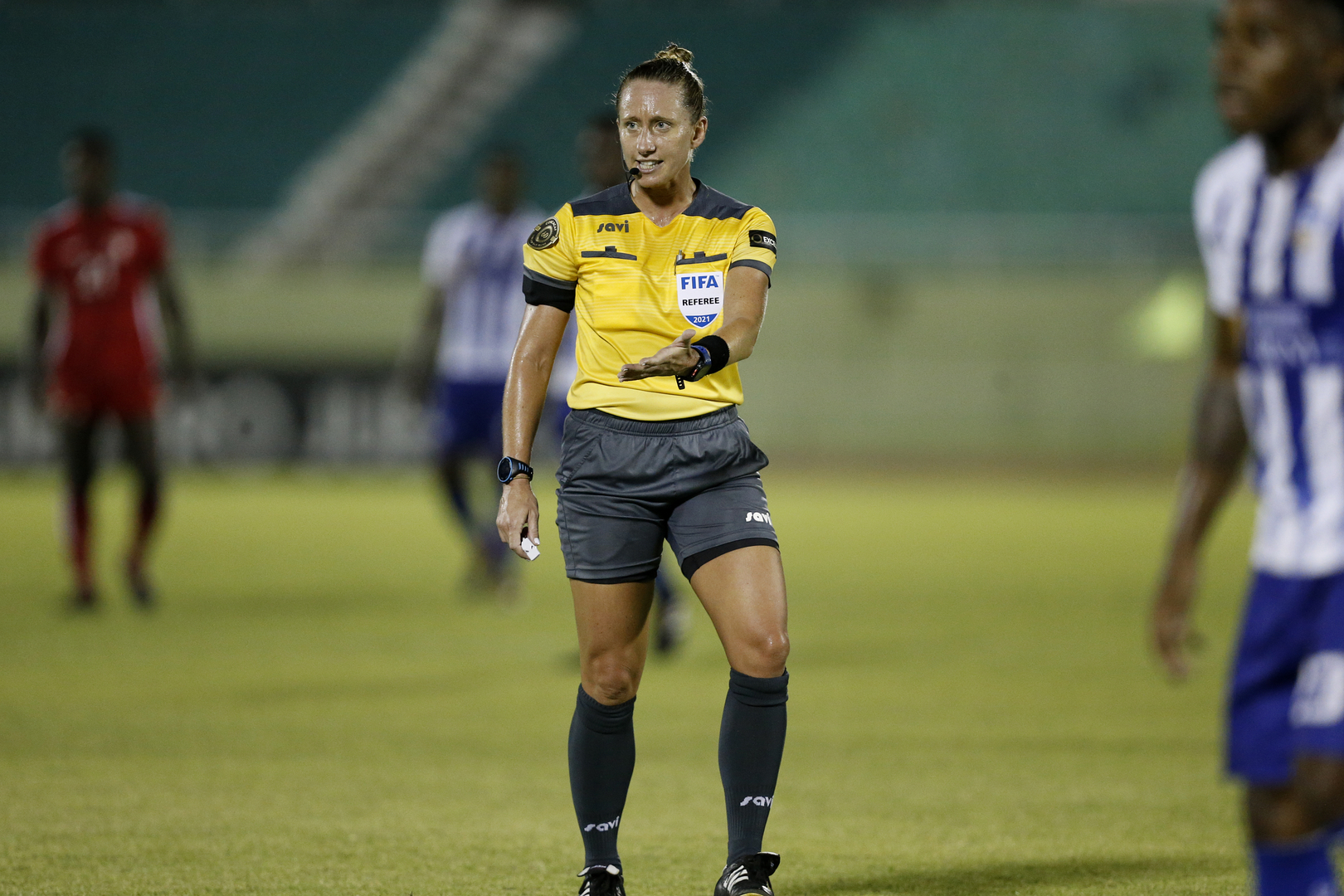 Penso makes history as center referee at FCCCC
Published on
/ Updated on at
DOMINICAN REPUBLIC – History was made this week at the 2021 Flow Concacaf Caribbean Club Championship as Tori Penso became the first woman to whistle a men's match at Concacaf.
The moment came in Saturday's opening match between O&M FC of the Dominican Republic and Flames United SC of Sint Maarten.
Following the match, Penso took a moment to savor her achievement and the significance it will have in the future for women referees.
"It has been a tremendous honor and privilege to be a part of this event, alongside several other talented officials. Proving it's possible for anyone to reach the highest level of the game, if you put in the work and focus, you can achieve anything. Passing the Men's FIFA Fitness Test has opened many possibilities for women across our region and the leadership at Concacaf has proven they are seeking excellence on and off the field, regardless of gender," said Penso to Concacaf.com.
"Without a doubt, I have become a better official since joining the Concacaf team with access to resources such the Center of Refereeing Excellence platform, which includes technical, tactical and physical resources for officials. In addition, our monthly training camps lead by Michelle Pye and her team, challenges us and our practical knowledge of the latest interpretations of laws through detailed clip analysis. 
Following last Saturday's match, Concacaf Director of Refereeing Brian Hall hailed Penso's historic achievement,
"I want to congratulate Tori Penso for this achievement. She is an excellent referee and through hard work and dedication has continued to improve and progress to the highest levels of the game. She earned this opportunity because she met the technical and physical standards expected for a men's competition.  She is out there on merit, along with two other females referees who have whistled games in this important Championship," said Hall.
More history came during Wednesday's contest between O&M FC and Inter Moengo of Suriname in what was the first ever all-women's crew in a men's match in Concacaf history.
Penso officiated as the Center Referee, while Karen Diaz of Mexico and Stephanie-Dale Yee Sing of Jamaica served as Assistant Referees. Francia Gonzalez worked as the Fourth Referee and Dianne Ferreira-James of Guyana as Assessor.
It serves as the latest example in Concacaf's dedication to the development of women referees, with Concacaf being the lone confederation in the world with a dedicated program to the development of women officials, created by Hall and led by FIFA Instructor Michelle Pye.
"The team at Concacaf continues to challenge the status quo, providing greater resources and opportunities for female officials across the region and I have benefited greatly from those resources and opportunities. Being amongst the first women at a Men's Concacaf Tournament has been one of the most rewarding experiences in my refereeing career and I'm excited to see what's next!" concluded Penso.