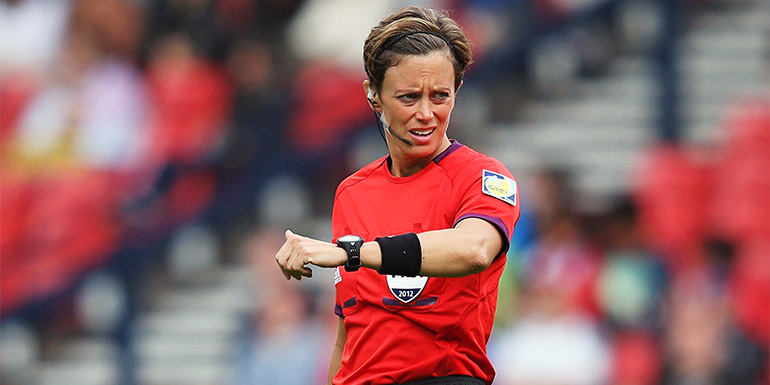 U.S. referee Seitz to retire after historic career
Published on
/ Updated on at
United States referee Kari Seitz (pictured) announced her retirement on October 8, 2013, after 28-year career as a match official. (Photo: FIFA via Getty Images)
CHICAGO – United States referee Kari Seitz announced her retirement on Tuesday, following a remarkable career that included 14 years at football's highest levels.
The 42-year-old worked matches in four FIFA Women's World Cups (1999, 2003, 2007 and 2011), the inaugural FIFA U-19 Women's World Cup in 2002 and three Olympic Games (Athens 2004, Beijing 2008 and London 2012).
In addition to international competitions, Seitz officiated matches in numerous domestic leagues, including Major League Soccer, the Women's United Soccer Association, Women's Professional Soccer and in the National Women's Soccer League, which recently completed its inaugural season.
"I've had opportunities that I never could have imagined as an official starting out at just 14 years of age," said Seitz. "My life experiences as a referee have shaped me into the person I am today, from supporting youth matches, officiating amateur, professional matches in MLS, WUSA, WPS and recently NWSL. At the world stage with five World Cups and three Olympic games and countless other world class experiences, I can step aside with a tremendous sense of pride from helping advance the game in the United States."
Her farewell match will take place on October 20, when she referees the friendly international between the U.S. and Australia at the Alamodome in San Antonio, Texas.
"Kari has played a key role in the growth of women's soccer in the United States over the past 15 years, and her dedication to her craft has always been admirable," said U.S. Soccer President Sunil Gulati. "She will always be a role model for young referees and we want to thank her for her tremendous work on behalf of U.S. Soccer and the women's game, both domestically and internationally."
Seitz has been in the middle for more than 200 professional matches, more than 1,000 college matches, and has refereed the U.S. WNT more than 50 times. She has also officiated 45 different women's national teams in 20 countries.
She is the only referee to officiate in three different regional championships, working confederation tournaments in CONCACAF, Europe and Asia.
Seitz became a member of the FIFA International Panel of Referees in 1999 after beginning her professional officiating career in 1998 as an assistant and center referee in MLS.  In 2005, she was selected as one of 38 women - one of only five from CONCACAF - to participate in FIFA's first referee workshop for women at the 2005 Algarve Cup in Portugal.
The full-time advertising executive also owns the distinction of having been selected to referee the women's Bronze Medal match at the 2004 Olympic Games in Athens, Greece, where she was one of only two referees chosen to represent the United States, as well as the Third Place Match at the 2011 FIFA Women's World Cup in Germany. She was also selected to officiate the opening women's match between Great Britain and New Zealand at the 2012 London Olympics..