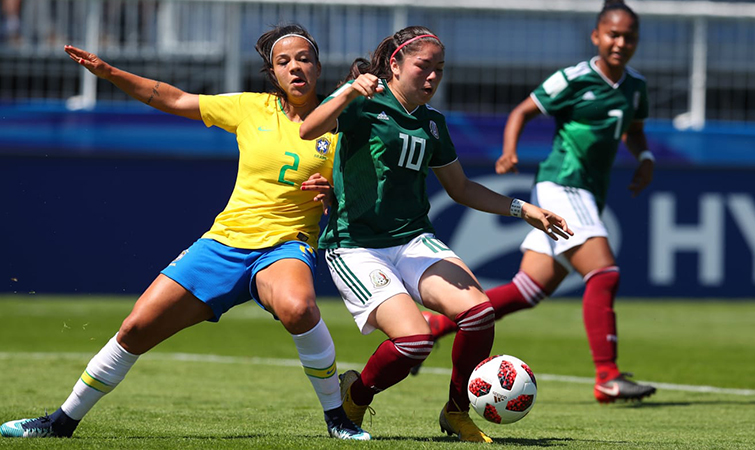 Ovalle earns Mexico historic victory against Brazil in Women's Under-20 World Cup
Published on
/ Updated on at
FRANCE.- Jacqueline Ovalle scored two goals to complete a historic comeback for Mexico against Brazil in the opening match of Group B at the FIFA Under-20 Women's World Cup on Sunday at the Clas Gastel Stadium in Dinan-Lehon.
Ovalle completed the Mexico comeback in the 63rd minute by being at the right place at the right time in front of goal to fire home and seal the triumph for the Aztecas.
Mexico jumped out to a 4th minute lead through Kathy Martinez after she beat Brazil goalkeeper Kemelli and scored with a right-footed shot.
Brazil responded quickly and equalized with the first of Kerolin Nicolin's two goals in the 6th minute by collecting a ball and scoring with a right-footed shot that beat Mexico goalkeeper Emily Avarado. Nicolin then handed Brazil the lead in the 17th minute with a right-footer from the left side that made it 2-1.
But in the second half, reigning CONCACAF Under-20 champions Mexico achieved one of its greatest feats in its Under-20 Women's World Cup history.
Ovalle, who plays for Tigres in the Liga MX Femenil, was able to equalize in the 52nd minute thanks to a solo effort, and then scored again in the 63rd minute with a shot inside the area that cemented the Mexico win.
With the match at 3-2, Brazil had a chance to pull level but Ana Vitoria's penalty kick struck the crossbar.
In its second match in Group B on August 8, Mexico will face reigning Under-20 Women's World Cup champions North Korea, while Brazil will look to bounce back against England once again in Dinan-Lehon.