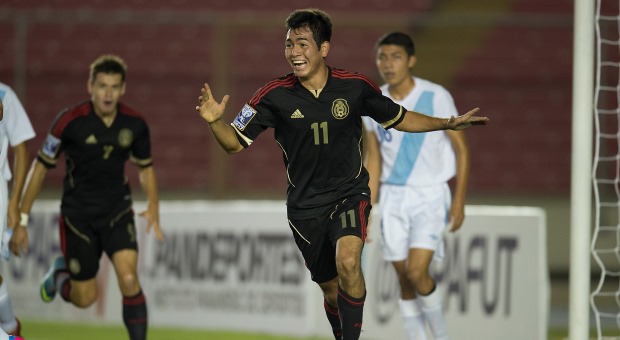 Mexico to defend U-17 world title
Published on
/ Updated on at
PANAMA CITY, Panama - Mexico earned the opportunity to defend its under-17 world title, defeating Guatemala 2-0 on Sunday in the quarterfinals of the CONCACAF Under-17 Championship at the Estadio Rommel Fernandez.
The win gave El Tri the last of the confederation's four tickets to the biennial FIFA U-17 World Cup, which will next take place October 17 - November 8, 2013, in the United Arab Emirates, plus a spot in the regional event's semifinals.
Ulises Jaimes opened the scoring in the 9th minute, heading in a deflected Luis Hernandez cross that was delivered from the left wing. It was the 16-year-old's second goal of the tournament.
El Tri almost doubled its lead in the 27th minute, but Alejandro Diaz shot high and wide from 12 yards.
After that effort, on a humid evening in Panama City, the game settled into a more relaxed pace.
Guatemala, however, nearly equalized a minute before the break, when Mario Hernandez's left-footed attempt from 18-yards out floated just inches over the crossbar.
About 15 minutes after the interval, Guatemala began to pressure the Mexican defense higher up the field and demonstrated increasing fluidity in the attack.
In the 71st minute, Marvin Rivera sent in a precise cross from the right side that Hernandez headed just wide of the far post.
Six minutes later, substitute Elias Hernandez fired an attempt that Mexican goalkeeper Raúl Gudiño blocked into the path of an unmarked Mario Hernandez, who shot past the near post of a wide open net.
Mexico got the insurance goal it need in the 88th minute through second-half substitute Marco Granados. Diaz cleverly allowed a pass from the left to go through his legs to a waiting Granados. The Guadalajara forward let the ball run across his body and then he hit the back of the net from 14 yards.
It will be the Tricolor's 11th appearance at the U-17 World Cup, while Guatemala's search for its first berth came to an end.
Mexico will meet Honduras on Wednesday in one of two semifinal matches. Canada, which finished as runner-up in 2011, will square-off against host Panama in the other encounter.