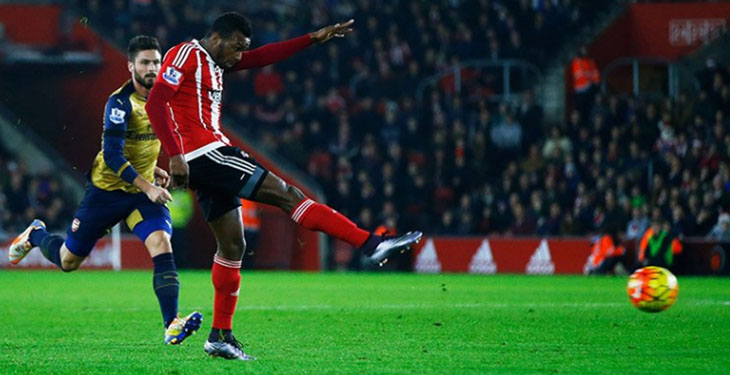 Martina first Curacaoan to score in Premier League
Published on
/ Updated on at
Curacao international Rhuendly Martina (pictured) shown scoring against visiting Arsenal in a Barclays Premier League game on December 26, 2015. (Photo courtesy of www.premierleague.com)
SOUTHAMPTON, England – Rhuendly "Cuco" Martina became the first Curacao international to score in the English Premier League, when he opened Southampton's goal account in the 19th minute of a 4-0 win over visiting Arsenal on Saturday.
Positioned on the right, the 26-year-old defender brilliantly struck from 30 yards with the outside of his right foot to beat the goalkeeper Peter Cech, who was diving full stretch at the left post.
"I don't have words – it was an unbelievable feeling," Martina told youtube.com/southamptonfc. "I saw the ball go in and I thought 'oh my god'.
"It was a great feeling, for sure. I shoot and after the goal everything was slow motion for me. I was so happy, so happy. I score I think three goals in my whole life and that's the nicest one."
It was Martina's fourth appearance and first start for Southampton, which he joined in July from the Netherlands' FC Twente.
"I'm very happy to have scored and I'm very happy that the coach gave me a chance," Martina continued. "I need to improve to keep playing there and I'm very happy for the chance."
Martina made his Curacao debut on September 3, 2011, a 5-2 setback to Antigua & Barbuda in a CONCACAF qualifier for the 2014 FIFA World Cup. He has appeared in 10 career WCQ games, most recently captaining the side in its 1-0 loss at El Salvador on September 8, 2015.
In addition to Southampton and FC Twente (2013-15), Martina has also played for RKC Waalwijk (2011-13) and RBC Roosendaal (2008-11).