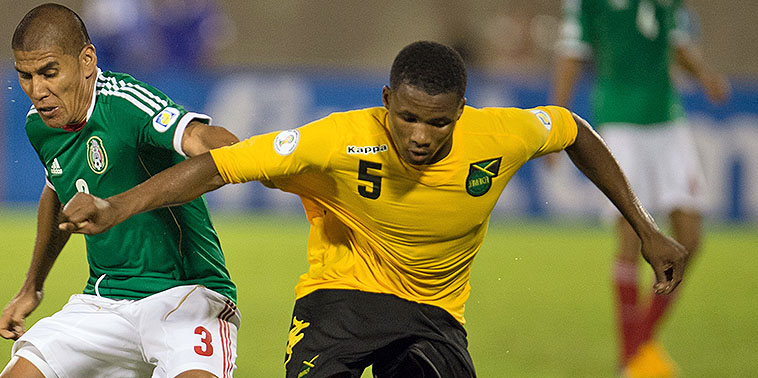 Jamaica, Egypt to meet in London friendly
Published on
/ Updated on at
Jamaica (yellow jersey), shown above in a June 4, 2013, World Cup qualifier against Mexico, has lined up a series of challenging friendlies to be played over the next month. (Photo: Mexsport)
KINGSTON, Jamaica – Jamaica will face Egypt in an international friendly scheduled for June 4 at London's Matchroom Stadium, home of Leyton Orient. 
Thursday's announcement was another in a series detailing the Caribbean giant's growing list of high-profile opponents as it prepares to host the Caribbean Cup finals later this year.
The Reggae Boyz will also meet Serbia (May 26 in Harrison, New Jersey, USA), Switzerland (May 30 in Lucerne) and France (June 8 in Lille).
Captain Horace Burrell, President of the Jamaica Football Federation, believes fixtures of this quality will be critical to the team's overall technical programme, especially with a place in the 2016 Copa America Centenario at stake.
"Securing another high profile opponent is in keeping with our vision of preparing the team well to compete at the highest level," said Captain Burrell.  "Egypt is a many-time African champion and is ranked highly by FIFA, so that will be a tough test for us.
"All these matches also represent the preparation phase of the upcoming Caribbean Cup, and we must prepare properly and I can't think of a better way to prepare, especially with the added incentive of a possible place in the centennial 2016 edition of the Copa America."
Egypt is placed 24th in the latest FIFA Rankings and sits second in the Confederation of African Football behind Côte d'Ivoire. 
Jamaica is ranked ninth in CONCACAF and third in the Caribbean Football Union behind Trinidad & Tobago and Haiti.
Captain Burrell expects the upcoming slate of games to be competitive, but noted that they represented a chance for management to assess various players.
"This series of games will be tough and will present the coaching staff, led by Mr Winfried Schaefer, with the opportunity to look at players in different conditions and match situations," he pointed out.
With the games planned outside of the FIFA calendar, Captain Burrell hopes that the best players would be available.
"What I can say is that we intend to field our strongest possible team in all of these matches," he concluded.