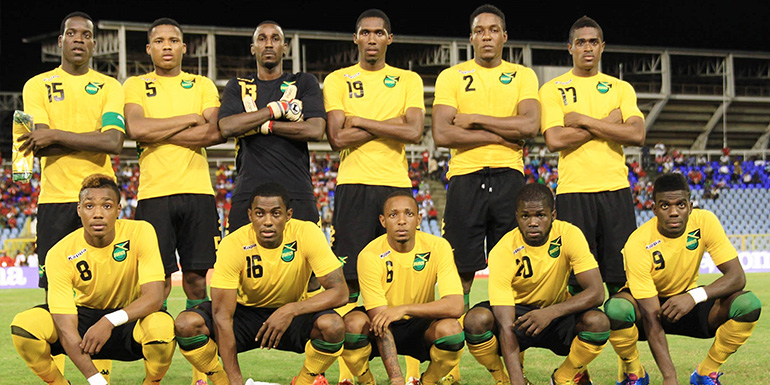 Jamaica bolsters future with strong schedule
Published on
/ Updated on at
Jamaica, pictured above before a friendly at Trinidad & Tobago on November 19, 2013, is putting together an impressive schedule for 2014. (Photo: Allan V. Crane) 
MIAMI -- Captain Horace Burrell, President of the Jamaica Football Federation (JFF), believes that upcoming friendly international matches against Switzerland and France will provide tough examinations of the Reggae Boyz.
Jamaica (ranked 81st by FIFA) has set dates with Switzerland (ranked eighth) in Lucerne on May 30, and nine days later against 1998 World Cup host and champion France (20th) in Lille.
Both France and Switzerland will play in Group E at 2014 FIFA World Cup in Brazil, along with Ecuador and CONCACAF's Honduras.
"These teams are considered giants of European football and are both going to the World Cup, therefore we expect that our Boyz will be severely tested," Burrell told CONCACAF.com.  "Both teams have world-class players, but so do Jamaica...so I expect that these match-ups will test not only our Boyz, but also the Swiss and the French as they go into their final phase of preparation before heading off to Brazil."
In their only previous meeting – a friendly -- Switzerland defeated the Jamaicans, 2-0, on March 22, 2007, in Fort Lauderdale, Florida.
Burrell, also a CONCACAF Vice-President, said both games -- along with two others confirmed against Caribbean neighbors Barbados (March 2) and Grenada (March 5) -- will go a long way in preparing the Boyz for Caribbean Cup play later this year.
"Our football is in a major preparation mode," Burrell reasoned.  "First of all, we are looking immediately for the Caribbean play-offs, which is a qualifier for the CONCACAF Gold Cup.
"And of course the Gold Cup is a major priority for us. But critically for us also is that all of these games, plus others we will be pursuing to land, are ultimately aimed at aiding our road to Russia 2018 campaign."
Jamaica finished last in the CONCACAF Hexagonal with five points from 10 matches.
With three more windows allotted for FIFA friendly matches in 2014 after March 5 --- September 1-9, October 6-14 and November 10-18 --- Burrell intends to make the most of each date.
"Already we have opened discussions with our counterparts to have matches for those dates," Burrell added.  "The plan is to take full advantage of all available windows and any opportunities between.
"We have a new coach who we intend to give every opportunity to establish and shape his team for Russia, and one of the ways to do that, is to give him as many games as possible to see players in different conditions."