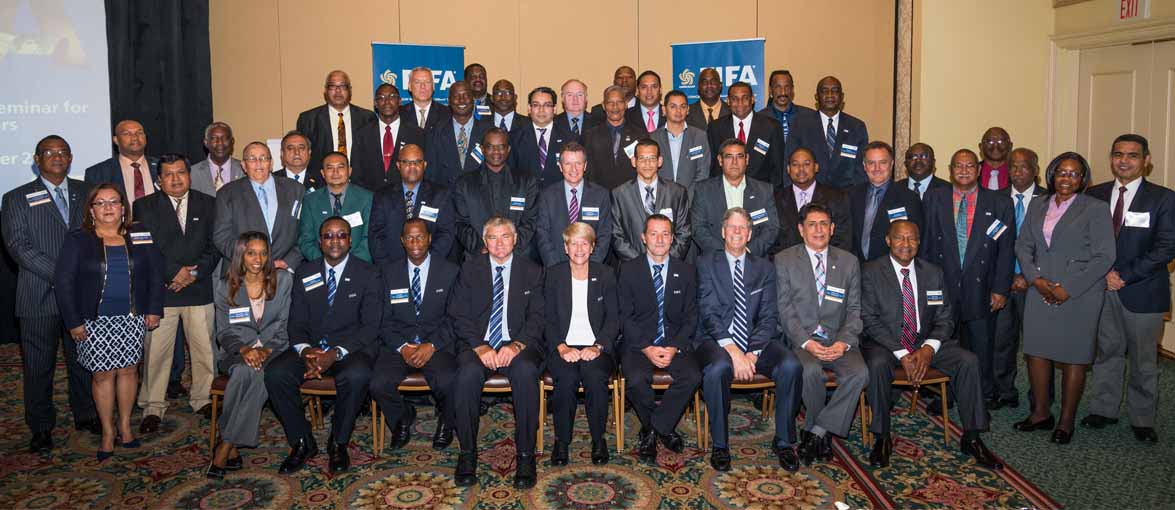 FIFA/CONCACAF Security Officer course concludes
Published on
/ Updated on at
(ABOVE) Attendees and participants at the FIFA/CONCACAF Regional Security Officer course, November 4-6, 2014, in Miami. (Photo: Hector Torres)
MIAMI – The first FIFA/CONCACAF Regional Security Officer course since 2008 concluded on Thursday at the JW Marriott Miami. 
The three-day workshop, which focused primarily on stadium safety and security, brought together the CONCACAF Security and Fair Play Committee with security officers from the Confederation's member associations.  FIFA's Security Regulations were reviewed and discussed, producing a uniformity of interpretation and an enhanced understanding of the guidelines. 
Presentations on key topics were made by Serge Dumortier (Senior Manager, FIFA Security Department); Deborah Doe (Consultant, FIFA Security Department); Will Van Ree (Consultant, FIFA Security Department) and Ted Howard (CONCACAF Deputy General Secretary and FIFA Security & Integrity Committee member). 
On the final day, David Sabir – General Secretary of the Bermuda Football Association and FIFA Security & Integrity Committee member – introduced the well-received idea of creating a CONCACAF Network of National Security Officers.  Recognizing that the exchange of information is critical to move forward, the proposal called for the establishment of communication methods, continued education, cooperative links, best practices and administrative proficiencies, among others. 
At the Member Association level, a security officer is the person responsible for overseeing all security matters, including matches, events, personnel and offices.  In most cases, a security officer possesses a security or law enforcement background and is selected by a Member Association to the position.  
For the 2014 World Cup in Brazil, four of the 12 security officers appointed by FIFA were from CONCACAF (Howard; Sabir; Patrick Beckles, Barbados; Mario Monterrosa, Guatemala).