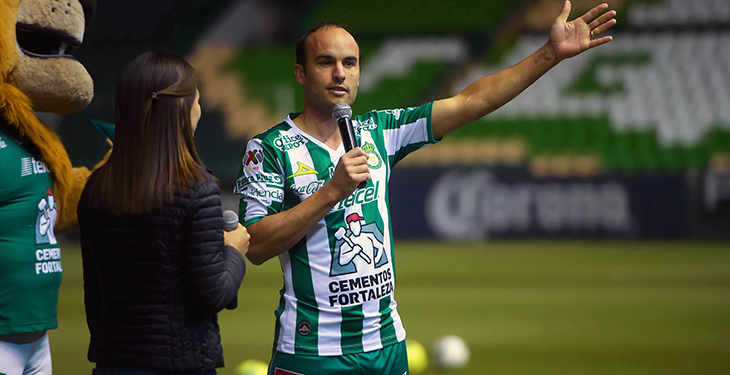 Donovan on Leon arrival: "I want to give my all"
Published on
/ Updated on at
Landon Donovan (pictured) speaks to Leon fans during his introduction on January 15, 2018, at the Estadio Nou Camp. (Photo: Mexsport)
LEON, Mexico – Former United States international Landon Donovan says he is eager to excel at Leon.
The 35-year-old was introduced to an assembled crowd of 7,000 at the club's Estadio Nou Camp, before speaking with the press about his first adventure in Mexican football.
"I'm excited," Donovan said. "It was incredible to see the fans' reception and now I want to play. The truth is that I did not expect it. It was really nice."
Donovan's last appearance on a football field came in the 2016 MLS playoffs as a member of the LA Galaxy.
Despite not having played any competitive football in 14 months, the USA's all-time leader in goals [57] and assists [57] believes that with proper planning, he can contribute to a title-winning side at Leon.
"I have to speak with the coach to put together a plan," commented Donovan, MLS's all-time scoring leader with 145 regular-season goals. "It's been a year since I've played and I need to know how I'm going to get myself ready to play again. I don't want to disappoint anyone. I want to give my all after seeing those fans."
A winner of five MLS Cups (2001, 2003, 2005, 2011, 2012), Donovan believes his style of play will be well-suited to Liga MX's technical demands.
"I was around Mexicans when I started playing football,' he finished. "My style of play is very Mexican or Latin American. I had always wanted to come to play here and try to give everything I can. I come to have success."
Donovan could make his Leon debut Saturday at Cruz Azul.