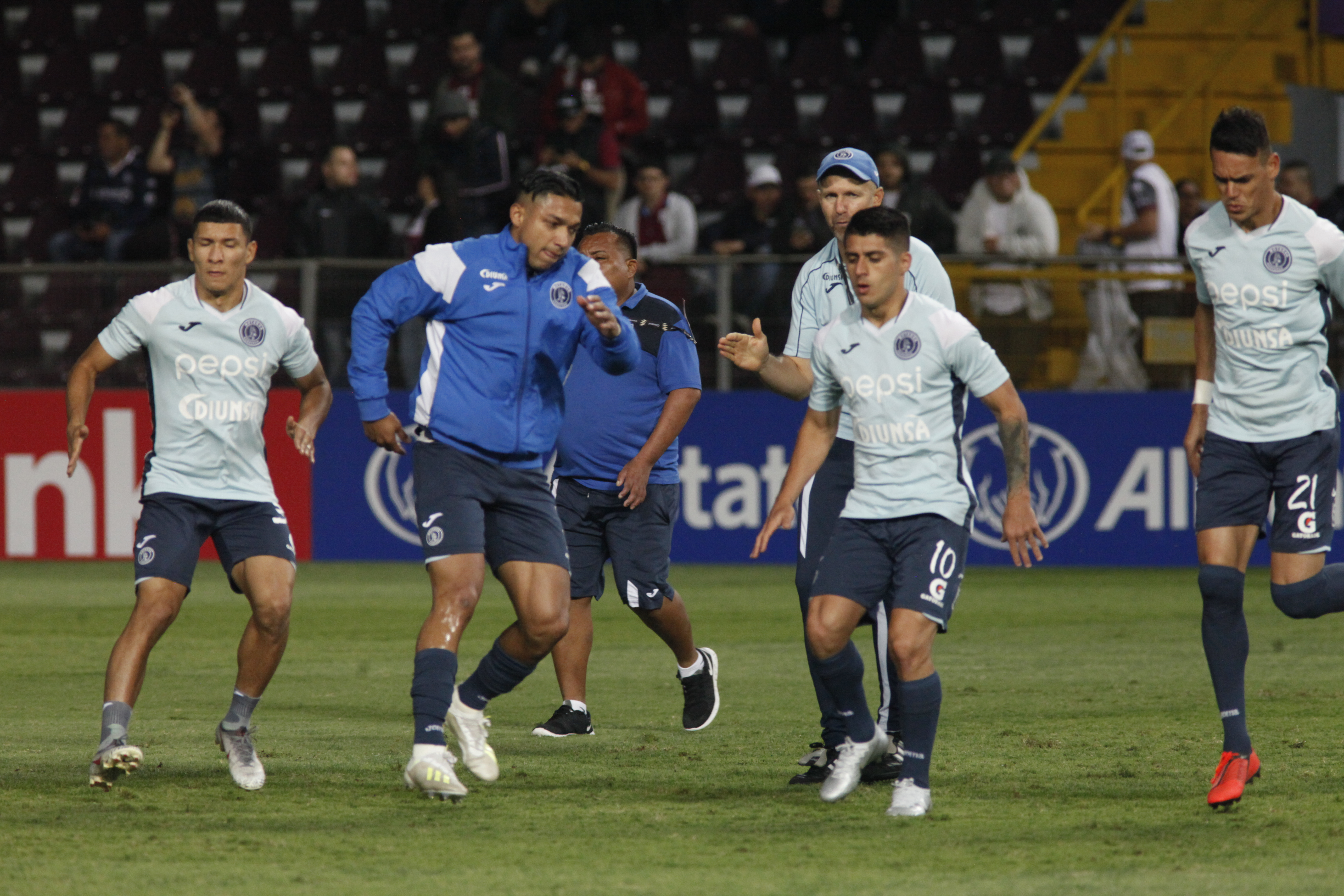 Diego Vazquez: "The secret of Motagua is our passion and intensity"
Published on
/ Updated on at
MIAMI, Florida – This Friday at 7:00 PM ET, Concacaf will be airing a re-broadcast of the 2018 Scotiabank Concacaf League Final second leg between FC Motagua of Honduras and CS Herediano of Costa Rica, followed by the 2019 SCL Semifinal second leg between Deportivo Saprissa and CD Olimpia. Both matches will be shown on Concacaf's Facebook and YouTube pages, plus the Concacaf App.
To reach two consecutive Concacaf finals is no small feat, yet that is exactly what FC Motagua of Honduras have managed to do under the guidance of Head Coach Diego Vazquez in the 2018 and 2019 SCLs.
While both Finals ended in defeat for Vazquez's side, the Argentine boss knows there is plenty reason to feel proud about the club's unique accomplishment.
"First to play it you have to make it there, which is very difficult. Here at Motagua we have played 12 finals. It is a team that has had a lot of consistency, we have a good level on intensity, we have training sessions that are very intense. For the players who come here, it is always tough for them to adapt to the intensity of our training sessions. The secret of Motagua is a lot of passion, a lot of studying the opponent, a lot of intensity in training, always competing with ourselves more than opponents and always looking improve daily," said Vazquez in an exclusive interview with Concacaf.com.
In the 2018 SCL, Motagua had several big hurdles to overcome to reach the Final, including a very difficult quarterfinal series with Jamaican side Portmore United, which saw Motagua claim the first leg 3-2 at home with a last-gasp winner, followed by a decisive 2-0 win in Jamaica in the second leg.
"That first leg with Portmore United was a really hard game, very difficult for us. We knew that in Jamaica it was going to be complicated and we put together a game plan and we were able to win the game with tranquility, but in Tegucigalpa the Jamaican team surprised us by their level of play. With Motagua we have been able to win twice in Jamaica which is something the Honduran national team has never been able to do," said Vazquez.
In the semifinals versus Tauro of Panama, Motagua found themselves down 2-0 in the first leg in Panama and facing a tough situation, only to see stalwart Juan Pablo Montes come up with a big away goal that laid the foundation for Motagua's 2-0 second leg win and a 3-2 victory on aggregate.
"It was a very complex semifinal, it was tough for us in Panama. We could have lost by more, but we hung in there and we got the Montes goal toward the end of the game, which allowed us to be able to close things out in Tegucigalpa," said Vazquez.
The Montes goal at Tauro was further evidence that in the SCL, a series can change in an instant.
"In cup matches you can't commit errors, an away goal can cost you qualifying for the next round, so the series are very hard fought and every moment of the match counts. You have to stay focused and if not, you'll find yourself out of the competition. You have to face the two matches as if they were finals," said Vazquez.
Helping Motagua's cause was FW Rubilio Castillo, who won the Golden Boot award in the 2018 SCL for his five goals scored during the tournament. Vazquez knows that Motagua's success in recent years could not have happened without the 28-year-old FW.
"He is a very fast player, good in the air and great instincts in the area to hunt for balls and score goals. He's a player anyone would like to have in their team. We know that in Motagua when we are able to feed him balls, that Rubilio is going to finish," said Vazquez.
Even though Herediano did score the decisive goal late in the second leg of the Final to defeat Motagua 3-2 on aggregate, Vazquez hails the effort shown by his team in coming back from a 2-0 deficit after the first leg in Costa Rica.
"We played a great match. In the end we were not able to get it done because after making such a big effort we had a chance to finish it off with a chance from Walter Martinez and couldn't do it. That was when Herediano took advantage and beat us. We had that small lapse but I think if the match had gone to extra time we would have won," said Vazquez.
No matter what happens though in the remainder in his time as Motagua Head Coach, the club will always hold a special place in Vazquez's soul.
"Motagua is my heart, it is the team that brought me here. Among the players and coaches, we have 11 titles, so we have shared a lot of time and a lot of joy. I feel very identified with the team for what I experienced here as a player and now as a coach,' concluded Vazquez.