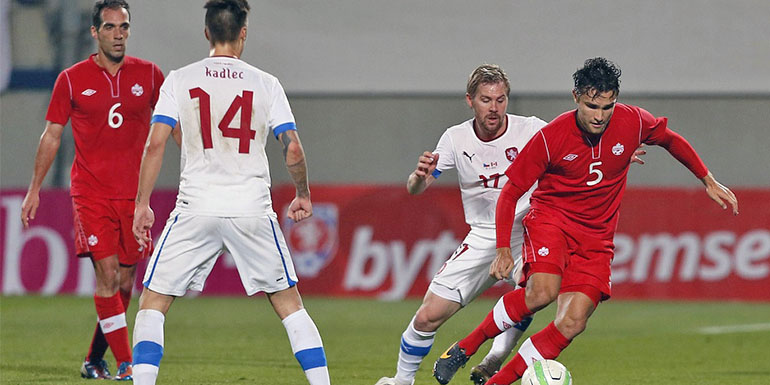 Czech Republic tops Canada in friendly
Published on
/ Updated on at
 Action from the international friendly between visiting Canada (red) and the Czech Republic on November 15, 2013, in Olomouc, Czech Republic. (Photo courtesy of the Canadian Soccer Association)
OLOMOUC, Czech Republic – The Czech Republic got a goal in each half to defeat visiting Canada 2-0 in an international friendly on Friday at the Andruv Stadion.
Ondrej Celustka scored in the third minute and Tomas Horava added an insurance tally with less than ten minutes left in regulation time.
"In these kinds of games, we have two aims: win the match, as always, and to do well what we have been preparing in camp," said Canada head coach Benito Floro after the game.  "In this match, our plan was to press hard and to maintain the possession of the ball.  If we take away the result we can say that both things we did well.  We pressed strong and we had the ball for a lot of the time."
Canada had a chance to equalize late in the first half, but after being fouled in the penalty, Dwayne De Rosario saw his subsequent kick from the spot be saved by goalkeeper Petr Cech.
The host gained an early advantage, when Celustka head a free kick past goalkeeper Lars Hirschfeld, who was outstanding on the night. 
In the 59th minute, the Canadian shot-stopper dove well to his right to deny a sharp effort by Marek Suchy.
Horava put the game out of reach in the 81st minute, receiving a pass in front of the goal and dispatching the ball into the corner.
Canada will look to bounce back Tuesday with another friendly at Slovenia.