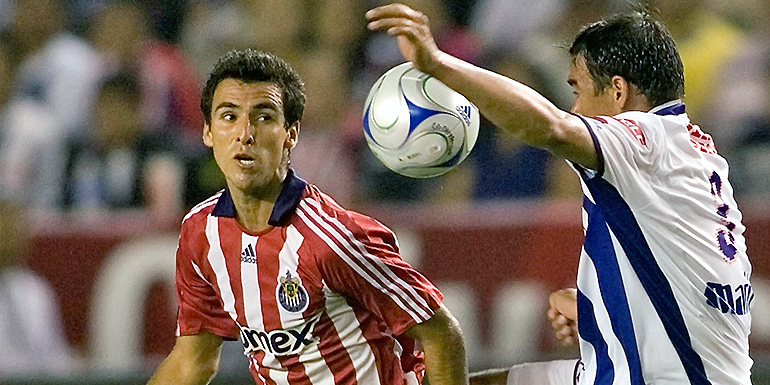 Chivas USA sold to MLS
Published on
/ Updated on at
Action from a SuperLiga game between Chivas USA (left) and Pachuca on July 13, 2008, in Carson, California. (Photo: Mexsport)
NEW YORK – Major League Soccer on Thursday announced it has purchased Chivas USA from Jorge Vergara and Angelica Fuentes.  Effective immediately, MLS will assume responsibility for operating the club and will appoint an experienced sports executive shortly to serve as its president.  Head coach Wilmer Cabrera, who joined the club January 9, will continue in his position and report to the new president.
In the coming months, the league will resell the club to a new ownership group that will be committed to building a new stadium and keeping the team in Los Angeles.  The league has had initial discussions with a number of very qualified potential owners and intends to finalize an agreement with a new group sometime this year.
The club will play as Chivas USA during the 2014 MLS season and will be rebranded with a new team name and logo in connection with the sale to a new owner.
Under the terms of the purchase agreement, Mr. Vergara and Ms. Fuentes retain all branding and licensing rights to the Chivas name with MLS permitted to continue using the Chivas USA brand name on a transitional basis.
"We thank Jorge Vergara and Angelica Fuentes for their significant commitment to Major League Soccer," MLS Commissioner Don Garber said.  "Jorge was an early believer in the league and he and Angelica have been great partners in MLS.  We collectively agreed that it is best to sell the club to new owners who are committed to securing a new stadium and providing MLS with a strong rival for the LA Galaxy."  
Vergara was part of the original ownership group that purchased an expansion team that began play in 2005, and he and Fuentes became sole owners of the club in 2012.
"MLS has assured us they are committed to keeping the club in Los Angeles and finding the right owners to make the team successful in the future," said Vergara.  "We greatly appreciate the leadership and collaboration of Don Garber and his colleagues at MLS, which resulted in an efficient transaction that benefits all the parties involved."
 In connection with the sale of the club to a new owner, MLS also will lead the discussions for a new stadium that would serve as the new home for the team. The club has played its home games at StubHub Center in Carson, California, since debuting in 2005 and will continue to play there in 2014.
Chivas USA played in the 2008-09 CONCACAF Champions League, the competition's inaugural edition.  It was eliminated after two games, falling to Panama's Tauro FC, 3-1 on aggregate, in the preliminary round.