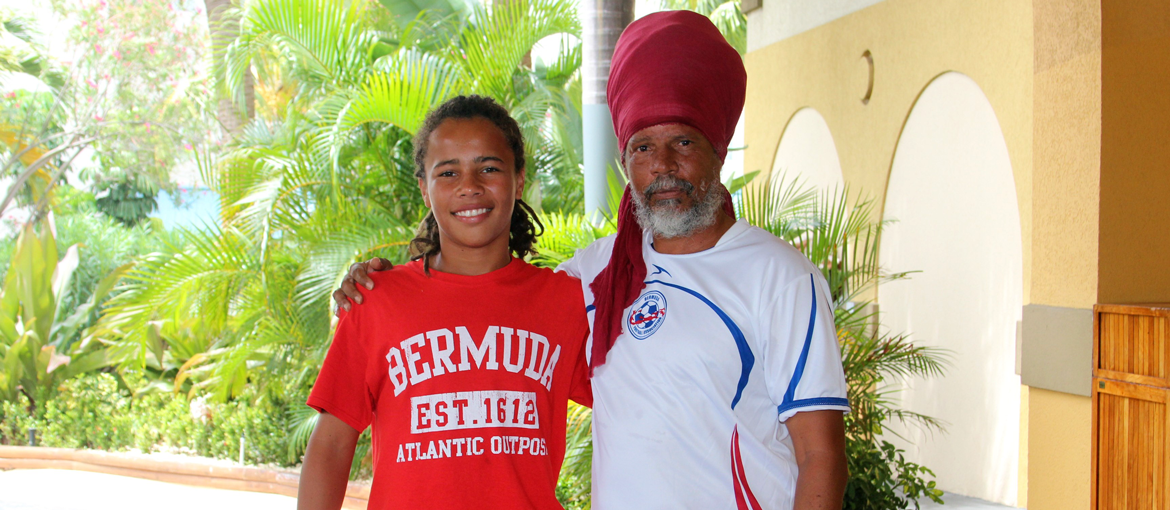 Bascome to remain as Bermuda head coach
Published on
/ Updated on at
Bermuda head coach Andrew Bascome (right) with his nephew Osagi Bascome at the 2013 CONCACAF Under-15 Championship.
DEVONSHIRE, Bermuda -- Bermuda Football Association President Mark Wade confirmed Wednesday that Andrew Bascome will continue as men's national team head coach and will be on the bench for a January 22, 2017, international friendly against visiting Canada.
Bascome initially indicated he would step down after Bermuda fell 3-0 to host French Guiana on June 19, 2016, eliminating it from the 2016/17 Scotiabank CFU Men's Caribbean Cup.  Conversations with Wade and BFA technical director Maurice Lowe appeared to have helped persuade him to change course.
"Maurice and I had some conversations with Andrew and those discussions were obviously productive and Andrew has decided he will continue," said Wade.  "I've always been an admirer of Andrew, both as a player and a coach, and I think he brings the right approach to what we're trying to accomplish.  Moving forward now, hopefully, we can build on the successes that we did have and get ourselves geared and ready for 2018 when we should be playing in the Caribbean Cup qualifiers cycle again." 
Bascome has been in charge of Bermuda since 2012, posting a 5W-3D-7L record.  In 2013, he guided the Bermudians to the Island Games title, where they didn't concede a goal while posting a 4-0-0 mark, including 1-0 win over Greenland in the final. 
"I have had four wonderful years with Bermuda and I look forward to many more," Bascome said.  "What we need to improve is more matches.  Once we can get that, I am sure Bermudan football shall rise and more opportunities will come in our way."