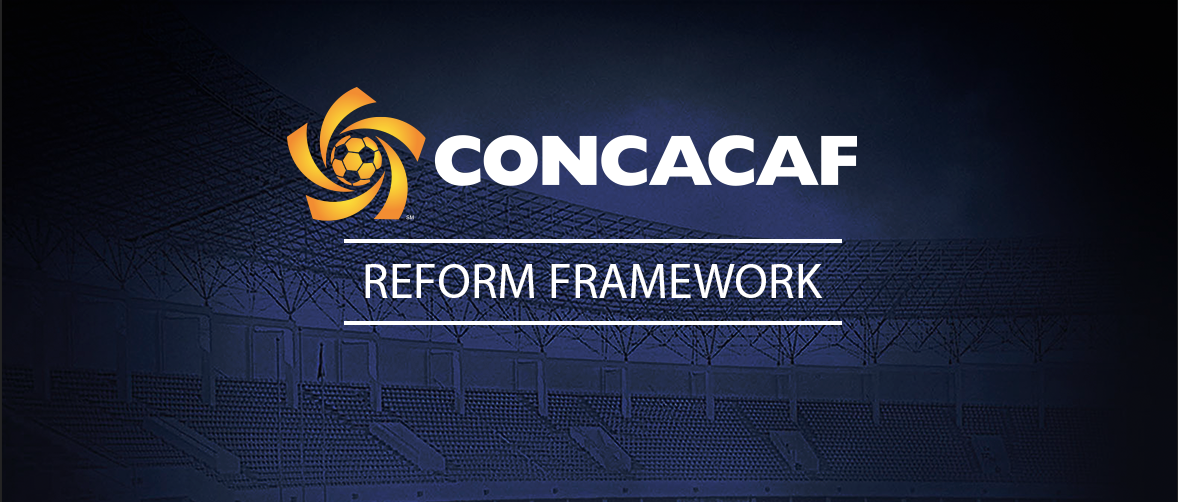 CONCACAF Announces Reform Framework
Published on
/ Updated on at
New phase of reforms to governance, management, and operations will start being implemented immediately
 Miami (Monday, July 6, 2015) - The Confederation of North, Central America and Caribbean Association Football (CONCACAF) announced today that its Executive Committee has approved an expansive Reform Framework that seeks to substantially strengthen the Confederation's governance, management, and operations. The Reform Framework was unanimously approved by CONCACAF's Executive Committee at an in-person meeting on Saturday, July 4, 2015 in Vancouver, Canada.
 The Reform Framework, which was developed at the request of the Confederation's Executive Committee, is an additional step toward ushering in systemic organizational change to further enhance CONCACAF's business operations through improved governance, increased public disclosure, and enhanced anti-corruption controls. Implementation of the Reform Framework will begin immediately.
In a statement, CONCACAF said: "This Reform Framework reflects CONCACAF's commitment to strengthening our governance, management, and operations. These reforms are intended to apply best practices for sound corporate governance to CONCACAF's business operations. In implementing the Reform Framework, the Confederation will demonstrate to its fans, sponsors, member associations and other stakeholders that CONCACAF is resilient and devoted to managing, developing, and promoting the game with accountability and transparency."
Proposals contained in the Reform Framework fall into three categories: Corporate Governance; Fraud Prevention and Compliance; and Transparency. Many, but not all of the reforms, are listed below. To view the full Reform Framework, click here. The Executive Committee has authorized the Special Committee, with the assistance of Sidley Austin LLP and Alvarez & Marsal, to move forward to undertake these reforms as well as recommend changes to CONCACAF's Statutes to be submitted to the Congress for approval to the extent necessary to implement the Reform Framework fully.
Corporate Governance
Require a minimum number of members of the Executive Committee to be independent, i.e., not affiliated with any football-related activities of any member association.
Impose term limits on all members of the Executive Committee, including the President.
Approval by Congress of Executive Committee member compensation on an annual basis.
Review and recommend changes to Executive Committee composition, nomination and election procedures to ensure greater representation and prevent entrenchment.
Fraud Prevention and Compliance
Implement a "pre-approved" vendor system for all contracts with CONCACAF, including credit and background checks for all vendors.
Retain outside consultant(s) to improve bid process, audit counterparties for bribery and fraud, and review internal controls, including expense and reimbursement controls.
Review and adopt stronger related party transaction policies, i.e., all employees and Executive Committee members must certify on an annual basis compliance as to policies, including restrictions on transactions with immediate family members, and formal processes for disclosure and recusals for Executive Committee members for conflicts of interest.
Establish the position of Chief Compliance Officer with responsibility for overseeing the compliance program and with direct reporting lines to General Secretary and independent members of Audit Committee.
Implement a whistleblower hotline to be administered by CONCACAF's audit committee.
Transparency
Make available publicly annual financial statements and budget of CONCACAF on website.
All officer and Executive Committee member compensation reported under IRS Form 990 to be publicly available on CONCACAF website.
To develop the Reform Framework, the Confederation convened a three-member Special Committee including Justino Compean of the Mexican Football Federation, Sunil Gulati of the United States Soccer Federation, and Victor Montagliani of the Canada Soccer Association. This Special Committee was charged, at the request of the Confederation's Executive Committee, with overseeing the day-to-day operations of the Confederation in the wake of the US indictments of certain CONCACAF officials, including recommending reforms to its operations and governance. The law firm Sidley Austin guided the Special Committee to ensure the reforms are in line with corporate governance best practices.
The Reform Framework announced today follows several other actions taken by CONCACAF in the last few weeks. Since May 27th, CONCACAF's Executive Committee has also provisionally banned officials allegedly involved in wrongdoing; initiated a full review of all current expenditures and contracts with vendors and sponsors; and engaged the global professional services firm Alvarez & Marsal to assess and recommend improvements in the Confederation's business operations.
CONCACAF will keep its fans, member associations, and sponsors informed of progress on reforms in the Framework and will issue updates as appropriate.