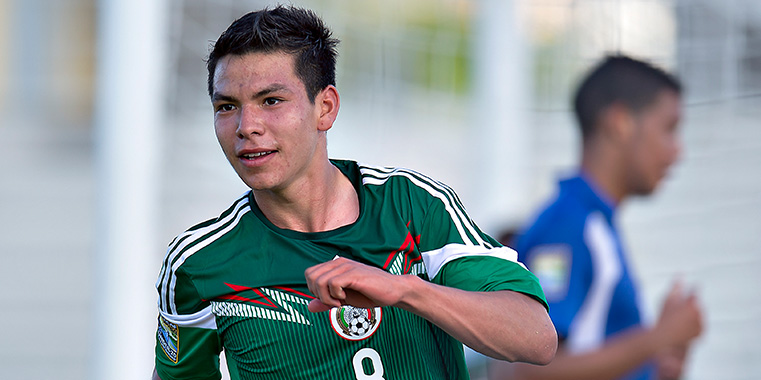 Lozano instrumental in Mexico win
Published on
/ Updated on at
Hirving Lozano (pictured) was outstanding in Mexico's win over Cuba in the CONCACAF Under-20 Championship on January 10, 2015, in Montego Bay, Jamaica. (Photo: Mexsport)
MONTEGO BAY, Jamaica – Mexico fired on all cylinders en route to a 9-1 victory over Cuba in the opening match for both in the 2015 CONCACAF Under-20 Championship on Saturday at the Montego Bay Sports Complex.
Four players scored two goals for the two-time defending champion, which took temporary sole possession of first place in Group B with two matches to follow later in the evening: Honduras v El Salvador and Haiti v Canada.
The encounter was contested at a breakneck speed from opening whistle as the pair combined for three tallies within six minutes.
Alejandro Diaz's tap-in from a Hirving Lozano cross gave the Tricolor a 1-0 lead in the first minute, but the Cubans leveled just two minutes later, when Eddy Luis Saname was played through on goal by Yendri Torres. 
From there, however, Mexico grabbed hold of the match by finding success down the right side of the field.
Lozano was instrumental in almost all of the attacking play.  It was his low cross that Guillermo Martínez finished at the back post in the sixth minute to make it 2-1.
The midfielder's feed was knocked down by Martinez in the 20th minute for Diaz to fire past Cuban goalkeeper Elier Pozo.
In a span of four minutes later in the half, Lozano netted twice in similar fashion.  The rising Pachuca star slotted a shot to the far post in the 36th minute and did the same in the 40th after receiving a pass from club teammate Erick Gutierrez.
Lozano then centered the ball from the byline for Jose David Ramirez to finish in the 42nd minute for a 6-1 half-time lead. 
Mexico opened the second half much like the first, adding another goal in the 47th minute via a Lozano cross for Ramirez, who shot into the top corner.
The Cubans then conceded a penalty, when David Urgelles' challenge brought down Gutierrez.  Martinez found the back of the net with the ensuing spot kick in the 65th minute.
Seconds after entering the game as a substitute, Luis Marquez punctuated the final scoreline in the 69th minute with a long-distance effort that beat a diving Pozo.
Mexico will return to action on Monday against Canada, while Cuba takes on Honduras later that same day.