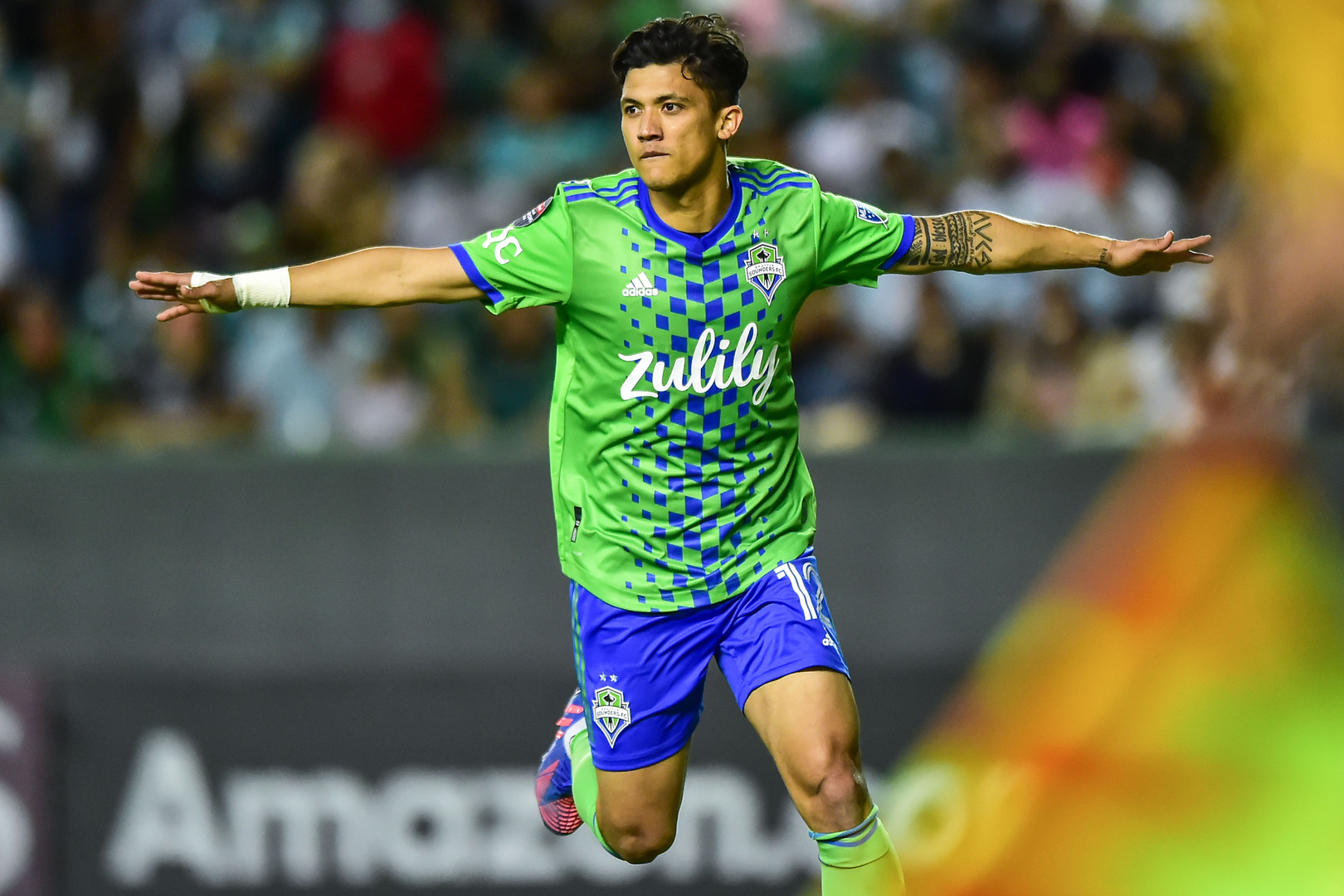 Seattle FW Montero: "These games bring out your best"
Published on
/ Updated on at
SEATTLE, Washington – The date was July 29, 2010 when Fredy Montero scored his first ever Scotiabank Concacaf Champions League goal.
The Colombian striker, then in his first spell with the Seattle Sounders, squeezed in a shot from distance to hand the Sounders a 1-0 win over Isidro Metapan of El Salvador in the first leg of their Preliminary Series in the 2010-11 tournament.
It was not only Montero's first SCCL goal, but also the first SCCL goal in Sounders history. Fast forward almost 12 years, Montero, who is in his second spell with the club, is also the owner of Seattle's most recent SCCL goal, a cool-as-you-like penalty conversion in the 1-1 draw at Mexico's Club Leon in the quarterfinal second leg, helping the Sounders to a 4-1 aggregate victory and a place in the semifinals against New York City FC.
Should the 34-year-old find the back of the net in either Wednesday's first leg or next week's second leg, he'll reach the 11-goal plateau in the SCCL, making him the all-time top SCCL scorer among players from Major League Soccer (MLS).
"It would mean a lot. It means that all of the hard work that I have put in during the week is reflecting in those games. The record is a beautiful thing and I have two more games. I will try to do my best to score more goals and raise that mark and hopefully I can hold it for many years," said Montero in an exclusive interview with Concacaf.com.
"I remember in 2009 when I first came to MLS with the Seattle Sounders. I started scoring goals and became the number one goalscorer in the whole franchise. It's something that means a lot to me and hopefully I can continue that mark," added Montero.
There is no doubt that Montero is a proven goalscorer at the MLS level, but there is something special about Concacaf nights for him.
"I feel like I transform into a different character. I believe that these games bring the best out of yourself. These games require all of your attention, your motivation, all the experience you have. We know that one single mistake can be an opportunity for any player to take advantage of to score a goal or give an assist. It's amazing to be present in this moment," said Montero.
It is just the second time that Seattle have reached the semifinal stage of the SCCL, equaling the feat set by the Sounders team in the 2012-13 tournament.
To reach the final four, Seattle had to overcome a very tough Club Leon side that was looking to follow in the footsteps of fellow Liga MX side Pumas and overturn a 3-0 deficit against MLS opposition in the quarterfinals.
"We had to stay calm in the right moment and be energized in the right moments. I think we have the right players for whatever the game requires. If we have to battle, if we have to play long balls, if we have to manage the time, it depends on the results as well, but honestly, if you don't score goals it is going to be difficult to advance," said Montero.
Seattle now take on an NYCFC side that they know well from MLS play. Montero says that there is a buzz in the city about the opening leg on Wednesday night and the prospect of reaching the Final.
"We are excited, we are motivated. It's a unique opportunity for every single one of the members of this organization, players and management team. I believe that we are ready. We're prepared and I can't wait to play this first leg here at home.
"We can feel the excitement. I can tell you that every single player here is talking about that opportunity. It's an international tournament and that we want to be the MLS representative in the final against a Mexican team. But first we have to go through NYCFC. It'll be a hard series, but we'll be prepared to try to advance," said Montero.
In scouting the visitors, Montero notes that it will be imperative for the Seattle defense to put the clamps on NYCFC goalscorer Valentin Castellanos and midfield playmaker Maxi Moralez.
"They have a very good team. They are champions of MLS, we know they are motivated, but here at home we are a tough opponent. This is a fortress and teams are going to come here, especially in a semifinal, and bring all the weapons they have and try to do well. We know what they are capable of. If we can take away players like Castellanos and Moralez away from the goal, they can't do as much damage," said Montero.
There is still a ways to go before Seattle can pop any celebration bottles, but that doesn't stop the veteran Montero from envisioningwhat it would feel like to win the SCCL and then represent the Sounders in a FIFA Club World Cup.
"Yes, I allow myself to dream of that. I know what it's like to play against the best teams in Europe. I did it in the UEFA Champions League. In this case you win the Concacaf Champions League, you play the Club World Cup and that's remarkable. That's the top of what we can achieve on this side of the world. We are dreaming about it. We say to ourselves, 'Can you imagine going to Japan, Qatar or wherever to play this tournament?' That is something that motivates us," concluded Montero.