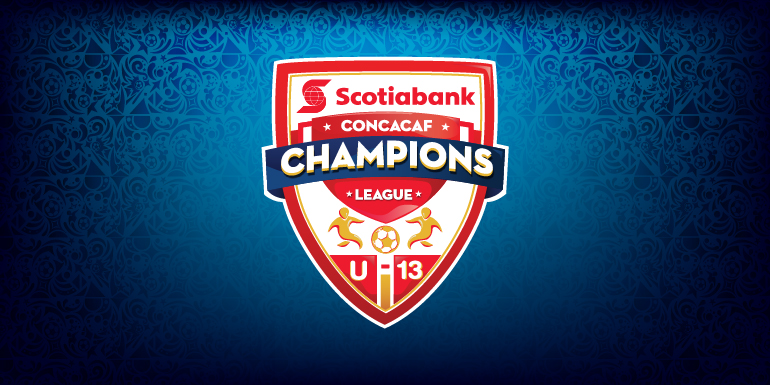 Youth Teams to Compete at First-Ever U-13 Champions League
Published on
/ Updated on at
Miami (Monday, August 3, 2015) – The Confederation of North, Central America and Caribbean Association Football (CONCACAF) and Scotiabank today confirmed the format for the first-ever Scotiabank CONCACAF Under-13 Champions League invitational tournament, set to take place in Mexico City, August 4-8.
Eight teams from across the three CONCACAF sub-regions will compete in the invitational, taking place at the Cruz Azul Acoxpa Stadium – a Cruz Azul futbol training facility. The field for the inaugural tournament was selected based on the performance of senior teams from represented countries in the Scotiabank CONCACAF Champions League. 
The eight clubs participating in the inaugural Under-13 Champions League Invitational, in alphabetical order by country, include:  
Montreal Impact (Canada)
CS Herediano (Costa Rica) 
CD Chalatenango (El Salvador)
Harbour View FC (Jamaica) 
Aguilas UAS (Mexico)
Toluca FC (Mexico)
Chepo FC (Panama)
DC United (USA)
The players participating in the Scotiabank CONCACAF Under-13 Champions League Invitational represent the youngest age group ever to compete in an official CONCACAF event, following the establishment of under-15 tournaments in both boys' and girls' categories in recent years. 
"We are very excited about the kickoff of this inaugural Under-13 Champions League Invitational -- our youngest category to date to compete in a CONCACAF-sanctioned tournament," said CONCACAF Acting General Secretary Ted Howard. "This is a great initiative for youth across the Confederation, resulting from the vision of our partners at Scotiabank."  
The tournament will be played in a round-robin group format, with all teams guaranteed three games.  The top two teams in each of the four-team groups will then compete in a semi-final round on August 7, followed by the Final on Saturday, August 8.
"Scotiabank is proud and excited to support this new and unique under-13 tournament," said John Doig, Chief Marketing Officer, Scotiabank. "The Bank has a strong belief in supporting young people in sport and engaging with young athletes to help them develop self-confidence, teamwork and leadership skills. Fostering these opportunities is the key to building strong communities all around the world."
Coinciding with the under-13 invitational, the opening of the 2015/16 Scotiabank CONCACAF Champions League – an annual tournament involving 24 top clubs from the CONCACAF region, played from August to May each year – also kicks off on Tuesday, August 4, with the first match-day Group Phase games scheduled for eight venues in countries around the region.