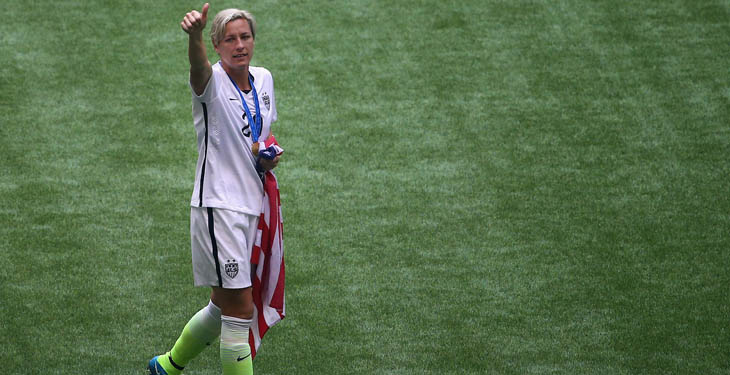 Wambach leaves as a legend
Published on
/ Updated on at
Abby Wambach (pictured) retired from football on December 16, 2015, after playing 255 games and scoring 184 goals for the USA. (Photo: FIFA via Getty Images)
NEW ORLEANS, Louisiana -- Abby Wambach left the beautiful game in her own inimitable way Wednesday night. 
After making a final appearance for the United States women's national team, she told the world, "Bourbon Street, watch out," referring to this city's historic tourist attraction. Wambach then literally dropped the microphone and walked away. 
She actually did that twice after the Americans lost 1-0 to China in their final game of the year. Once after addressing the fans at the Mercedes-Benz Superdome and again on television. 
Wambach, though, rarely dropped the ball during an illustrious career that saw her accumulate 255 caps and net a world-record 184 goals – the most by any woman or man. 
"I played 70 minutes and we don't score a goal," she said. "For me, it's like, OK, it's time to step away. The symbolism in it for me is amazing. Everybody in the locker room was like, 'I'm so sorry' and I told them there was nothing to be sorry about. Today wasn't about getting a result, it was about celebrating not just my career, but the chances I've had with all my teammates and the time that I've spent with them." 
The 35-year-old's achievements included winning the 2015 FIFA World Cup, two Olympic gold medals (2004 and 2012) and three CONCACAF Women's Championships (2002, 2006, 2014). 
Numerous individual honors came her way, including being named the FIFA Women's World Player of the Year (2012), the CONCACAF Women's Player of the Year (2014) and the U.S. Soccer Athlete of the Year (2003, 2004, 2007, 2010, 2011, 2013). 
On Wednesday, Wambach's teammates tried to set her up for a final goal, but to no avail. 
"There was a minute at some point in the first half that I just started yelling at them, 'We need to get a goal. Don't worry about getting me a goal. We need a goal.'," she said. "I love teammates for wanting to give me the send-off we all kind of envisioned." 
In the 72nd minute, Christen Press replaced Wambach. The veteran striker handed the captain's armband to midfielder Carli Lloyd. Then she took off both her soccer boots while on the field, signifying that they were to be hung up forever.