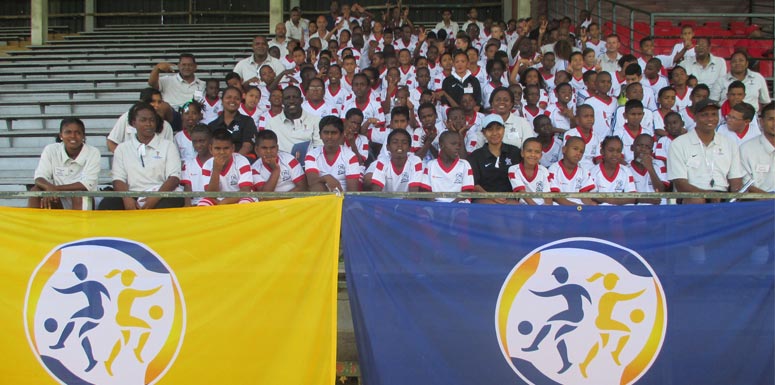 Suriname enjoys first CONCACAF development course
Published on
/ Updated on at
CONCACAF's Development Program, which aims to encourage the growth of the sport at grassroots level across the region, held a successful first ever course in Suriname last week, concluding the visit in style with a Football Festival on Saturday.
The course was held in Paramaribo, on Nov 21-22, with the festival at the nearby Frank Essed Stadion. Local support for the initiative was evident from the outset with a representative from the Ministry of Sports, Mr. Andy Atmodimedjo, who is responsible for government sports facilities and recreational sports, present at the opening ceremony.
Also present were members of the Surinamese Football Association (Surinaamse Voetbalbond - SVB) including the organization'sexecutive committee, technical director Ronald Kolf and Managing Director Gordon van Sichem.
The course was focused on how to engage young people with the sport, develop their skills and increase levels of participation. Practical elements included specific coaching method suggestions and advice on how to set up grassroots events.
In line with CONCACAF's strategy of tailoring such events to the specific needs of member associations and their stakeholders, the participants in this course were not all coaches with football experience - a majority of those attending were teachers and other individuals interested in helping Suriname youth to enjoy the benefits of the game.
"Based on the observations of the instructors the event was very successful," said van Sichem, who was delighted to see so many children from the local area attending the festival.
"We have set our goals towards 2017 and we intend to have more events similar to this," added the SVB managing director.
The festival on Saturday was also different from previous events. While often federations will invite club teams from the area, in this case the SVB reached out to surrounding schools and invited the students to the festival.
Representatives from Bonaire were also present at the course and festival, bringing around 40 kids to the festival with seven participants present at the courses.