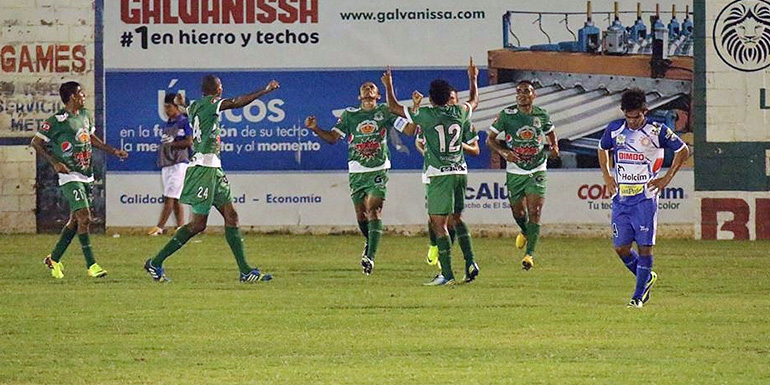 Reyes breaks Salvadoran goal mark, wants more
Published on
/ Updated on at
Williams Reyes (#6) celebrates after breaking the Salvadoran goalscoring record against Isidro Metapan on January 29, 2014. (Photo courtesy of Primera División de Fútbol de El Salvador)
SAN MIGUEL, El Salvador – Dragon forward Williams Reyes was crowned the all-time leading scorer in El Salvador last Wednesday, netting the 87th minute equalizer in a 1-1 draw with Isidro Metapan to surpass a mark set by David Cabrera in 1986.
It was the 37-year-old's 241st career goal and 19th against the current Salvadoran champion.
"Many things came to my mind and it made me want to cry from emotion," said Reyes after the game.  "Not just for the historical significance, but also as we are fighting to detach ourselves form the bottom places.
"This point gives us the hope to continue dreaming of being in the top quarter of the table."
Reyes rejoined Dragon in January after a second spell at FAS, the club at which he has scored the most goals.
"I want to keep scoring, however, I am going to relax right now," continued Reyes, who topped the Salvadoran league goal chart on five occasions.  "God knows when I will retire.  If the opportunity is given to me, I will keep on playing.  I am not a conformist and I don't want to just remain here.  I am going to look for more."
After leaving Honduras' Deportes Savio for El Salvador in 2000, Reyes linked up with Dragon for his first campaign, before moving to FAS.  He also played four years with Isidro Metapan.
Overall, Reyes scored 139 goals for FAS, 74 for Isidro Metapan and now 28 has with Dragon.
Next, the Honduran-born Reyes will set his sights on the Central American record set by Guatemala's Juan Carlos Plata.  During a legendary career, the former Municipal striker amassed 284 goals, though various sources indicate differing totals.
Dragon will target its first win of the 2014 Clausura this coming weekend, when it hosts Atletico Marte.