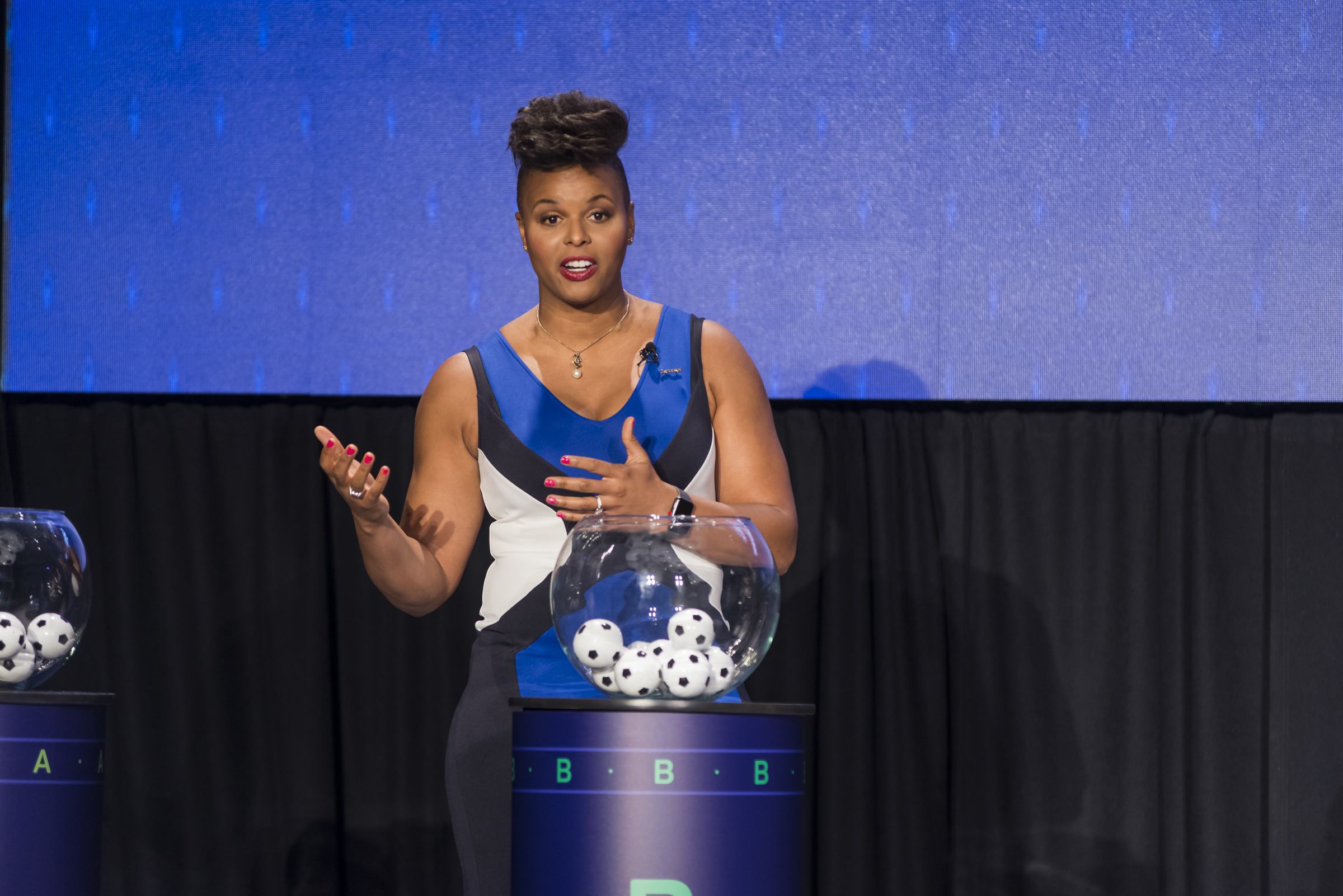 Karina LeBlanc Named as Head of Concacaf Women's Football
Published on
/ Updated on at
The Confederation has hired the former Canadian international to lead its efforts to strengthen and grow the women's game throughout the Concacaf region
Miami (Wednesday, July 25, 2018) – The Confederation of North, Central America and Caribbean Association Football (Concacaf) today officially announced the addition of Karina LeBlanc as Head of Concacaf Women's Football, effective August 3rd, 2018. The former Canadian international will lead the Confederation's efforts to strengthen and grow the women's game throughout the Concacaf region.
"We are very pleased to welcome Mrs. Karina LeBlanc as Head of Concacaf Women's Football. She brings a vast knowledge and passion for the sport, having played for 18 years and serving as an advocate to providing access for more women to the game," said Concacaf President Victor Montagliani. "Mrs. LeBlanc is the right leader to support our mission of advancing and promoting women's football in a sustainable and scalable way. She will contribute to increase participation and awareness at all levels."
In her new role, Mrs. LeBlanc will focus on developing women's football throughout the entire Concacaf region increasing opportunities for women in the sport across multiple areas including through grassroots and competitions platforms, refereeing, development, and administration. She will be based in Miami, Florida and report to the Chief of Football Officer Manolo Zubiria.
Born to Jamaican and Dominican parents and raised in the Caribbean island of Dominica until age eight, Mrs. LeBlanc is a retired football player and a FIFA Legend. Throughout her career, she represented Canada in five FIFA World Cups, two Olympics and three Pan-American Games. She was a member of the bronze medal winning team at the London Olympics in 2012. In 2013, she became the first female professional footballer to be appointed as UNICEF Ambassador.
"I am honored and excited to join Concacaf at a pivotal time for women's football," said Mrs. LeBlanc. "I have seen the growth and potential of our game across the Concacaf region and around the globe and look forward to create additional opportunities for women in football. Our Confederation is well-positioned to continue supporting and inspiring its Member Associations to build, develop and elevate the women's game."
From goalkeeper to host, broadcaster and motivational speaker, she has travelled across the world to raise awareness about the game as well as the importance of women's empowerment, especially through the sport.
Concacaf is creating a network of unified competitions, development and leadership that unites this diverse region into one strong body, with the goals of actively promoting universal access to the sport, and raising the quality of football across the Confederation.