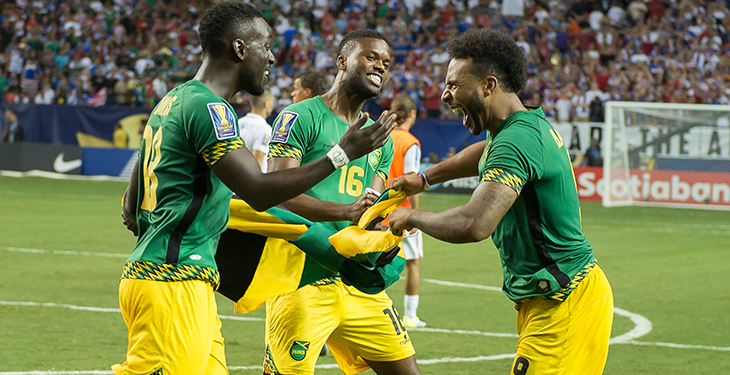 Grant eyes Jamaica recall in 2017
Published on
/ Updated on at
Joel Grant (center #16 ) has earned 14 caps for Jamaica. (Photo: Mexsport)
EXETER, England -- Nearly 10 years after making his first appearance for Jamaica at the under-20 level, Joel Grant remains as passionate as ever about representing the Caribbean nation.
Since the June's Copa America Centenario, though, he has not featured for the Reggae Boyz.
The Exeter City midfielder wants that to change and has placed a return to the national team as a top priority for next year.
.
"We have qualified for the CONCACAF Gold Cup once again and my main target for 2017 is to get back into the national team and get playing time," Grant told CONCACAF.com. "I am always ready to represent my country and I always ensure I am committed to do my best. I have had some wonderful memories so far in my international career and I am working on many more."
Some of those memories include scoring the second goal as Jamaica earned a 2-1 win at South American champion Chile in an international friendly in May. He was also a member of the Jamaica squad that won the 2014 Caribbean Cup on home soil. London-born Grant counts that crown as his best moment in a Jamaica shirt.
"Winning the Caribbean Cup in 2014 was a great feeling that is hard to describe," said the 29-year-old. "To win as hosts and beat our rivals (Trinidad & Tobago) in the final was truly special. It is something I will always treasure. It is my first and only international title and I would like to help us defend that title in 2017 whether we play Curacao, Martinique or French Guiana."
Grant, who made his senior debut in 2014, believes 2017 could be the year Jamaica brings home two titles.
"The Gold Cup in 2015 was also a memorable experience," he finished, citing the Reggae Boyz's run to the Confederation final. "I want us to go one step further and win that tournament. For me, that is progress, so winning the Caribbean Cup and the Gold Cup would be a successful 2017. We have the caliber of players and I will working hard so I can be involved."