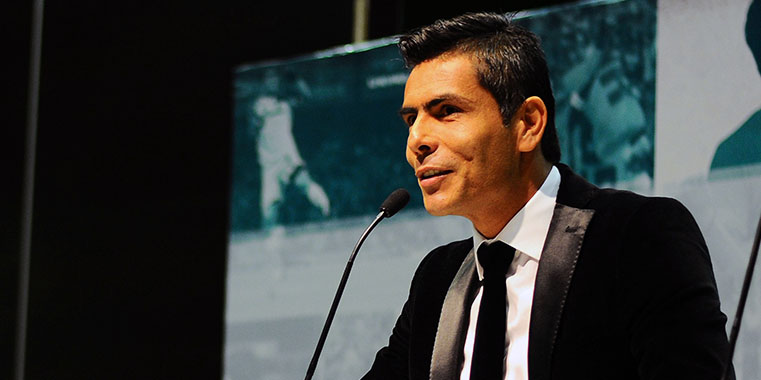 GK Sanchez retires from Mexican football
Published on
/ Updated on at
Oswaldo Sanchez (pictured) at a press conference announcing his retirement from Mexican football on December 19, 2014, in Santos, Mexico. (Photo: Mexsport)
TORREON, Mexico – After 21 years as a professional, standout goalkeeper Oswaldo Sanchez announced his retirement from Mexican football on Friday.
The 41-year-old enjoyed a legendary career that started in 1993 with Atlas and came to a close following the recent Liga MX Apertura campaign with Santos, the club with he spent the last seven years.
"I still remember October 30, 1993, in which I first stepped on the field for my professional football debut in the First Division," said Sanchez, during a press conference.  "It seems like yesterday.
"Today, December 19, 2014, with the same taste, with the same integrity, and the same satisfaction, I announce my retirement from professional Mexican football."
Sanchez played in 725 Mexican first-division matches, winning three domestic league titles (Guadalajara: 2006 Apertura; Santos: 2008 Clausura, 2012 Clausura).
He earned 99 caps with Mexico, appearing in four games at the 2006 FIFA World Cup.  The former Club America star also won two CONCACAF Gold Cups (1996, 2003) and competed in three FIFA Confederations Cups (1997, 2001, 2005) and three Copa Americas (2001, 2004, 2007). 
"I always wanted to retire in a good way," Sanchez expressed.  "Thank God, I retire as a champion, a cup champion and as a Guerrero, which was another of my dreams and my desires.  Thanks, Santos."
The Guerreros' won the 2014 Copa MX Apertura final in last month by overcoming Puebla 4-2 on penalty kicks after they played to a 2-2 draw.