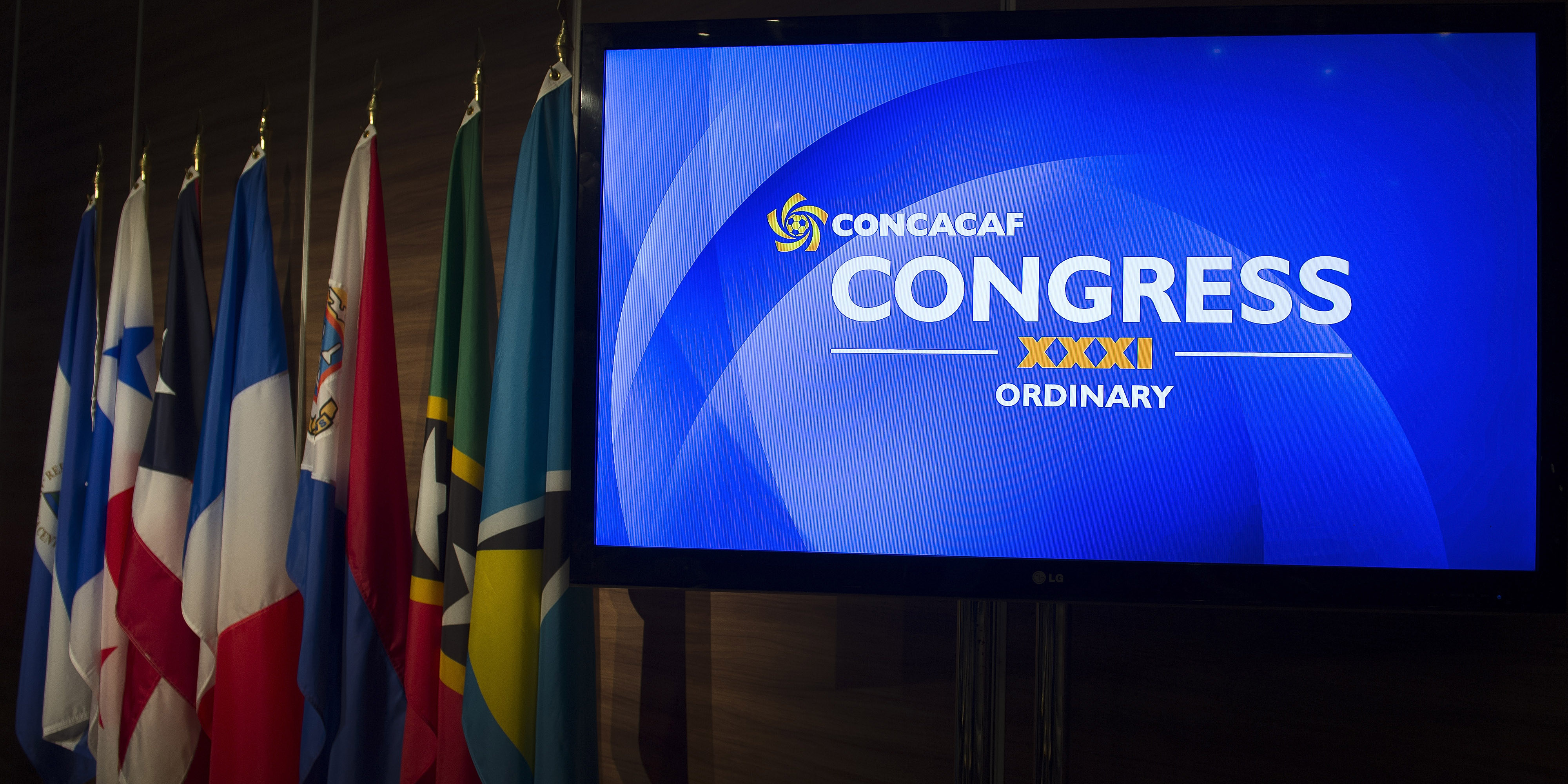 CONCACAF XXXI Ordinary Congress
Published on
/ Updated on at
The Confederation's Member Associations elected Victor Montagliani CONCACAF President, and voted for new members of the CONCACAF and FIFA Councils 
Mexico City (Thursday, May 12, 2016) - The Confederation of North, Central America and Caribbean Association Football (CONCACAF) today held its XXXI Ordinary Congress in Mexico City where elections were conducted for CONCACAF President and positions on the CONCACAF and FIFA Councils. The Confederation's membership also received updates from every CONCACAF Department, including a review of the organization's financial performance in 2015 and the proposed budget for 2016.
All of the Confederation's 41 Member Associations participated in the elections for CONCACAF positions and with a majority of votes, Victor Montagliani, President of the Canadian Soccer Association, was elected as President of CONCACAF. Rodolfo Villalobos of Costa Rica was elected to the CONCACAF Council as a Vice-President. Additionally, the Confederation's 35 FIFA Members elected Luis Hernandez of Cuba, Pedro Chaluja of Panama, and Sonia Bien-Aime of Turks and Caicos to represent the Confederation on the FIFA Council.
"This game has been part of my life from my early days and I'm proud to be a CONCACAF football man. I'm grateful for the support of our Member Associations and as President; I will serve the Confederation with a full time commitment," said Victor Montagliani, CONCACAF's newly elected President. "There is a lot of work to do, but if we focus on good governance, plan strategically for competitions and commercialization, invest in development and infrastructure, and demonstrate strong leadership, we can achieve a brighter future for football in this region."
The newly elected President stated that after this Congress the process to normalize operations will be accelerated with the soon-to-be-hired General Secretary.
In a statement, the CONCACAF Council added: "Today, CONCACAF has demonstrated a new spirit of unity and confidence in the future of our game in the region. We love the game of football and together we have made important decisions to achieve the mission of developing the sport, while continuing the implementation of key reforms on governance, accountability and transparency." 
The Congress, chaired by the CONCACAF Council Vice President Justino Compean of Mexico, also included an overview of the Confederation's operations, highlighting the progress and achievements made in 2015 and the path ahead in 2016, and beyond, as the Confederation will continue making improvements in all areas of its operations, including Competitions, Development, Refereeing, Sports Integrity, Finance, Legal, and Marketing and Communications. 
2015 financial recap, and approval of the 2016 budget
The Confederation entered 2016 with stabilized finances by ending 2015 with positive cash reserves, despite the challenges that the world of football faced over the past year. The preliminary financial results that were presented to the Congress will be audited by BDO, an independent audit firm, and officially presented to CONCACAF Member Associations at the next Ordinary Congress.
CONCACAF undertook a new process to plan for 2016 and develop a budget that focuses on making strategic investments in the priority areas of competitions and development, including the prioritization of women's football, futsal, and beach soccer. The 2016 budget, which was approved by the Congress, includes increased investment in technical development and club licensing, referee development, and union and member services.  
Comprehensive legal update
Representatives from Sidley Austin LLP, CONCACAF's legal adviser, provided an update confirming that CONCACAF does not currently face material litigation matters that could affect the Confederation's business operations. Additionally, it was confirmed that CONCACAF passed an audit conducted by FIFA that resulted in the unfreezing of funds owed to the Confederation. While additional steps must be taken to secure the funds, progress is being made as a result of new financial and compliance reforms. Finally, the process in which CONCACAF can potentially recover part of the assets seized by the United States Department of Justice in their investigations was reviewed with Member Associations.   
New investments to develop football in all CONCACAF countries
Over the past year, CONCACAF held over 47 development events, highlighting the importance of grassroots development, the growth of women's football, and coaching advancement through D-License certifications, among other Confederation priorities.
In 2016, CONCACAF will introduce several new development-focused initiatives to advance women's football, beach soccer, and futsal. These initiatives will help increase the number of advanced coaches in the region, progress grassroots football, and improve tournament preparation at the Member Association level. 
For example, CONCACAF launched the first C-License in April with the support of the Barbados Football Association. This represented an important step in the implementation of the Confederation's coaching program, providing an official license focused on the development of youth players ages 13-19. Additionally, the new E-License will offer an opportunity for individuals to take the first step in getting involved in football at the local level. 
Finally, new tournament preparation programs will increase the number of Member Associations that have the capacity and technical skills to host high-quality competitions.
Focus on club football growth across the region
In 2015, 12 club licensing seminars were held in coordination with CONCACAF Member Associations. CONCACAF will continue to focus on club licensing as it is an effective way to grow club football in the region and develop premier competitions such as the Scotiabank CONCACAF Champions League.
It was also announced that in 2016, all clubs must comply with two specific criterions. First, all clubs must have a girls youth team affiliation, and second, clubs must meet social responsibility standards.
Setting new standards for CONCACAF competitions in 2016
The Confederation continued delivering record-breaking, high-quality events in 2015, including the 2015 Gold Cup and CONCACAF Cup. Efforts in 2016 to-date have concentrated on delivering a successful Copa America Centenario USA 2016 from June 3-26. 
Refereeing Department restructured to maximize on-field performance
Earlier this year, CONCACAF hired a new Director of Refereeing and restructured the department. The Confederation's commitment to improve this area will continue throughout the year with new training courses and seminars for referees, assessors, instructors, and administrators. A new online system will also be implemented to manage referee profiles, make assignments, track assessments, and provide tools for additional education and training. 
Member Associations Department realigned to better serve the region
As CONCACAF enters a new phase of leadership and governance, the Member Association Department will prioritize providing support and guidance in achieving compliance with CONCACAF and FIFA reform principles in each Member Association's statutes based on individual needs. 
Continuing the fight against match manipulation
CONCACAF continues designing and implementing systems and processes to prevent, detect, investigate and sanction any integrity matter within the Confederation and its Member Associations, and continues implementation of prevention and education programs.
A comprehensive strategy for improving CONCACAF's business 
With significant competition on the horizon for 2016 and 2017, CONCACAF will continue its efforts to build confidence among sponsors and broadcast partners through high-quality competitions. This means developing new five-year strategies for sponsorship and broadcast rights. This work will include the formation of an internal partner group to work directly with the Confederation's sponsors and broadcasters and working alongside Soccer United Marketing (SUM) to continue building the value of CONCACAF's football product.