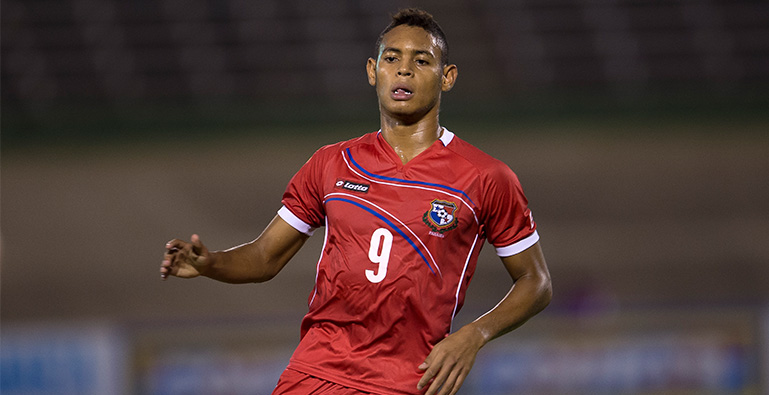 CONCACAF teams to open U-20 World Cup campaigns
Published on
/ Updated on at
Panama's Ismael Diaz (pictured) scored four goals in the 2015 CONCACAF Under-20 Championship. (Photo: Mexsport)
AUCKLAND, New Zealand – Two of CONCACAF's four representatives at the 2015 FIFA U-20 World Cup will open play in the competition on Saturday, when Panama takes on Argentina and the United States meets Myanmar. 
No team from the Confederation has ever won the title, although Mexico captured the runner-up spot in 1997 and took third in 2011.
Panama head coach Leonardo Pipino, who guided the Canaleros to a second-place finish in the 2015 CONCACAF Under-20 Championship, is looking to change that trend.
"The dream is to win, otherwise we would not be here," said Pipino.  "The main thing is that when we make assessments of our adversaries that balance is taken into account.  We're going to do the impossible in order to overcome successfully and achieve our goal, which, in principle, is to advance to the next round.
"The boys have worked to the maximum and are relaxed.  Everything about the preparation was good inside and outside the field.  We are ready."
The Panamanians went a perfect 5-0-0 in the group stage of the CONCACAF event that was played in January.  Its only blemish came in the final, when Mexico prevailed on 4-2 on penalty kicks after a 1-1 draw.
For the USA's part, the road to New Zealand was slightly more bumpy with some changes in direction along the way.  A 2-0 win over El Salvador in a single-game playoff was required to book its trip.
Head coach Tab Ramos made significant modifications to his roster, adding fresh quality in the form of forwards Rubio Rubin (Utrecht/Netherlands) and Joel Soñora (Boca Juniors/Argentina), plus highly-regarded midfielder Gedion Zelalem (Arsenal/England). 
"It's competitive amongst the players," Ramos told the US Soccer website.  "In the end, I believe we're going to have a great eleven on the field and they'll represent us well."
Mexico will face Mali in its opener on Sunday, while Honduras will square off against Uzbekistan a day later.