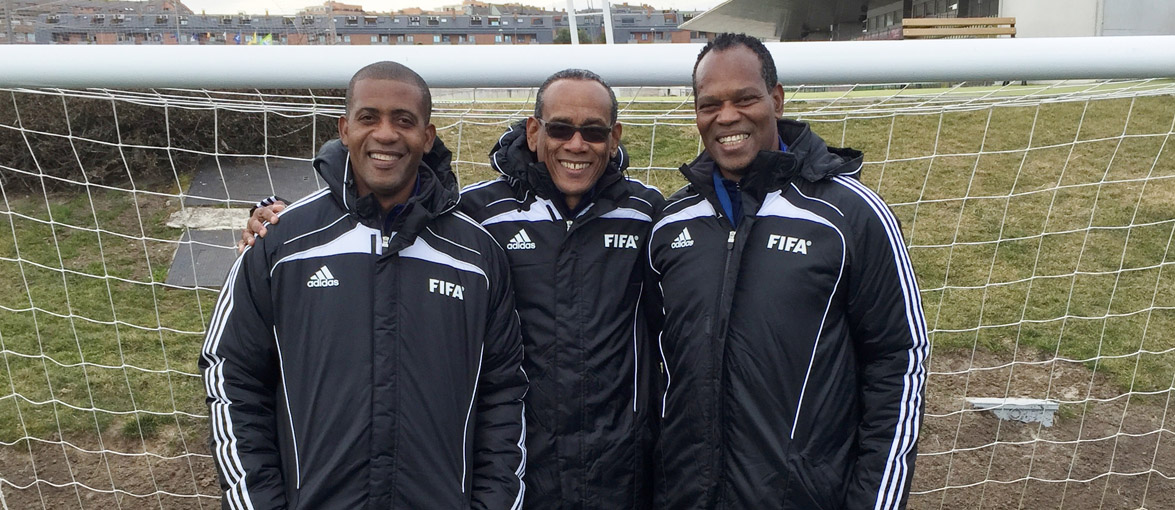 CONCACAF takes part in FIFA grassroots seminar
Published on
/ Updated on at
(l-r) CONCACAF instructors Lenny Lake, Vin Blaine and Etienne Siliee attended a four-day FIFA grassroots seminar at the Spanish Football Federation's Ciudad del Fútbol in Madrid from February 24-27, 2015.
MADRID, Spain – CONCACAF was well represented at a four-day FIFA grassroots seminar, which concluded Friday at the Spanish Football Federation's (RFEF) Ciudad del Fútbol. 
Confederation instructors Vin Blaine (Jamaica), Lenny Lake (St. Kitts & Nevis) and Etienne Siliee (Curacao) joined Marcos Tinoco, Anton Corneal and Rodrigo Kenton – the region's FIFA Technical Development officers -- at the comprehensive workshop. 
The program examined trends in grassroots football, reviewed events organized from 2011-2014 and discussed key objectives for the next four-year cycle. 
FIFA reported that over the previous four years, 300 grassroots courses and festivals were organized and 15,000 coaches were trained in 143 countries.  Significantly, more than 350 similar events are slated to take place from 2015-2018 and FIFA's grassroots budget in support of those activities has been increased from USD $8 million to USD $10.5 million.  A total of 60,000 young people have taken part in FIFA grassroots festivals to date, with 80,000 more expected by 2018. 
Key upcoming priorities are the establishment of self-sufficient, long-term grassroots projects in cooperation with the member associations and expanding the scope of countries benefiting from grassroots programming.  Other areas to address included the formation of grassroots collaborations with the confederations and the facilitation of a conduit between grassroots and youth football at both the amateur and elite levels. 
The FIFA grassroots seminar concluded with a festival involving about 160 children from the RFEF's academy.