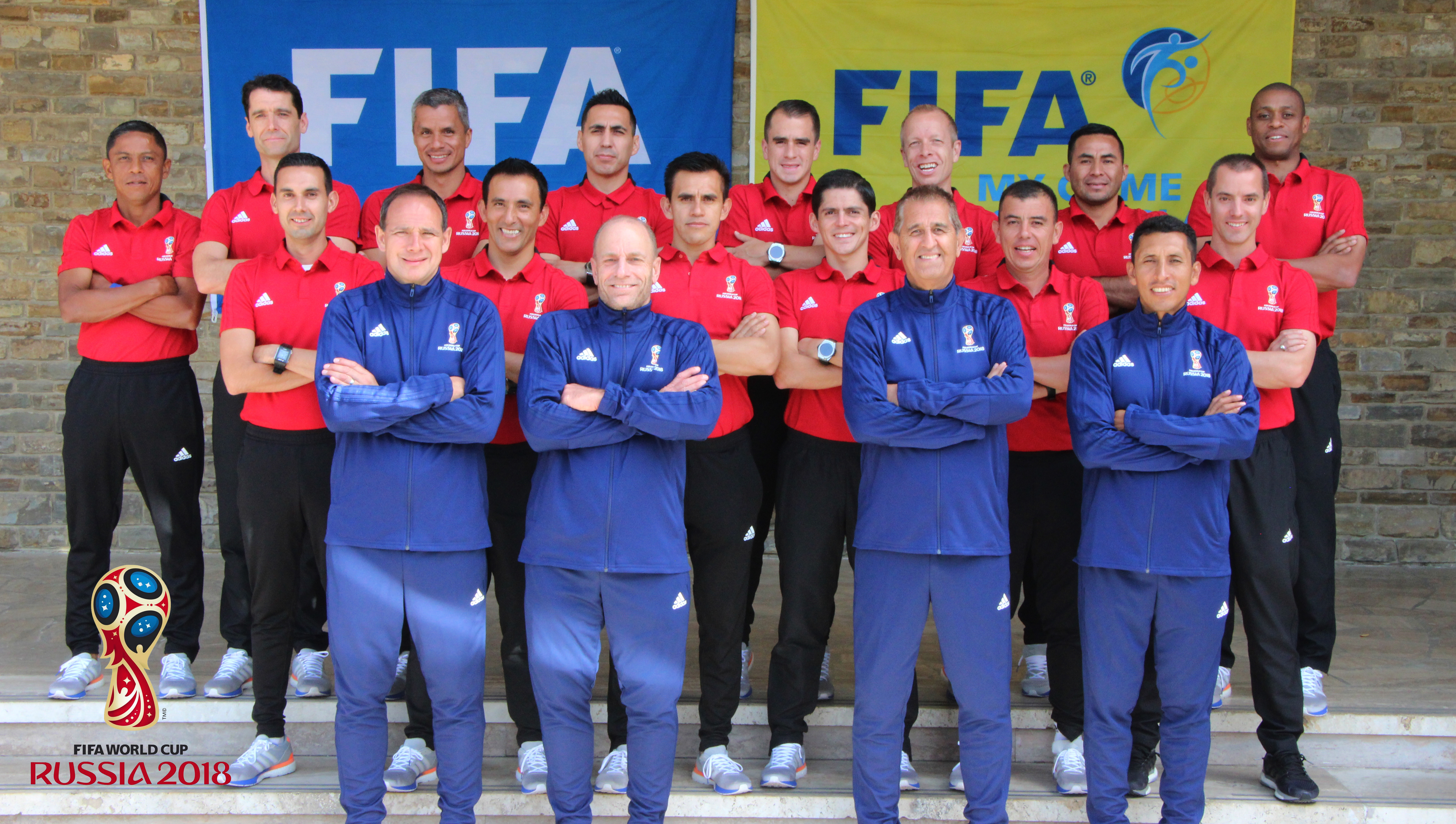 Concacaf referees ready for World Cup stage
Published on
/ Updated on at
MIAMI, Florida – While the national teams of Mexico, Costa Rica and Panama will be seeking success at the 2018 FIFA World Cup, Concacaf will also be represented in Russia by its top referees.
Concacaf's referee team, which consists of six referees, 8 assistant referees, 3 instructors and 2 staff members, is currently in Moscow putting the final touches on their preparation for the world's stage.
It is a historical moment, as never before have so many referees from the Concacaf region been selected to participate in a World Cup
"The fact that FIFA has selected six referees and 8 assistant referees is monumental and symbolizes the confidence FIFA has in Concacaf's match officials, as well as instructors. Concacaf can be proud of its World Cup team as they take the field to represent their families, country and Confederation," explains Concacaf's Director of Refereeing Brian Hall.
The selected referees have been part of a stringent, 4-year selection and preparation project that has resulted in 98 match officials (35 referees and 63 assistant referees) being selected to work this prestigious championship.
Referees Mark Geiger (USA) and Joel Aguilar (El Salvador), along with assistants Joe Fletcher (Canada) and Juan Francisco Zumba (El Salvador) will be participating in their second World Cup.
Mexican assistant referee Marvin Torrentera, who will make his third consecutive appearance, is excited to once again participate in a World Cup.
"I am honored to be given this responsibility to referee my second World Cup. The support of FIFA, Concacaf, and my federation cannot be overlooked as I anxiously await the first whistle," said Torrentera.
For Cesar Ramos of Mexico, Russia 2018 will mark his first World Cup and the fulfillment of a lifelong objective.
"After 4-years of preparation, sacrifice, and sweat, my team and I are ready to step onto the field. This is a dream come true. Ever since I can remember, I have wanted to earn the right to be a World Cup referee. Now, it is our time to show the world that we understand Concacaf's philosophy of 'excellence' on and off the field of play," said Ramos.
On the administrative side, Concacaf will be represented by Director of Refereeing Brian Hall (a 2002 World Cup referee) and FIFA Referee Committee member Sandra Hunt, who is a two-time Women's World Cup referee.
The road to Russia 2018 has not been easy for these referees. It has been four years and countless hours in the classroom refining their football understanding. Hundreds and thousands of whistles on the field of play. Days and weeks away from the family and job. Blood and sweat from daily training sessions to ensure that they are world-class athletes. Now, all of these sacrifices will come to fruition over the 32 days at the FIFA World Cup Russia 2018.
The following selected match officials will be working their first FIFA World Cup:

Referees: Jair Marrufo (USA), Ricardo Montero (Costa Rica), John Pitti (Panama), and Cesar Ramos (Mexico).
Assistant Referees: Frank Anderson (USA), Miguel Angel Hernandez (Mexico), Juan Carlos Mora (Costa Rica), Corey Rockwell (USA), and Gabriel Victoria (Panama).
Also representing Concacaf are technical instructors Esse Baharmast and Hector Vergara, as well as fitness instructor Erick Samayoa.