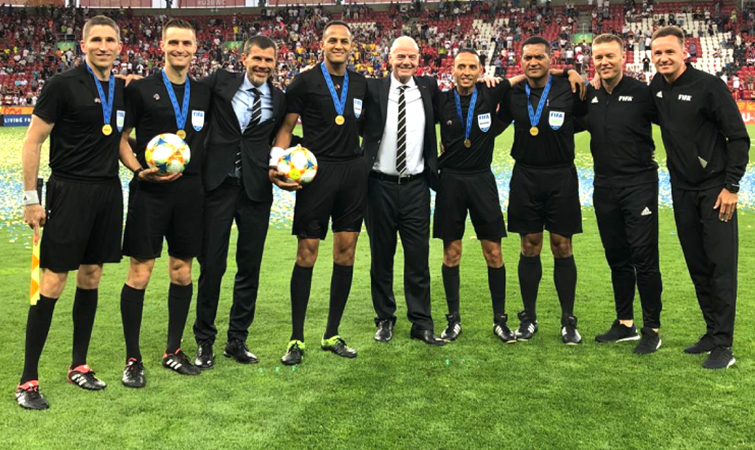 Concacaf referees earn another distinction with FIFA Under-20 World Cup Final assignment
Published on
/ Updated on at
DENVER, Colorado – Concacaf referees continue to show that they are among the world's best after earning another assignment in a FIFA World Cup Final.
Last week, a Concacaf refereeing trio was selected to officiate the 2019 FIFA Men's Under-20 World Cup Final in Poland, in which Ukraine defeated South Korea, 3-1.
Referee Ismail Elfath of the United States was joined by countrymen and Assistant Referees Kyle Atkins and Corey Parker to officiate the Final played on June 15.
It marked the third time in the last calendar year that a Concacaf team of referees was chosen to oversee a FIFA World Cup Final.
Last December in the Final of the 2018 FIFA Club World Cup, United States Referee Jair Marrufo was joined by Assistant Referees Corey Rockwell and Frank Anderson, both of the United States.
That same month a Concacaf crew also officiated the 2018 FIFA Women's Under-17 World Cup Final in Uruguay, with Canada's Marie-Soleil Beaudoin serving as Referee and Jamaica's Princess Brown and Stephanie-Dale Yee Sing as Assistant Referees.
Those two Final assignments were also in addition to the crew that officiated last August's 2018 FIFA Women's Under-20 World Cup Semifinal, led by Referee Melissa Borjas of Honduras, along with Assistant Referees Shirley Perello of Honduras and Yudilla Briones of Mexico.
These four assignments are a clear reflection of the work put in by those in Concacaf's referee program.
"Over the last four FIFA World Cups, Concacaf refereeing has been in the forefront. The excellent level of our referees, both female and male, has been recognized by FIFA through our appointment to three of the last four FIFA finals," said Concacaf Director of Refereeing Brian Hall.
"This speaks highly of the referee program within our Confederation as well as the work ethic, skill set, and preparation of each individual match official. We owe a big thanks to our instructors, staff and Member Associations for providing the foundation for our referees to excel," concluded Hall.